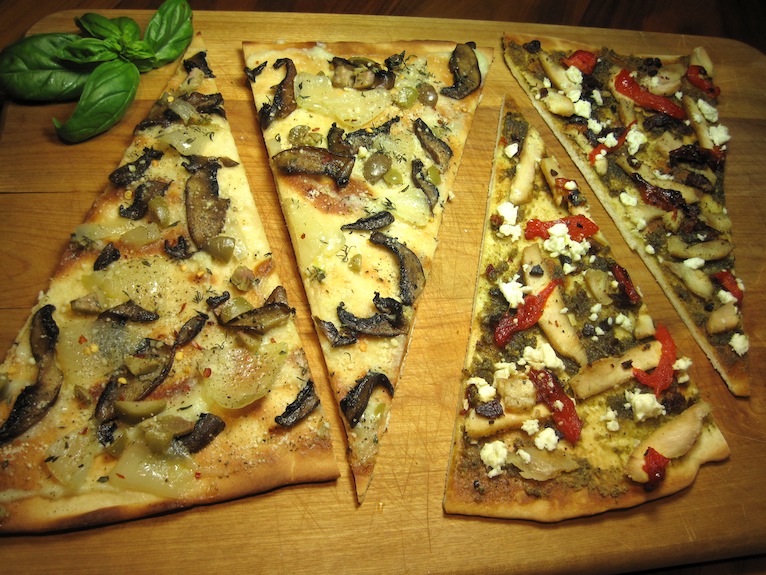 For the flatbreads I made my pizza dough recipe. I only allowed it to rise once, and then I rolled it out extremely thin and place it on a lightly greased baking sheet. Be sure to poke some fork holes in the dough so the air can escape. I actually put a like-sized baking sheet on top of my flatbread when it was about halfway through cooking and it flattened it out perfectly!
While the flatbread is cooking prepare your toppings…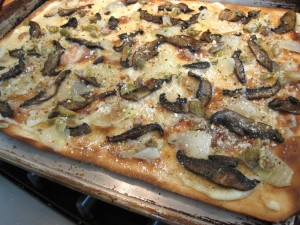 The toppings are really a matter of what is on hand. Two items you will always find in my fridge are fresh pesto sauce and my homemade garlic sauce (I will share that recipe next). They each worked perfectly on the base of the flatbreads.
If I had some smokey cheese I would have definitely used that on one of the flatbreads, but I will have to do that next time!  😉
| | | |
| --- | --- | --- |
| Two Delicious Flatbreads: Portabello Mushroom & Onion with Olives | Pesto Chicken with Roasted Red Pepper & Feta Cheese | | |
Recipe Type:
Appetizer, Entree, Main
Author:
If you love thin crust pizza, you will love these yummy flatbreads with savory toppings!
Ingredients
Flat Bread Pizza Dough (see recipe link above)
TOPPINGS FOR PORTABELLO MUSHROOM FLATBREAD:
A thin layer of Garlic Sauce
2 large sliced Portabello Mushrooms, sauteed
1 baked onion, chopped
10 green olives, chopped
1 teaspoon fresh thyme
Parmesan Cheese
Salt and pepper, to taste
Truffle Sauce, optional garnish before serving
TOPPINGS FOR PESTO CHICKEN FLATBREAD:
A thin layer of Pesto Sauce
1 cooked chicken breast, sliced thin
1 whole red pepper, roasted and cut into thin strips
1 piece of cooked bacon, cooled and diced
Feta Cheese, crumbled
Salt and pepper, to taste
Port Reduction Sauce, optional garnish before serving
Instructions
Once the flatbread crusts have been cooked, place the toppings on in the order written.
Bake in a 300 degree oven for about 7 minutes, or until toppings are heated through.
Remove from oven, cut and serve with the sauce drizzled on top, if desired.

Print entire post