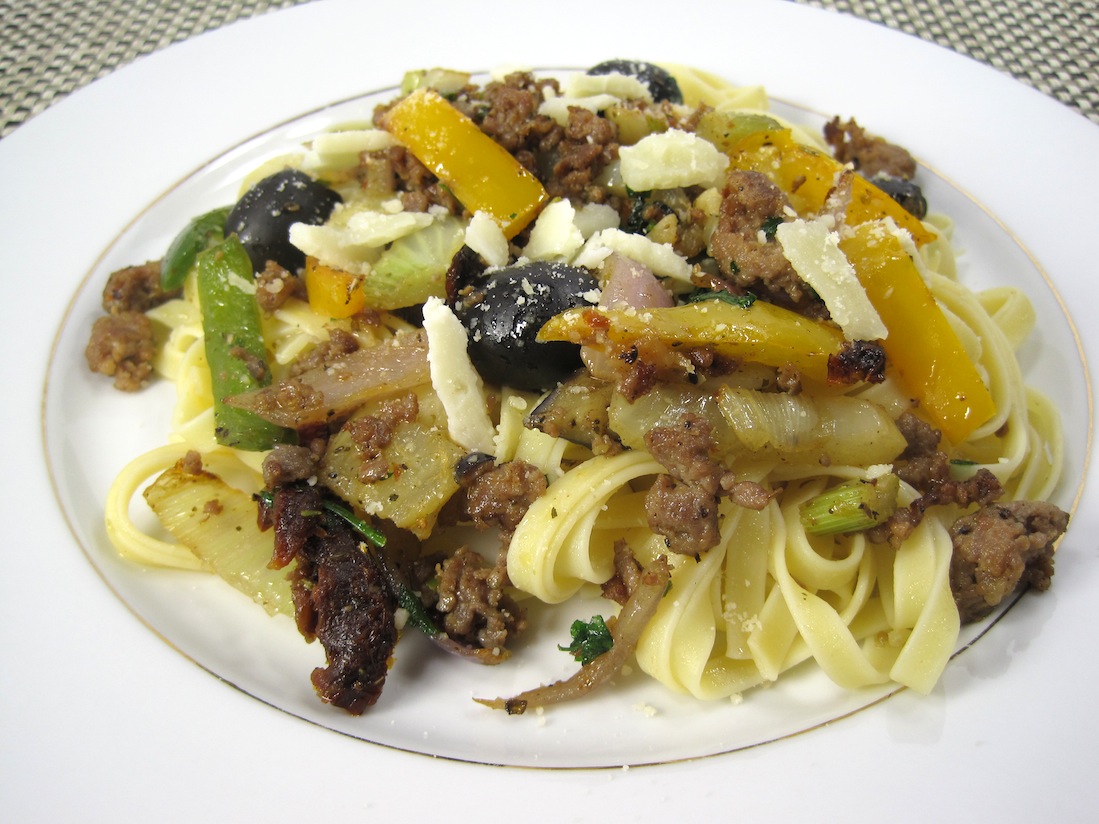 When I don't have a plan for dinner I often throw together quick pasta dishes with whatever I happen to have on-hand in the veggie bin. I always have lots of varieties of dry pasta in the pantry, but on this particular occasion I made fresh pasta. I could have just eaten the noodles with butter & Parmesan and been very happy! However, this combination of peppers, fennel and sausage was really delicious. I used hot turkey sausages, because I like it spicy, but sweet sausages with the fennel would work beautifully. Give my recipe a try, or come up with a combo of your own based on what's in your veggie bin!  😉
| | | |
| --- | --- | --- |
| Fresh Linguine with Peppers, Fennel & Italian Sausages | | |
Author:
Quick and easy pasta dish, with the perfect blend of peppers and sausages!
Ingredients
Fresh Linguine pasta
4 Tablespoons Olive oil
2 Italian Turkey sausages (hot or sweet)
4 cloves minced garlic
1/2 cup sundried tomatoes (the kind in oil)
1/2 Green bell pepper
1/2 Yellow bell pepper
1/2 Fennel bulb
1/2 Red onion
1/2 teaspoon Italian Seasoning (thyme, oregano, basil, rosemary)
10 black olives
Fresh Parsley
Salt and pepper, to taste
Grated Parmesan
Instructions
Pour about 3 tablespoons of olive oil in a large saucepan over medium heat. Remove the sausages from their casings and cook through, breaking it up as it cooks so it is crumbly.
Add the garlic, sundried tomatoes, peppers, fennel, onion and Italian seasoning to the pot. Cook until the veggies are soft, about 8 minutes.
Add the olives, parsley, salt and pepper. Combine, turn off heat, and cover.
Cook the pasta according to package directions. Drain and put back into pot. Add a little olive oil, salt, and toss.
Place desired amount of pasta onto each plate. Top with the sausages and peppers. Garnish with Parmesan cheese.
Enjoy!

Print entire post