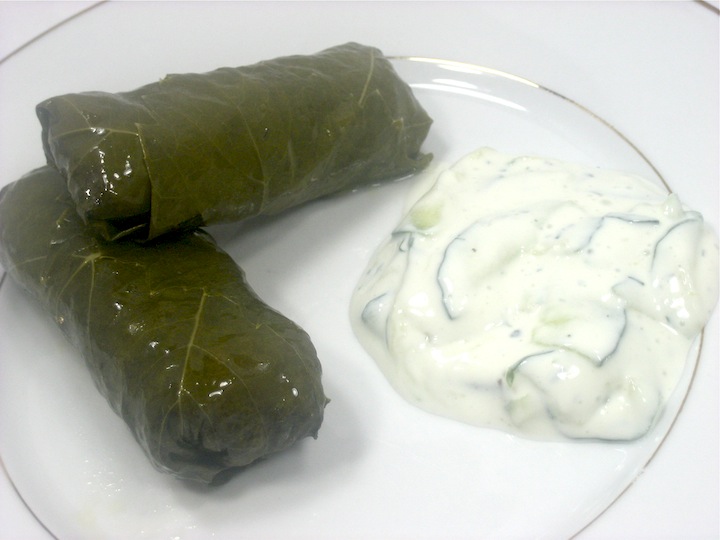 I have always loved stuffed grape leaves. There's something about the delicate sweet flavor of the filling combined with the briney taste of the grape leaves. Dip that in some Tzatziki Sauce (yogurt sauce) and you have a delicious bite!
They're super easy to make, especially if you use the jarred grape leaves. You can find the jarred grape leaves at the store or you can order them online here.
Most recipes you will find combine the filling raw, and then cook everything once it is wrapped in the grape leaf. I precook my filling for two reasons; 1) once the meat is cooked, I drain off the excess oil/fat so my grape leaves are healthier and 2) when the filling is cooked you can taste it and adjust the seasonings as necessary so you know that your grape leaves are going to be divine!
Author:
A delicious appetizer, these stuffed grape leaves can be served either hot or cold.
Ingredients
Olive Oil
Juice of 1 lemon
1 – 16 oz. jar of grape leaves
8 oz. ground beef
2 cups cooked white rice
1/3 cup toasted pine nuts
1 clove of minced garlic
1 teaspoon chopped dill
1 teaspoon chopped mint
salt and pepper to taste
Instructions
Preheat the oven to 325 degrees. Prepare a shallow baking dish (13″ x 9″) by sprinkling the bottom with some olive oil, to prevent the stuffed grape leaves from sticking. Set aside.
Rinse the grape leaves well, to rid them of excess salt. Set aside.
Cook the ground beef over medium heat until cooked through. Drain excess oil.
Place ground beef in a medium bowl. Add rice, pine nuts, garlic, dill, and mint. Add a little lemon juice and combine. Taste and season with salt and pepper, as desired.
Place a grape leaf on your work surface, vein side up. Put about a tablespoon of filling in the center of the leaf near the stem. Fold the stem side up over the filling, then fold the sides toward the middle and roll up tightly. Place in the baking dish with the seam side down.
Carefully pour in 1/3 cup of water at the corner of the baking dish. Sprinkle the top of the grape leaves with olive oil and the balance of the lemon juice. Cover tightly with foil and bake in the oven for about 30 minutes.
While it's in the oven you can make the Tzatziki Sauce.
Enjoy!

Print entire post