I've been having one of "those" days. Ventured out into the world earlier today and couldn't wait to get home so I didn't have to interact with people. I think it's L.A. It's finally getting to me more than ever! I've been living out here for a long time, but I'm really a country girl at heart. This city just keeps getting more and more crowded. People just aren't nice, or maybe it's just people behind their steering wheels.

The other day my daughter and I were driving to the Farmer's Market. We were at a 4-way stop and it was our turn to make a left… however the guy driving across from us began to go and cut us off. My daughter nicely said "it's our turn" and for a brief moment it looked like the man was going to flip us off, in customary fashion. I smiled and in that moment he smiled back and let us proceed. We were both shocked! Not what we were expecting and it was really pleasant. We laughed and proceeded to the Farmer's Market, where we got in an argument… but that's another story (for another blog).
Anyway, here I am, feeling much better at my keyboard chatting, socializing, and strategizing with my foodie/blogger friends. I'm alone today so no big food plans, but looking at everyone's blogs and food pics I kept seeing hamburgers & cheeseburgers everywhere. When it was time for lunch I was craving a burger, big time! Oh, no ground meat in the house and there's no way I'm venturing out again today!
A look in the fridge and freezer yielded me some frozen falafels that I picked up at Trader Joe's. They looked really good and seemed like they would be a nice "quick fix" for lunch (quick because 3 heat up in the microwave in 1 minute). While I was at their freezer section I also spied some frozen Naan and had to buy that, as well. I'm definitely a bread/pasta/starch type of person. It's particularly hard for me to resist bread of any kind, and sometimes when I come home from the market I may have bought 4 different types of bread. It's an issue. lol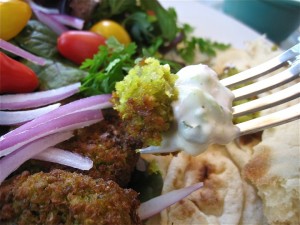 So, here is what I ended up having for lunch today. It was very satisfying and it cured my hamburger need (for now). I made some raita last night and that was the perfect accompaniment to my lunch. I highly recommend the falafel and the naan. They were both really delicious! The raita brought it all together. I know Trader Joe's sells a ready made raita. Haven't tried that, but here's my recipe.
Raita
INGREDIENTS
8 oz. non-fat Greek yogurt
2 Persian cucumbers, peeled and diced
¼ red onion, diced
½ teaspoon ground coriander
½ teaspoon fresh cilantro, chopped
¼ teaspoon garlic powder
Juice of ½ lemon
Salt and pepper, to taste
METHOD
Mix all the ingredients together. Refrigerate and serve cold. It gets better the next day as the flavors meld together.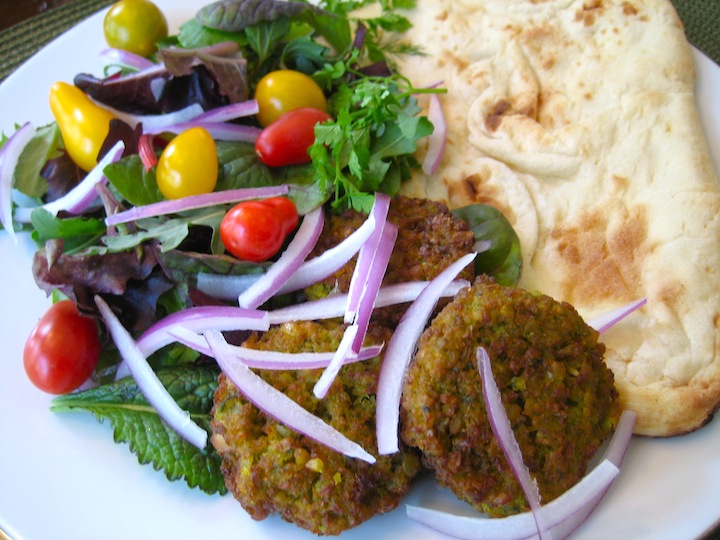 Print entire post