Crostini, in Italian means "little toasts". They are made by slicing bread very thin and then toasting it until it becomes crisp. I love using a sourdough baguette to make mine because each crostini is the perfect size to easily hold in your hand. If I need/want to have bigger crostini I use ciabatta.
Crostini can be eaten plain or used as the base for appetizers. Here are some of our favorites… warm fresh mozzarella with prosciutto and crispy sage; cream cheese with smoked salmon, capers and red onion; ricotta, basil and sundried tomato puree; wild mushroom with goat cheese, sliced marinated beef with mustard sauce, etc… the variations are endless.

I usually serve crostini instead of crackers. It's perfect with all kinds of cheese and dips. They also make great croutons for soup, plain or with a little cheese melted on them. I've even broken a few up and tossed them on my salad.
For my recipe below I just used salt and pepper, but If you'd like, you can use your favorite herbs and spices. I sometimes take a clove of garlic and rub it on each warm crostini right when they come out of the oven.  I love the way the garlic just melts into the warm toasted bread. Then you can top them however you want.
One baguette makes approximately 50 crostini.
INGREDIENTS
1 baguette (I buy the sourdough baguette from Trader Joe's)
½ cup of olive oil
sea salt
ground black pepper
METHOD
Preheat the oven to 350 degrees.
Cut the baguette into thin even slices. Place slices on a baking sheet and drizzle with olive oil. Season with sea salt and ground black pepper.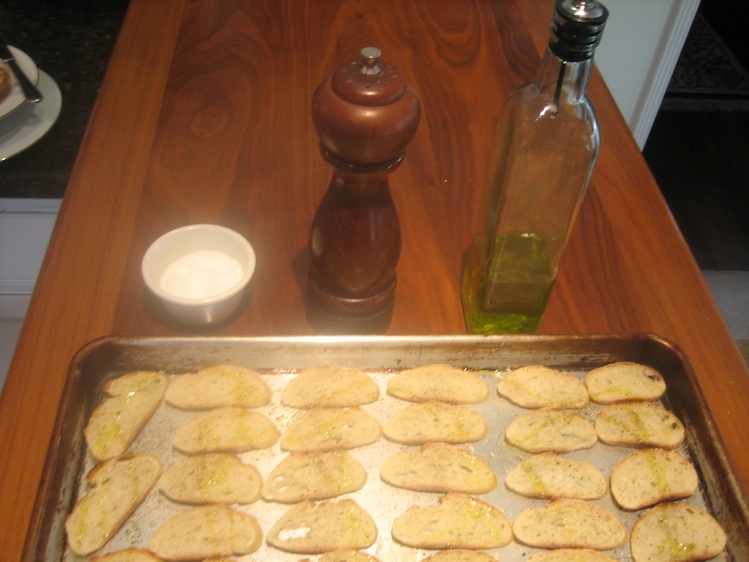 Place in oven and bake for about 15 minutes, or until crisp and a light golden color. Keep an eye on them, as they can burn easily.
You can store crostini easily at room temperature in an airtight container for about a week but, with the way we all love them, they never last that long around our household!

Print entire post