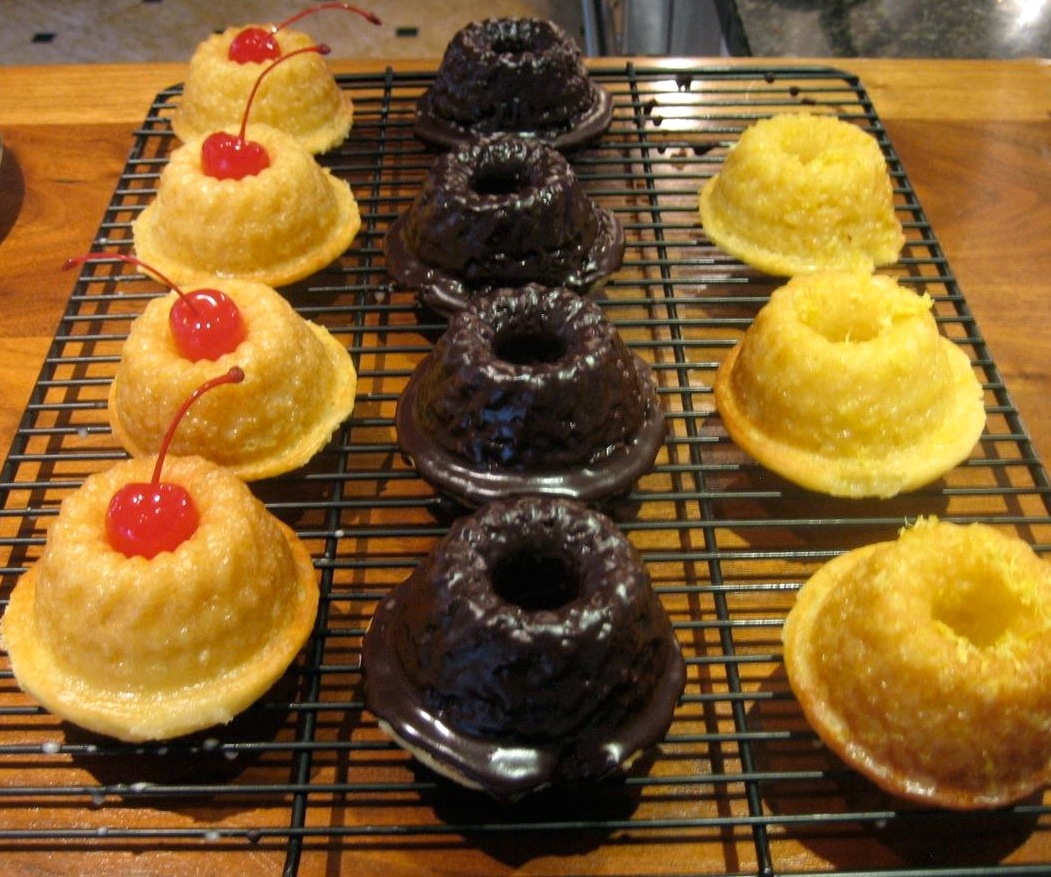 I have always loved regular size bundt cakes, but these mini bundt cakes are just too cute! You do need a special pan and I use the Kaiser Bakeware Mini Bundt Muffin Pan. The little cakes always turn out perfect and they don't stick!
I used to make a chocolate bundt cake that had a fluffy coconut filling in the center of each slice. It was decadent and delicious.
I haven't made it in years, but I still remember it distinctly. I know I have the recipe somewhere… most likely it's in my giant drawer that is full of all my favorite recipes. One by one I'm taking those recipes out and putting them into my computer. It's quite a task, but so much fun. Discovering these old recipes again is almost like finding an old friend. Some are from my childhood and my earliest cooking adventures, old family favorites are in there that have been passed down through the generations, and everything else along the way until now.
Ok, back to the mini bundt cakes and my recipe:
INGREDIENTS
2 cups flour
4 teaspoons baking powder
1 teaspoon salt
1/2 cup butter, melted (and cooled)
1 cup milk
2 large eggs
1 cup granulated sugar
1 teaspoon vanilla
METHOD
Preheat the oven to 375 degrees and spray the mini bundt cake pan with non-stick spray.
Whisk the flour, baking powder, and slat together in a medium bowl.
In a separate bowl, mix the melted butter, milk, eggs, sugar, and vanilla together.
Make a well in the dry ingredients and add the wet mixture.  Gently stir, mixing just until moistened.  Divide all the batter into the twelve molds.  There will be enough batter to make exactly a dozen.
Bake for about 15 minutes, or until the cakes test done. After you have removed the pan from the oven wait for 5 minutes before removing the mini bundt cakes from the pan.
Let them cool completely before glazing them… recipe below!
Glaze for Mini Bundt Cakes
INGREDIENTS
1 Tablespoon light corn syrup
1/4 teaspoon pure vanilla extract
3 Tablespoons hot water
1 1/2 cups powdered sugar
METHOD
Blend the ingredients together until smooth.  Dip the cooled cakes in glaze, turning them until covered.  Set on a cooling rack until the glaze dries.  I put some paper towel or wax paper under my cooling rack so, in case there's any glaze drippings, my clean up is less.
For a chocolate glaze:  Add 1 tablespoon of cocoa and 1 teaspoon more of hot water.
For a lemon or orange glaze:  Add 1 teaspoon zest and substitute lemon or orange juice for the vanilla extract.

Print entire post