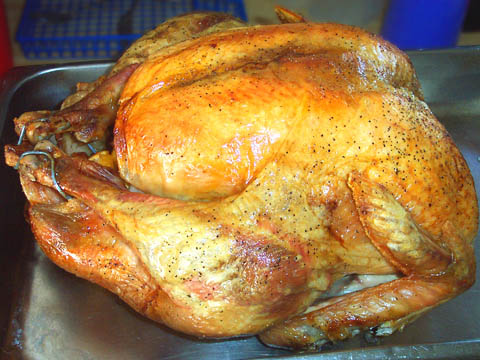 Herb Roasted Turkey Breast with Turkey Gravy
INGREDIENTS
1 large Turkey Breast (3 to 4 lbs) bone in
3 ribs Celery, rough chopped
3 Carrots, chopped into large rings
2 Red Onions, cut into 8th's
4 cloves Garlic
1 Bay Leaf
1 bunch Parsley
4 Tbsp Butter, softened
1 Tbsp fresh Sage, chopped
1 Tbsp fresh Rosemary, chopped
1 Tbsp Thyme, chopped (reserve stems for above)
2 cloves Garlic, minced
Salt and pepper
For Gravy:
6 cups turkey or chicken stock
½ cup flour
Water for slurry
Salt and fresh Ground Pepper, as desired
METHOD

Preheat oven to 375 degrees.
Pat the turkey breast off with paper towels and place into a roasting pan on top of the celery, carrots, red onion, garlic, bay leaf and thyme and parsley.
Season with salt and pepper.
Place the butter into a mixing bowl with a paddle attachment.
Place the butter into the bowl and add the chopped garlic and herbs, and beat until incorporated.
Spread the butter/herb mixture all over the turkey breast to cover completely.
Cover with foil and place in the oven.
Bake for 45 minutes covered, basting with the butter and juices about every 15 minutes.
Remove foil, and roast for 30 more minutes, basting continuously until the turkey is golden brown.
Remove from oven and place on platter.
Allow to rest for 10 minutes before slicing.
To Baste or Not To Baste?
Brushing food with liquid such as meat drippings, melted fat, fruit juice, sauce, marinade, or water during cooking to moisten. Basting adds flavor and prevents surfaces of food from drying out.
Should you baste a turkey?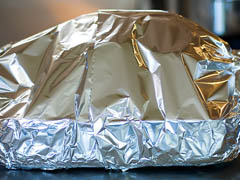 I have found the best way to cook a turkey is to wrap it in heavy aluminum foil, being sure to seal it all around. This produced very moist meat. This method requires no basting because the turkey roasts covered, sealing in juices for extremely tender meat. Savory herbs add a wonderful aroma and delicate flavor. For an especially juicy turkey, brine your bird before roasting.
When using a thermometer, and you definitely should, insert it through the foil. The internal temperature should be 180 degrees when the turkey is done. Then remove the foil for the last 30 minutes of cooking to get the turkey nice and golden brown.
Fossil evidence proves that turkeys were roaming the Americas 10 million years ago!
Over 675 million pounds of turkey will be consumed this Thanksgiving.
Over 40 million green bean casseroles are served on Thanksgiving.
It is NOT the turkey or the tryptophan that makes you so sleepy after a Thanksgiving feast. Tryptophan can only make you sleepy when taken on an empty stomach without protein, which is not the case on Thanksgiving! It's more likely the combination of drinking alcohol and overeating – not just turkey, but also mashed potatoes, stuffing, sweet potatoes, peas, cranberries, bread, pie and whipped cream…
Enjoy!

Print entire post