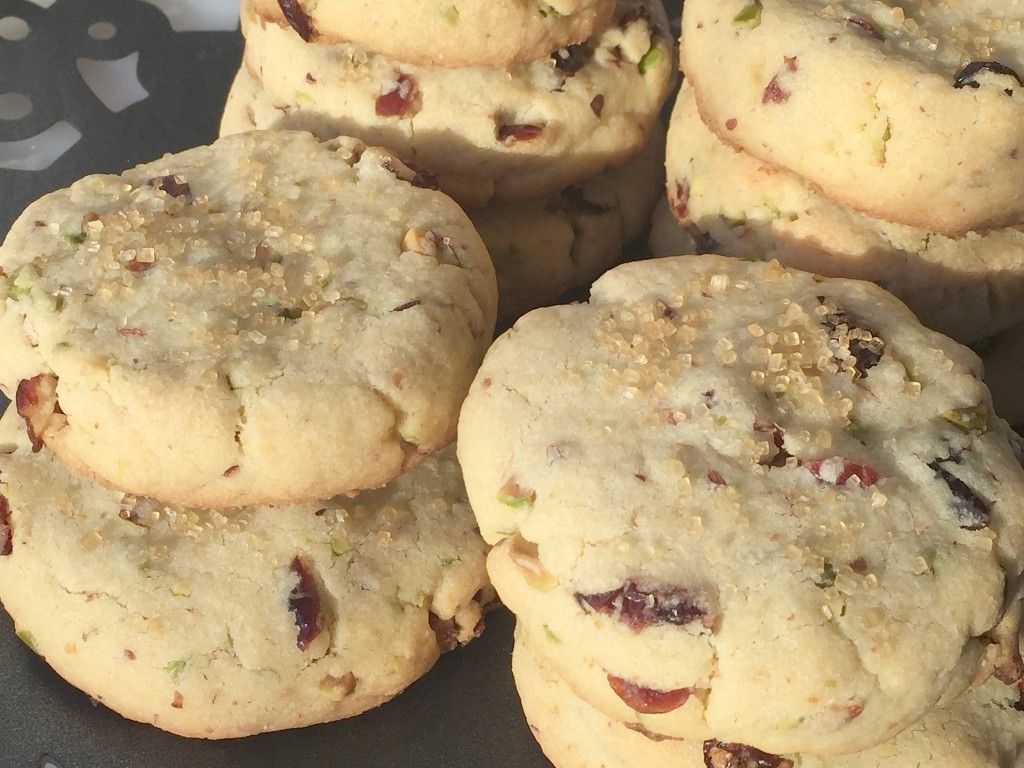 Hello ~ ~ It's been way too long since I've posted on Saucy Girls Kitchen. Since opening our cafe (www.TheCuriousKitchen.net), my blog/website has taken a back seat. I've felt sad neglecting it! So, I'm back with a delicious cookie recipe just in time for the holidays. I wanted to bake something that wasn't chocolate, or lemon…. 2 of my favs…. but I wanted something different. And now I have a new favorite!!
Cranberry Pistachio Shortbread Cookies
INGREDIENTS
2 sticks salted butter, softened
2/3 cup sugar
2 egg yolks
2 tsp pure vanilla extract
2 1/4 cups AP flour
3/4 cup dried cranberries
3/4 cup pistachios, chopped
Turbinado sugar, to sprinkle on top before baking (optional)
METHOD
Preheat oven to 350 degrees.
Mix together butter and sugar until light and creamy, about 3 minutes.
Add egg yolks and vanilla, combine completely.
Add in the flour.
Once the flour is totally incorporated, add in the cranberries and pistachios, mixing until totally combined.
Using your cookie scooper (I used the 2.25oz size), scoop the cookie dough and form it into a disk shape, about 3″ wide and 1/2″ tall.
The cookies won't rise or spread, so the way you shape them is the way they will bake.
Place cookie on a silpat or parchment covered baking sheet.
Once you've filled your cookie sheet, top each cookie with a sprinkle of turbinado sugar.
Bake for 10-12 minutes, or until edges are lightly golden.
Remove from oven and place on cooling rack.
Enjoy!