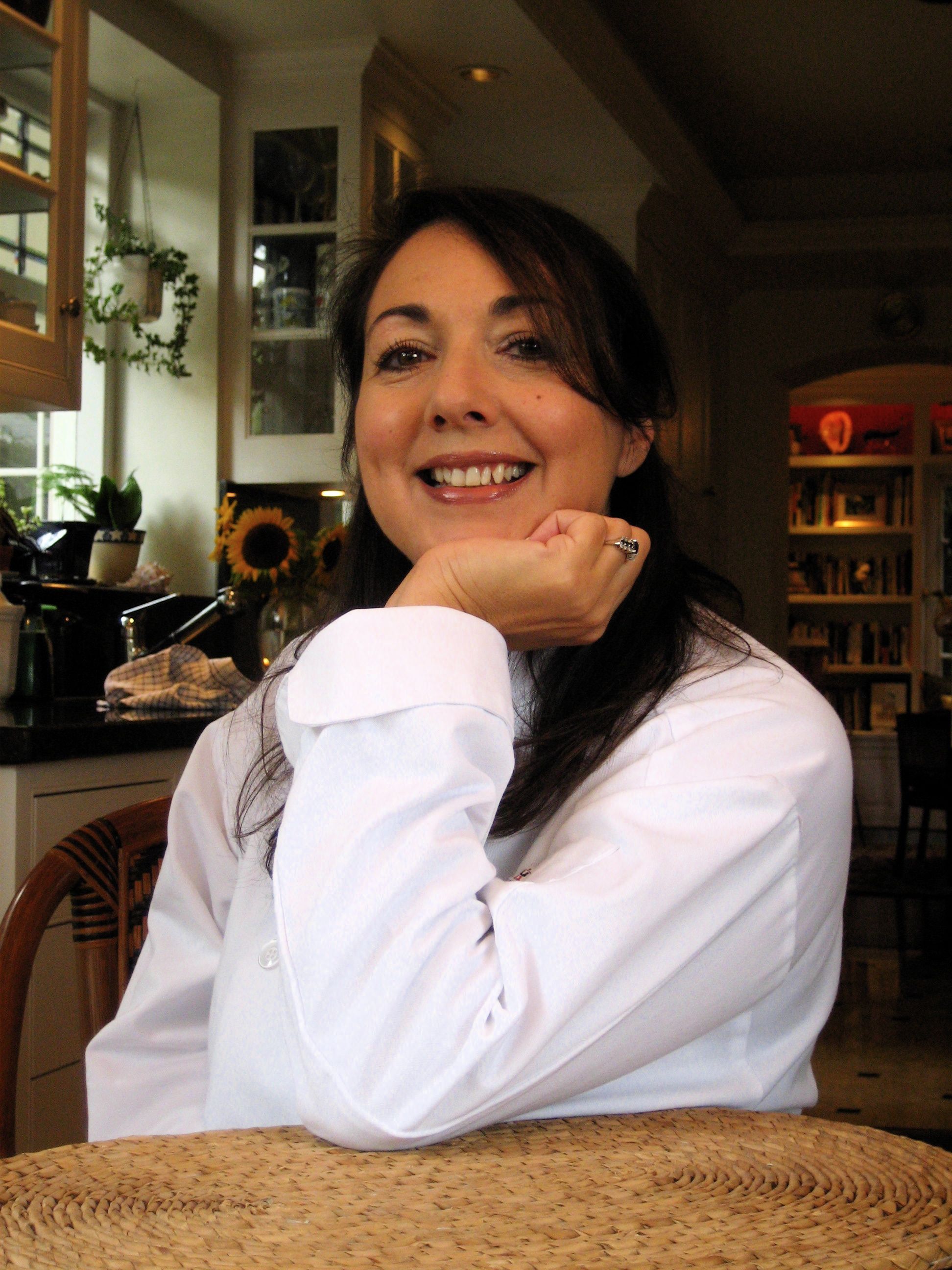 Hi!  I'm Helena, aka The Saucy Girl.  In addition to being a food blogger, I am currently the chef/owner of The Curious Kitchen, a restaurant and recreational cooking school located in Murfreesboro, TN.
For as long as I can remember cooking has been my passion. I have had the privilege of experiencing a vast array of food from many cultures, and I love them all.  Prior to moving to Tennessee, I lived in Los Angeles for 37 years. You don't have to travel the world to enjoy the flavors of the world… the world has come to Los Angeles. There is every type of food imaginable in that city! I do miss it so much, but on the upside, I have a huge garden, lots of fruit trees, chickens, etc. All the things that are wonderful about living in the country!
For 5 years before moving to Tennessee, I was the Director of the largest recreational cooking school in Los Angeles. It was fantastic to work with so many different chefs, each with their own style and cuisine specialty. I enjoyed coming up with new recipes and unique, fun cooking classes.  In addition, I organized private cooking parties/team-building events & Iron Chef Competitions from inception to completion for Google, IBM, Disney, FOX, Johnson & Johnson, Dell, Sony, Cooking Light, Sprint, ESPN, Southern Living, Sunset, Nestle, Fandango, Ernst & Young, Bank of America, GE, and many more…
In addition, I coordinated a yearly 10-week summer cooking camp for children ages 6 to 16.  I was responsible for structuring the menu/themes, the registration of 20+ kids for each session and overseeing the day to day business.
Personally, I feel fortunate to have come from a family of wonderful cooks, some professional and some in just their own kitchens.  I have been influenced by them all, but mostly by my Italian grandparents, Attilio & Mary, my father's parents.  Attilio was a professional chef at the Sheraton Belvedere in Baltimore.  Some of my earliest food memories are as a little girl going to the huge hotel kitchens with him.
But, I have to say that my best food memories are in my Italian grandparent's kitchen.  My grandmother, Mary, made the most wonderful soups. And there was always a simmering pot of marinara on the stove, flavoring the air with the aroma of tomatoes, garlic and herbs.  Roasting meats that were succulent and tender, and one could usually expect a thick crust pizza fresh out of the oven or some warm Italian fried bread dough stuffed with ricotta cheese (my fav).
On my mother's side, Helen & Bill – my Austrian | Hungarian grandparents, were both wonderful cooks.  Almost all of my memories of my Grandma Helen are of her either preparing food or serving food.  My mother is an amazing cook in her own right and many a meal have I enjoyed at her table.  And I cannot neglect the Swedish/Norwegian influences thrown in there by my step-mother's heritage.
Over the years, as a mom & a foodie, not only have I created my own style, I have accumulated a wealth of food knowledge that I'd like to share with you.  On my site you will find recipes, cooking experiences, diet tips, food tricks, easy techniques and more. New recipes are being added constantly!

Print entire post