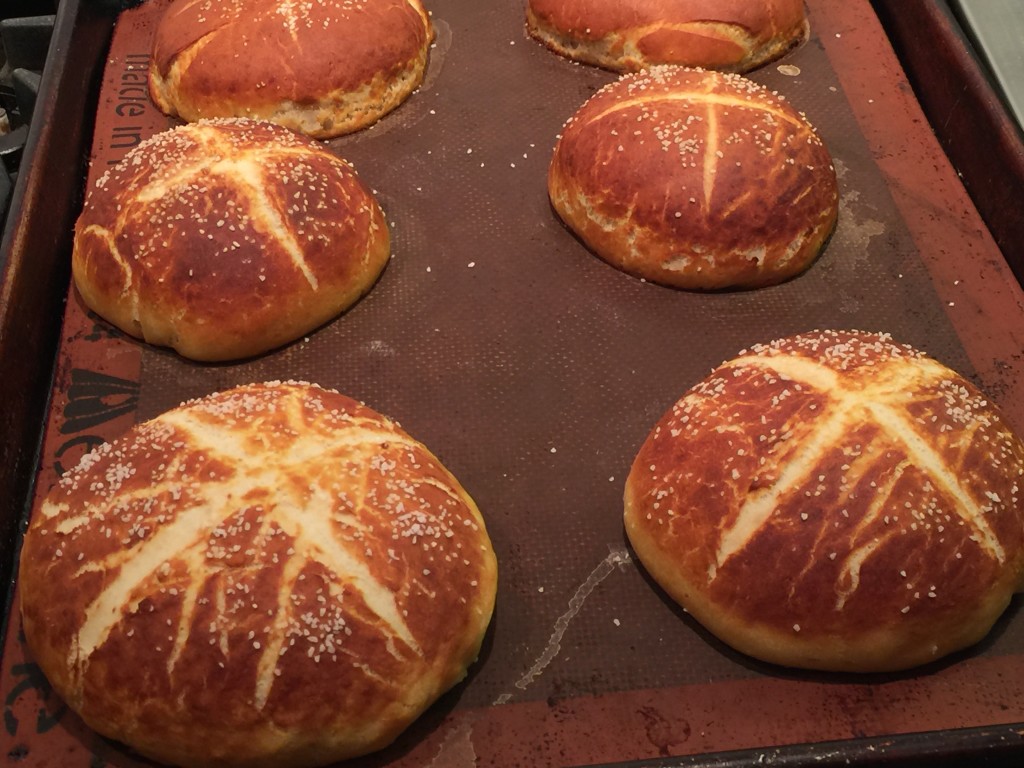 I love baking, and for some reason I bake more in the fall and winter. Although it doesn't feel like fall with the warm temperatures, my internal clock must know. I decided to make pretzel rolls to use for turkey sandwiches, complete with gouda cheese and honey mustard. They were so warm and delicious that I had to share this recipe with you.
INGREDIENTS
1 1/2 cups Milk, lukewarm
1 package Active Dry Yeast
2 Tbsp Confectioners Sugar
4 Tbsp Butter, melted
1 tsp Salt
3 ½ cups Flour
2 cups Water, hot
2 Tbsp Baking Soda
Coarse Sea Salt
METHOD
Line your baking sheets with parchment paper or use a silpat (if you don't have either of these items, you can lightly grease your baking sheet).
Set aside.
In a large bowl, mix the yeast into the warm milk, allow to sit for about 3 minutes, to activate.
Add the confectioners sugar and the melted butter. Mix to combine.
Add the flour and salt.
Mix with a wooden spoon or if you're using your electric mixer, use the hook attachment.
Knead the dough for about 5 minutes (I like to use my hands to knead).
Place dough in a greased bowl and cover with plastic wrap.
Allow to rise for 30 minutes.
Preheat oven to 425F degrees.
Turn the dough out onto your floured surface.
With a sharp knife, cut into 6 equal pieces.
This measurement does not have to be exact; the size of the rolls is up to you.
Before you start to form your rolls, place the hot water and baking soda into a shallow bowl.
Mix the baking soda to dissolve, and set aside.
Using a slotted spoon or spatula, dip each roll into the baking soda and water very quickly.
Place on your prepared baking sheet, and sprinkle with sea salt.
Continue until you have done all the rolls.
Bake for 10 minutes, or until light golden brown and puffed.
Set aside to cool.
NOTE: I found that the pretzel rolls don't really keep well. Once they're sealed up in either a plastic container or plastic bag, the salt will begin to melt. The pretzels become soft. I didn't try freezing them, but I do think that's what I'll do next time.

Print entire post