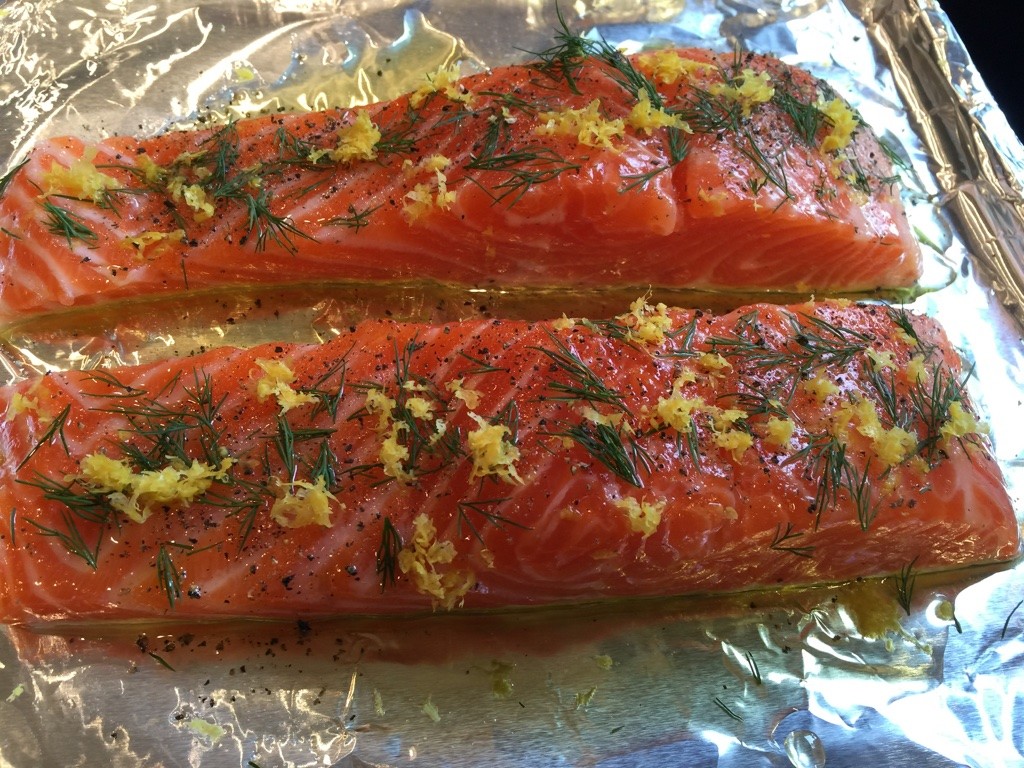 We eat salmon at least once a week! It's so good for you, touted as one of the healthiest foods on the planet. Loaded with Vitamin B12 (over 200% of the daily recommended value), Vitamin D, Selenium, Vitamin B3, Omega-3 Fatty Acids, Protein, Phosphorus, Vitamin B6, Iodine, Choline, Vitamin B5, Biotin and Potassium. Plus, Omega-3s have been proven to kill cancer cells!
Did I mention that it's delicious…. Here's one of my favorite ways to prepare it, and there's easy clean-up if you use tin foil to cover the baking pan.
INGREDIENTS
2 pieces of Salmon (wild caught is best!)
2 Tbsp Olive Oil
1 Lemon, zest and juice
Fresh Dill, chopped
Salt and Pepper, to taste
METHOD
Preheat oven to 350 degrees.
Cover a baking sheet with foil and lightly oil it.
Place your salmon on top.
Drizzle olive oil on top of the salmon.
Evenly coat with lemon zest, lemon juice, dill, salt and pepper.
Bake for about 15-20 minutes, until just cooked through.
Enjoy!

Print entire post