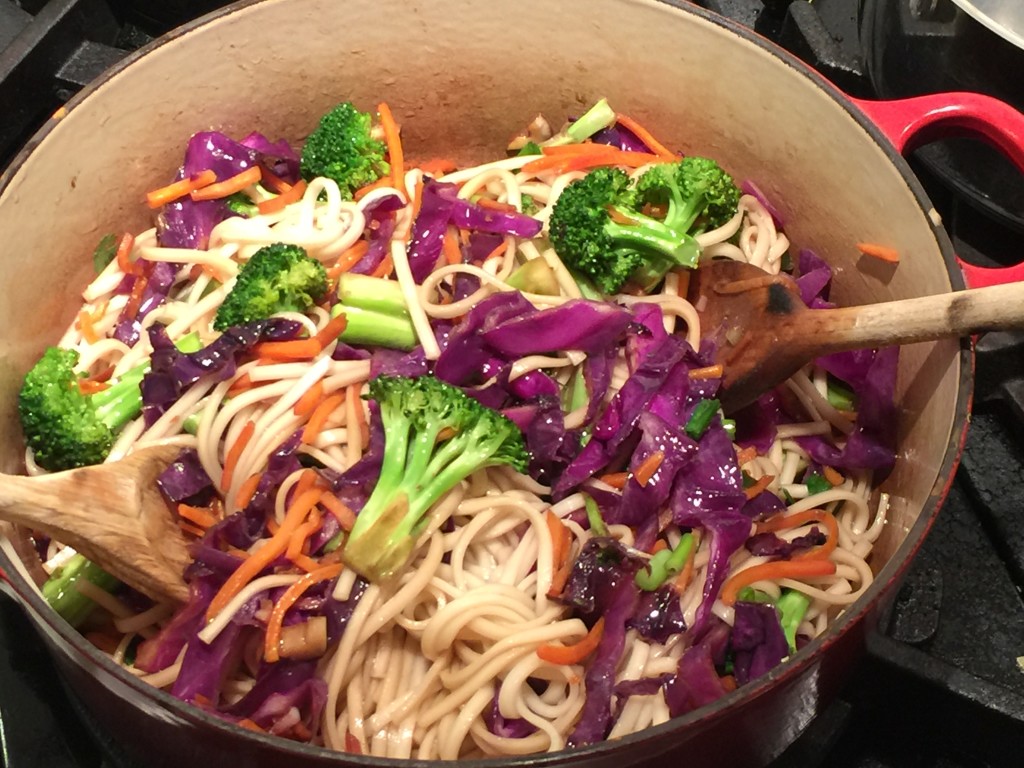 Eat the rainbow… the more colors you eat, the healthier you'll be. Of course, I'm talking about natural colors! The recipe I'm sharing today is very colorful, really tasty and comes together in just 15 minutes. Perfect for an easy weeknight dinner. And you can make it your own by substituting other vegetables, such as bell peppers, zucchini, eggplant, etc.
Serves 2
INGREDIENTS
Udon Noodles (enough for 2)
1 Tbsp Sesame Oil
1 Tbsp Vegetable Oil
2 cups Broccoli, cut into bite size pieces
2 cups Red Cabbage, thinly sliced
1 cup Carrots, julienned
3 cloves of Garlic, thinly sliced
2 Scallions, thinly sliced
2 Tbsp fresh Ginger, grated
2 Tbsp Soy Sauce
1 Tbsp Fish Sauce
1 Tbsp Sugar
1 tsp Rice Wine Vinegar
METHOD
Cook Udon Noodles according to package directions, drain, rinse with cold water and set aside.
In a medium saucepan add the sesame and vegetable oils, over medium heat.
Add the broccoli, red cabbage, carrots and garlic.
Saute veggies for about 7 minutes.
Meanwhile, mix together the scallions, ginger, soy sauce, fish sauce, sugar and rice wine vinegar in a small bowl, and set aside.
Once the veggies are done, turn the heat to medium-low and add the Udon Noodles to the pot.
Pour the soy sauce mixture on top of noodles and gently toss together until everything is coated with the sauce.
Allow to warm up for a few minutes before serving.
Options: Add cooked chicken, shrimp, scallops or beef… or the veggies of your choice.

Print entire post