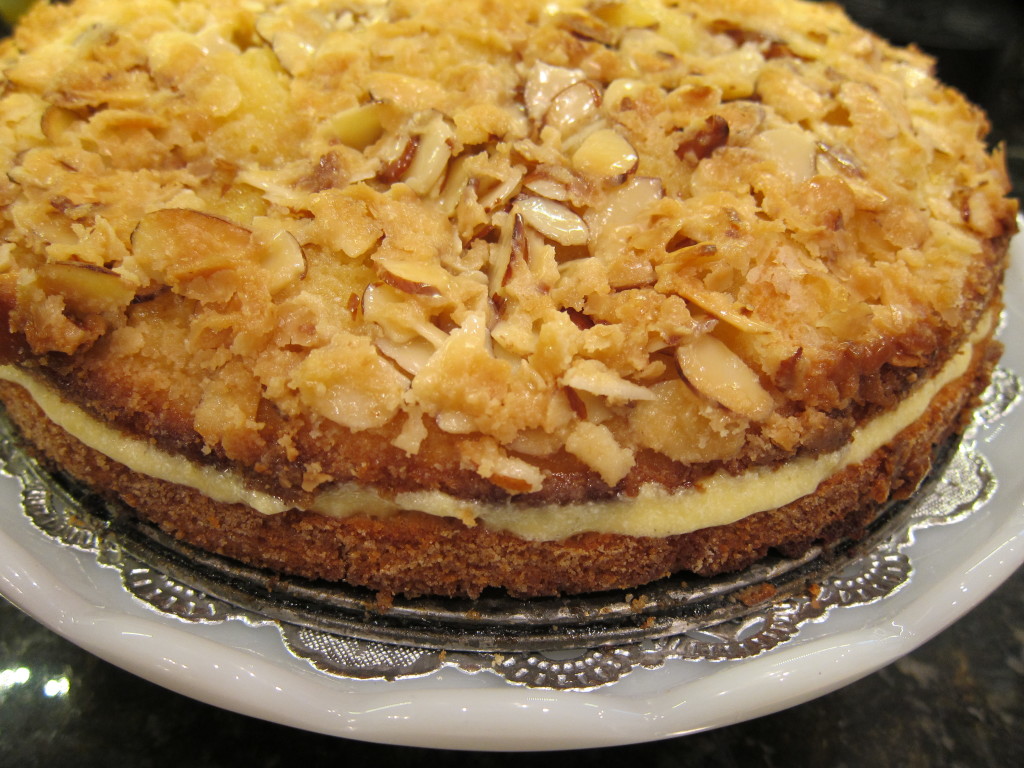 When I taught a German cooking class a few days ago at The Curious Kitchen we made this cake. There was enough for all the participants and a tiny piece left for me to sample. Just let me say that little bit was not enough. So, I made the cake today at home. I'm in love. Delicious.
INGREDIENTS
For the Cake:
1 stick Butter
2/3 cup Sugar
2 Eggs
1 tsp pure Vanilla
6 Tbsp whole Milk
1 ¾ cup all-purpose Flour
3 tsp Baking Powder
1/2 tsp Salt
Almond topping:
1/2 cup slivered Almonds
1/3 cup Sugar
4 Tbsp Butter
1 Tbsp Milk
Filling:
2 ½ Tbsp Sugar
2 Tbsp Cornstarch
3 Egg Yolks
1 cup Milk
1/2 tsp pure Almond Extract
3 Egg Whites, stiffly beaten
a pinch of Salt
METHOD
Preheat oven to 375° F.
Butter and sugar a 9″ springform pan.
Cream the butter and sugar together until fluffy.
Add eggs one at a time, beating well after each.
Mix in the vanilla.
Stop your electric mixer and add in the dry ingredients.
Mix on low and pour in the milk.
Stir only enough to blend thoroughly.
Pour into the prepared springform pan.
Topping:
Heat together almonds, sugar, butter and milk or cream until the sugar dissolves.
Sprinkle about half a teaspoon of flour over the top of the cake batter.
Pour the almond mixture evenly over the batter.
Bake for 20 to 25 minutes or until cake tester comes out clean.
Cool cake while preparing filling.
Filling:
Whisk the sugar, cornstarch, egg yolks and milk in a medium saucepan.
Place over the medium low heat setting and stir constantly until the sugar is dissolved, but do not allow it to come to a boil.
Stir in almond extract.
Set aside to cool before folding in the egg whites.
In a medium bowl, beat egg whites, adding the salt, until stiff peaks form.
Fold egg whites into the cool yolk mixture.
Place a piece of wax paper or plastic wrap over the top and chill.
Assembly:
When the cake has cooled, slice in half crossways to make two layers.
Place bottom layer cut side up on cake plate.
Spread with filling.
Top with the second layer with the almond glazed side up.
Refrigerate until time to serve.

Print entire post