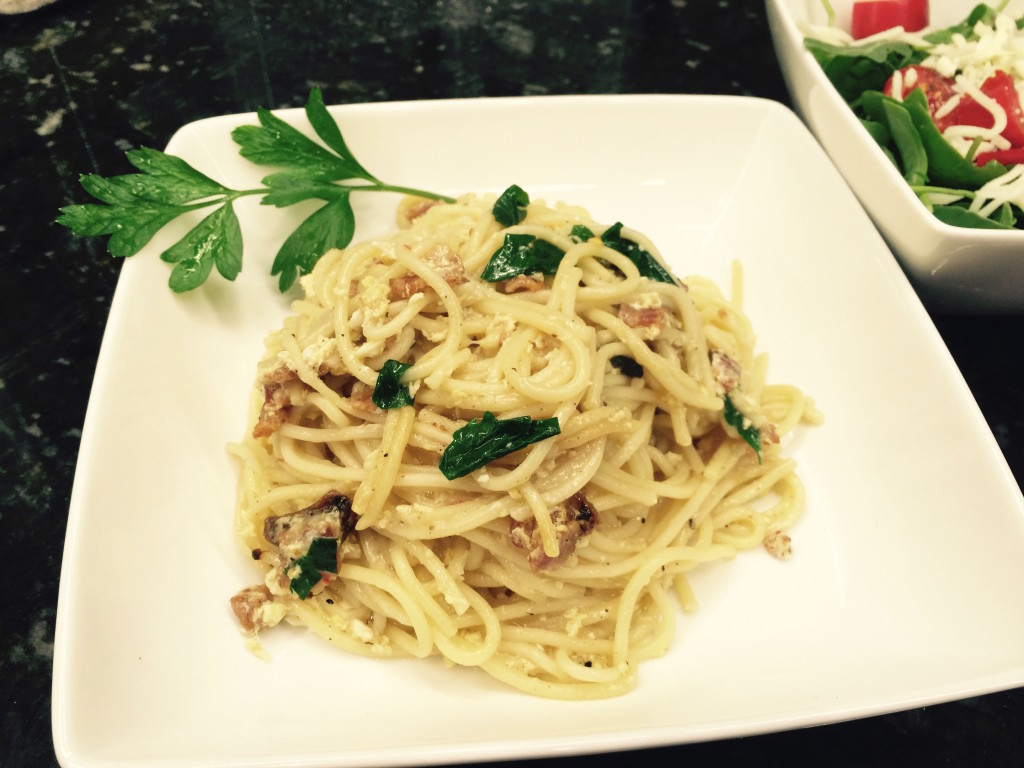 People always ask me if I cook at home, since I'm cooking everyday at The Curious Kitchen. My answer is "yes" – because dishes like this one come together in 20 minutes. While the pasta is cooking, I prepare the sauce. A quick tasty side salad of Arugula, Tomato, Shredded Mozzarella with Vinegar & Oil… and dinner is served!
INGREDIENTS
1 lb dry Spaghetti
2 Tbsp Olive Oil
4 ounces Pancetta, cubed
4 Garlic Cloves, finely chopped
2 large Eggs
1 cup Parmigiano-Reggiano, freshly grated
1 handful Parsley, chopped (save some for garnish)
Freshly ground Black Pepper
Crushed Red Pepper
METHOD
Prepare the pasta according to the package directions.
While the pasta is cooking, prepare the sauce.
In a heavy saucepan add the olive oil and pancetta.
Sauté for about 3 minutes, until the pancetta is crisp.
Add the garlic into the pan and sauté for less than 1 minute to soften.
In a separate bowl mix the eggs with the Parmesan Cheese, stirring to remove any lumps.
As soon as the pasta is ready, remove it from the hot water using a pasta spoon and add it into the pancetta saucepan (do not throw out the pasta water!).
It is very important that the pasta is really hot; because the heat of the pasta will cook the raw eggs, so stir in the egg mixture in quickly.
Add a little, about ¼ cup, of the reserved hot pasta water to thin out the sauce.
Season pasta with several turns of freshly ground black pepper and a pinch or two of crushed red pepper.
Taste and season with salt, if needed
Mound the Carbonara into warm serving bowls.
Garnish with parsley and serve with additional Parmesan Cheese, if desired.
Enjoy!

Print entire post