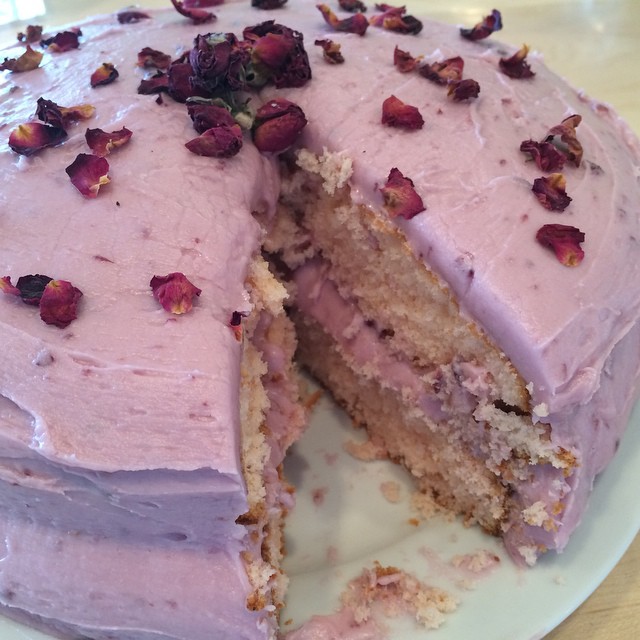 Spring is in the air… and this cake tastes like spring with it's delicate floral flavor.
The cake has a sweet crisp crust, which is the result of coating the cake pans with sugar instead of flour. I do that for all my vanilla or light cakes. If I'm making a chocolate cake I will give the buttered cake pans a dusting of cocoa powder. So much better than using flour. Plus, you don't get that residual white coating from the flour on your cake!
INGREDIENTS
For Cake:
1 stick Unsalted Butter, softened (plus more for cake pans)
1 ½ cups Sugar (plus more for dusting cake pans)
3 Eggs
2 tsp Rose Water
½ cup Milk
½ cup Cherry Juice (from canned cherries – used in frosting)
2 cups Flour
1 Tbsp Baking Powder
1/2 tsp Salt
For Frosting:
1 can of Cherries packed in their own juice (drain cherries and reserve the juice)
1 stick Unsalted Butter, softened
4 oz. Cream Cheese, softened
6 cups Confectioner's Sugar
1/4 tsp Salt
2-3 Tbsp Heavy Cream
1 tsp Rose Water
Rose Petals, for garnish – optional
METHOD
Preheat oven to 350 degrees.
Thoroughly butter two 8-inch round cake pans and dust with sugar (not flour) and set aside.
We need ½ cup of cherry juice from the canned cherries for our cake batter, so drain the juice from the cherries and place cherries on a paper towel to absorb any excess liquid (we'll need the cherries when we make the frosting).
For Cake:
In the bowl of your electric mixer, combine 1 stick of softened butter with the sugar.
Cream together until light and fluffy.
Add eggs and rose water.
Continue to beat together for another minute.
On low speed slowly add in the milk and cherry juice until combined.
Stop mixer and add in the flour, baking powder and salt.
Beat until combined, about 2 minutes.
Pour batter equally into the two prepared cake pans.
Bake for about 35 minutes, or until cakes are golden and a toothpick inserted into the center comes out clean.
Cool the cakes in the pan for 20 minutes, then turn cakes onto racks to cool completely.
Meanwhile, you can make the frosting.
For the Frosting:
Chop the drained cherries into small pieces and set aside.
Mix together butter and cream cheese on medium-high speed until creamy, about 1 minute.
Reduce the speed to slow and add in confectioner's sugar.
Add salt, heavy cream, rose water and cherries.
Continue to beat until fluffy, about 4 minutes.
Once the cakes are completely cool, place one layer on the cake plate and spread 1 ½ cups of frosting evenly over the top.
Place remaining cake layer on top.
Ice the top and sides of cake with remaining frosting, and top with rose petals (be sure they're all natural).
Enjoy!
Note: Store cake, covered, in the refrigerator.

Print entire post