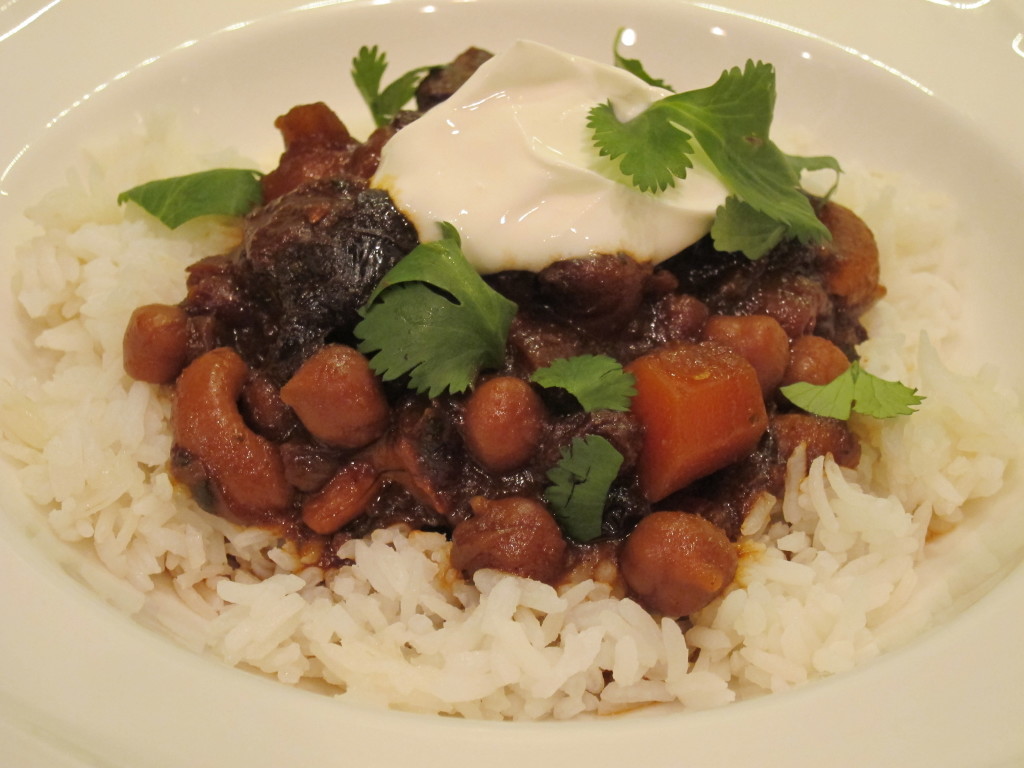 It's been a long time since I've done a recipe post… even though I'm cooking more than ever!!
Last August, my daughter and I opened a recreational cooking school called The Curious Kitchen. A month passed by and we decided to open for lunch (basically we had to pay the rent and the cooking concept had not taken off as quickly as hoped). Then we figured, "we're open for lunch, might as well open for breakfast, too"…
It's been about 8 months now, and the cooking concept took off! And so did our breakfast and lunch service! And our catering! And our private parties!
We're so happy, and blessed, and busy!!
I've felt bad neglecting my Saucy Girls Kitchen blog. So, I'm back… and I'm posting one of my favorite things in the world. Moroccan Beef Stew.
Don't eat beef? Just leave it out. This stew it so flavorful that you don't need it!!
Moroccan Beef Stew
INGREDIENTS
2 Tbsp Olive Oil
1 lb. lean Beef, cut into 1-inch pieces
4 cloves Garlic, minced
1 medium Onion, chopped
4 Tomatoes, chopped
1 tsp Cumin
½ tsp Ginger
½ tsp Cinnamon
½ tsp Coriander
¼ tsp Cardamom
3 Carrots, peeled and cut into ½ inch pieces
1 – 15 oz. can Garbanzo Beans, drained and rinsed
¼ cup Raisins
3 to 4 cups Beef Stock
¼ cup Cashews, toasted
3 Scallions, sliced thin
½ cup Cilantro, leaves only (reserving some for garnish)
Salt and Pepper, to taste
Sour Cream, optional
METHOD
Place olive oil in a large heavy saucepan and heat over medium-high heat.
Add beef and sauté until brown no all sides, about 4 minutes.
Add garlic, onion, tomato and spices.
Sauté for another 2 minutes.
Add carrots, garbanzo beans, raisins, beef stock and cashews.
Continue to cook over medium heat until the vegetables are soft, about 10 minutes.
Add in the scallions and cilantro.
Taste and season with salt and pepper, as desired.
Serve over Basmati Rice and top with sour cream, if desired.
Enjoy!

Print entire post