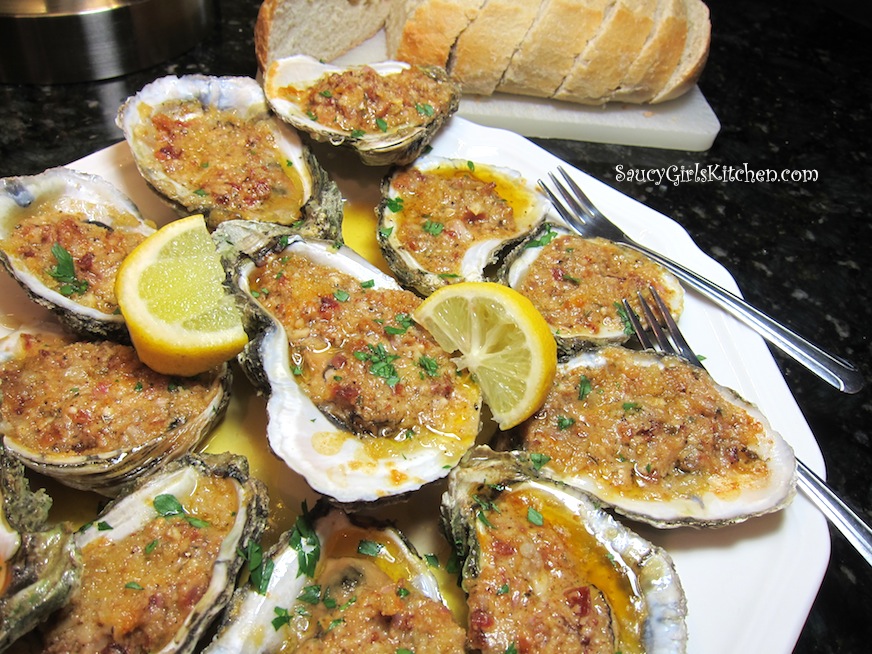 Oysters… I love them any which way. Usually we eat them raw, but sometimes I crave a cooked oyster, like Oysters Rockefeller or a really light Oyster Stew. I was in the mood to create something different with the oysters. I opened the fridge and saw that we had 3 pieces of leftover bacon from breakfast, and voila – this recipe was born!
It's so delectable the way the ingredients all meld together with the oysters and oyster juice. Be sure to get a great loaf of crusty bread to fully enjoy this dish!
INGREDIENTS
1/2 stick unsalted Butter, softened
5 Tbsp Parmesan Reggiano, grated
3 pieces of Bacon, cooked and diced small
2 cloves Garlic, minced
1 Shallot, minced
1 tsp fresh Parsley, minced
½ tsp Oregano
½ tsp Black Pepper, fresh grated
¼ tsp Paprika
1 dozen Oysters, shucked
Fresh Parsley, as garnish (optional)
Lemon Wedges, as garnish (optional)
METHOD
In a small bowl, mix the butter, parmesan, bacon, garlic, shallot, parsley, oregano, black pepper and paprika.
Set aside
Preheat the oven to 350 degrees.
Shuck the oysters and place on a baking sheet.
Top each oyster with the butter mixture, dividing evenly among the oysters until it is all used.
Bake in the oven for 15 minutes, until bubbly.
Place the oysters on a serving plate and be sure to put all the leftover juice on the plate, as well (for bread dipping!)
Garnish with fresh parsley and lemon wedges, if desired.
Serve with hot crusty bread.
Enjoy immediately.

Print entire post