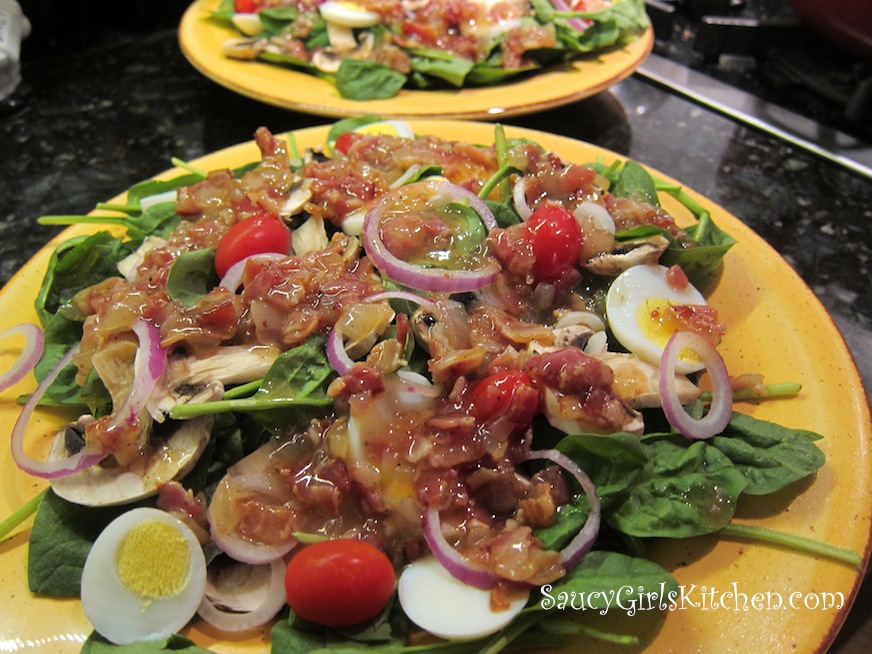 Ok, let's take a really healthy salad and cover it in a not so healthy salad dressing. Truthfully, I don't make this salad often but every time I do I just love it. I don't even feel guilty when I eat it because it's so delicious! Sweet and tart, with the flavor of bacon. I mean, I'm buying the healthy bacon ~ no nitrates. That surely must count for something. Also, I didn't add this into the recipe but I really like to put a dollop of chunky blue cheese dressing (homemade of course) right in the middle. Yep, I'm bad, but there's something about the creamy cold blue cheese dressing and the hot bacon dressing. Ok, now I may be feeling a little guilty… nothing that an hour walk can't cure! 😉
Serves 4
INGREDIENTS
For Hot Bacon Dressing:
1 lb. Raw Bacon, diced
2 Onions, diced small
2 1/2 cups Cold Water
3/4 cup of Sugar
3 Tbsp Cornstarch
1/4 tsp Pepper
3/4 cup Apple Cider Vinegar
4 Tbsp fresh Lemon Juice
3/4 tsp Salt
For Salad:
1 lb. of Baby Spinach, washed and patted dry
8 large Mushrooms, cleaned and sliced
4 Eggs, hardboiled, shelled and sliced
4 thin slices of Red onion
20 Cherry Tomatoes
METHOD
For Hot Bacon Dressing:
Brown the bacon until well done; add onions.
Saute until the onions are translucent.
Incorporate the cornstarch into the sugar (you are doing this so the cornstarch doesn't get lumpy when added to the pan).
Add all the remaining ingredients into the bacon and onions, bring to a boil.
Lower heat to medium low and allow to cook for about 5 minutes, or until somewhat thick.
Makes about 4 cups of dressing.
Be sure to refrigerate the leftover dressing and warm before using again.
For Salad:
Divide the spinach equally onto 4 plates.
Top each salad with 2 sliced mushrooms, 1 hard boiled egg, sliced, one slice of red onion, separated into rings, and 5 tomatoes.
Drizzle with the hot bacon dressing, to taste, and serve immediately.
Enjoy!

Print entire post