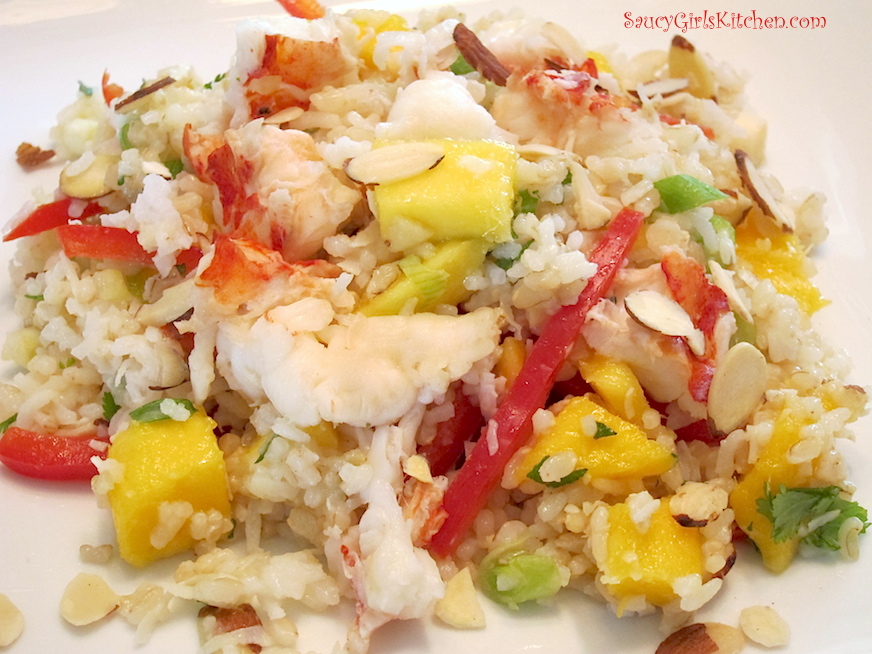 I was in the mood for something different. It's fun to create interesting flavor combinations. That's definitely what we have going on with this rice dish. The zesty flavor of the mint and lemon, combined with the sweet flavors of mango and coconut is incredible. Lots of different textures, as well. I used two different types of rice –  jasmine and brown. The brown rice has a nice chewy nutty texture, while the jasmine is mild, with a floral flavor. They are perfect together and carry this dish nicely.
I served it as our entree, so I topped it with lobster to make it a little more substantial. Shrimp or Scallops would be a wonderful substitute for the lobster. I hope you give my recipe a try. It makes an incredible summer dinner!
Makes 2 entrée portions, or 4 appetizers
INGREDIENTS
2 cups cooked Jasmine Rice, room temperature
2 cups cooked Brown Rice, room temperature
1 large Mango, peeled and cut into 1-inch pieces
1/2 Red Bell Pepper, thinly sliced
3 Green Onions, thinly sliced
3 Tbsp fresh Mint, rough chopped
3 Tbsp Cilantro, rough chopped
Zest of 1 Lemon
Juice of 1 Lemon
1/4 cup Almond Slivers
1/3 cup flaked Coconut
pinch of Sea Salt
2 cups of cooked Lobster Meat, cut into bite sized pieces
METHOD
Start by cooking both of the rices (separately) according to the package directions.
Cool rice down by allowing to come to room temperature, or rinse rice with cold water and drain.
Place rice in a large bowl.
Add the mango, bell pepper, green onion, mint, cilantro, lemon zest and juice, almond slivers, coconut and salt.
Gently mix to combine, you don't want to mash the mango.
Plate rice and top with lobster pieces.
Enjoy!

Print entire post