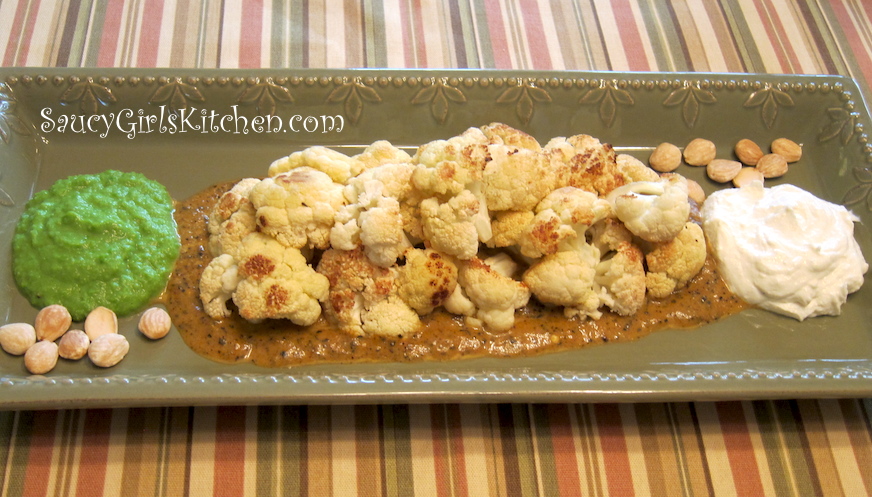 I got my inspiration for this dish from a roasted cauliflower appetizer at Etch Restaurant in Nashville. It was so amazingly delicious! I paid careful attention to every detail, texture and flavor as my daughter and I enjoyed the appetizer… because I knew that soon enough I'd be craving it and want to make it at home.
Here is my rendition of the roasted cauliflower appetizer. The one real difference is that I used a yellow bell pepper instead of a red bell pepper to make the coulis that I put the roasted cauliflower on. The only reason I used a yellow bell is that's all I had at the time, but it was perfect.
This recipe has several components, but please don't let that stop you from creating this dish. Each step is super easy and so worth it. That's what makes this dish so remarkable, the way all these flavors come together and combine! I hope you'll give it a try!!
INGREDIENTS
1 head of Cauliflower, washed and trimmed into nice size flowerettes
2 Tbsp Olive Oil
dash of Sea Salt
For Bell Pepper Coulis:
1 Yellow or Red Bell Pepper
2 Tbsp Olive Oil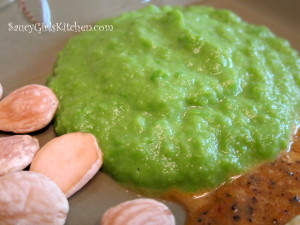 dash of Sea Salt
For the Truffled Pea Dip:
1 cup frozen Peas, thawed and drained
2 drops Natural Liquid Smoke
1 to 2 Tbsp Truffle Oil (depending how strong of a Truffle flavor you like)
dash of Salt
For the Feta Cream:
1/2 cup Feta Cheese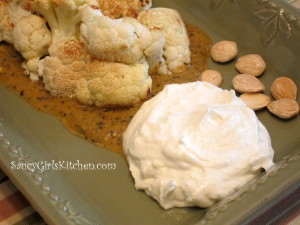 2 Tbsp Sour Cream
1 to 2 Tbsp Heavy Cream
1/4 tsp Lemon Juice
Pinch of Salt
Garnish with Marcona Almonds
METHOD
Preheat the oven to 400 degrees.
Place flowerettes in roasting pan and toss in 2 tablespoons of olive oil, coating the cauliflower with the oil.
Sprinkle with a little sea salt.
Roast the cauliflower in the hot oven for about 20 to 25 minutes, or until the tips begin to get a light golden color.
Meanwhile, you can roast the yellow bell pepper over the gas flame of your oven, on the grill, or you can roast the pepper in the oven on broil, turning it as it gets charred and blacked.
Once the pepper is completely charred, cover and allow it to steam for about 15 minutes.
Now let's get started on the Truffled Pea Dip.
Place the peas, liquid smoke, truffle oil, and salt in the food processor and process until smooth.
Taste, adjust smoke, truffle oil and/or salt if desired.
Place mixture in the refrigerator until ready to plate.
At this point you're pepper should be steamed enough, so remove the cover and allow it to cool while you make the Feta Cream.
Place the Feta cheese, sour cream, heavy cream, lemon juice and salt in a small bowl.
Mash together with a fork until it gets creamy, but still has some feta cheese chunks.
Place mixture in the refrigerator until ready to plate.
Back to that bell pepper… it should be cool enough to handle.
You can easily peel the charred skin off, and discard (I actually like the flavor the skin adds, to I always leave some in).
Carefully remove the stem and seeds.
Put the pepper into the food processor, along with any juice from the pepper.
Pulse until mostly smooth.
Place pepper in a small bowl and mix in the olive oil and salt.
To Assemble:
A nice long or oblong plate is best.
Place the bell pepper coulis in the center of the plate, this will serve as a bed for the roasted cauliflower.
Decoratively place the cauliflower on the bell pepper coulis.
Place an equal portion of the Truffled Pea Dip and the Feta Cream on each side of the cauliflower.
Garnish with Marcona Almonds.
Enjoy!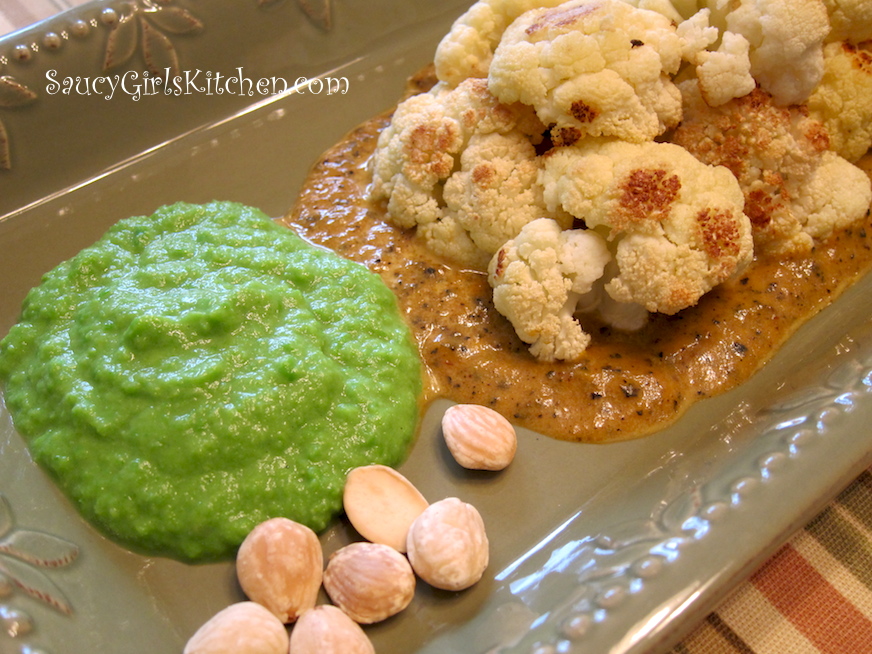 Print entire post