I haven't done a post in a little bit, but it's certainly not because I've been lazy. I caught spring fever this year ~ in a big way ~ and took on a couple home projects. Painting the master bedroom, taking it from a dull dark brown to a sage green. Wow, it's amazing how much it brightened up the room and totally changed the feel of it. But I didn't stop there. The adjacent master bathroom still had those same dull brown walls. I'm happy to say they are now a lighter green than the bedroom and it's beautiful. I love it. Got an aquatic theme going on, complete with a hanging Mermaid and an Octopus. I'll be sharing a video of my completed projects soon.
Yes, I've still been cooking and here's one of my favorite recipes to share with you. It's super easy, quick and delicious ~ which made it a perfect dinner after painting all day!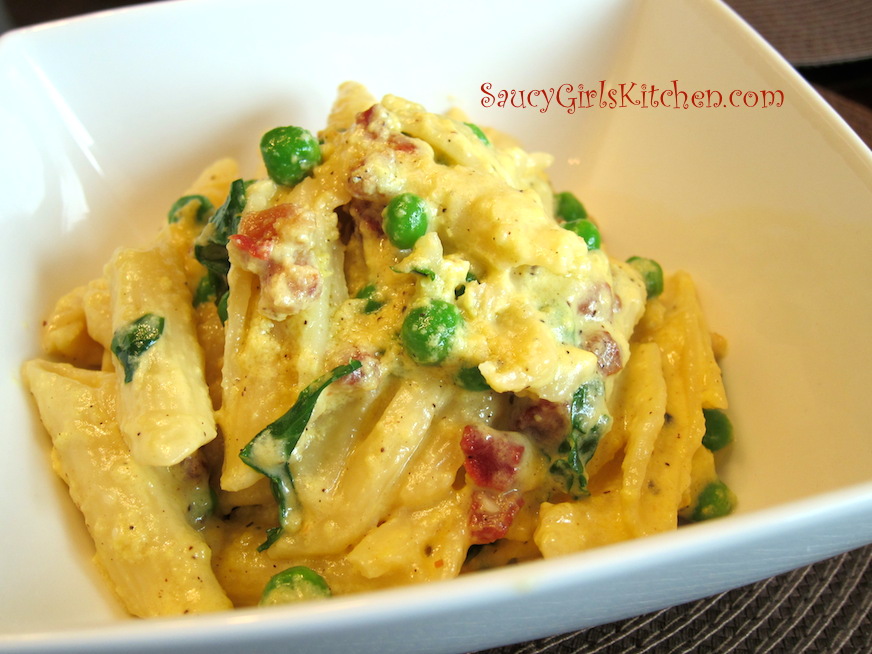 INGREDIENTS
1 lb. Penne (or Pasta of your choice), cooked according to package directions
½ lb. Pancetta, diced into 1-inch cubes
2 Eggs, room temperature
1/2 cup Heavy Cream, room temperature (sure, use half and half if you'd like)
Sea Salt and freshly ground Black Pepper
1 cup freshly grated Parmesan Cheese
1/3 cup Peas (frozen works best)
4 Tbsp Fresh Parsley, chopped
METHOD
In a large pot, boil 6 quarts of salted boiling water.
Add pasta and cook until al dente, about 8 to 10 minutes.
Meanwhile, heat a large sauté pan until hot.
Add pancetta and sauté until golden brown and crispy, about 5 minutes.
Remove pan from heat and set aside.
In a medium bowl, beat the eggs and cream.
Add in a little salt and pepper.
Stir in Parmesan, reserving about 2 tablespoons for garnish.
When the pasta is done cooking, drain in a colander and place the pasta back into the hot pot, turning heat onto the lowest temperature.
Stir in the pancetta.
Add the cream mixture, stirring to coat the pasta completely.
Gently stir in the peas, and allow everything to heat up.
Stir in the chopped parsley.
Serve immediately, garnished with some Parmesan cheese.
Enjoy!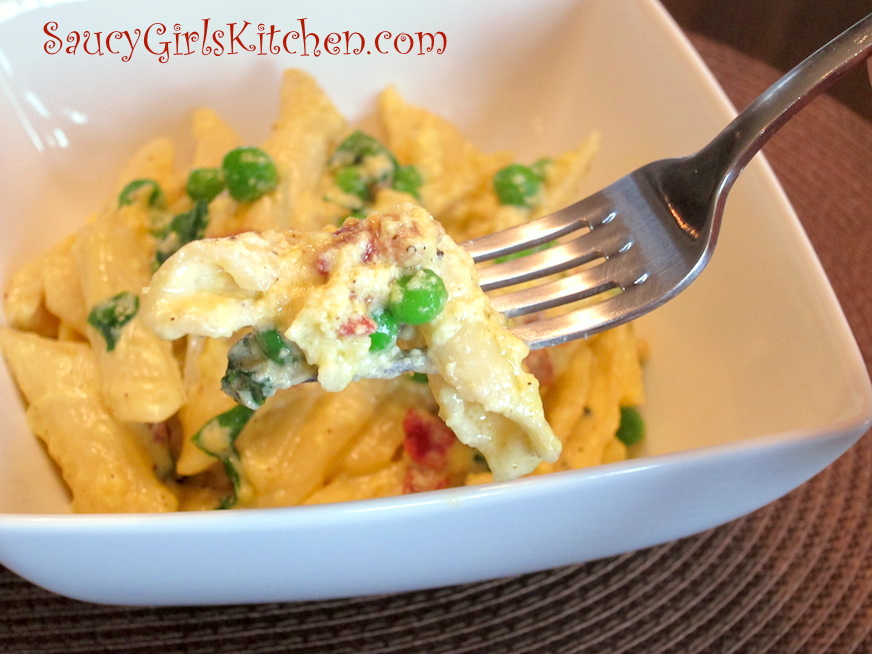 Print entire post