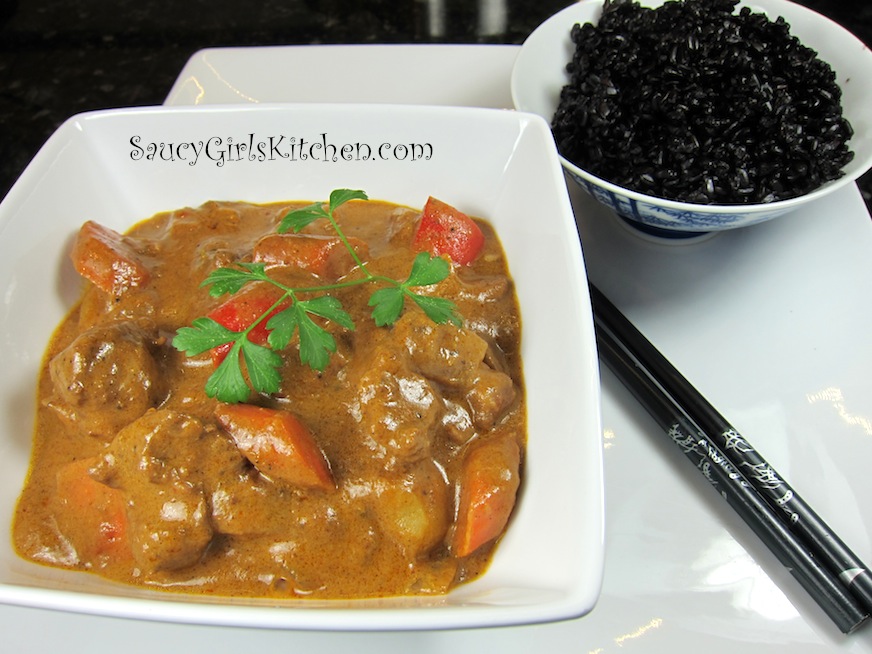 I love the flavors of ginger, garlic, and cinnamon… cooked together with coconut milk and tomatoes. Big bites of carrot, celery, and potato make this a hearty meal. This curry is so delicious. I like my curry rich and thick. This turned out just perfect!
Vegetarian? Substitute white mushroom halves for the chicken and use veggie broth instead of the chicken broth. If you don't want/like mushrooms, just use some extra veggies like broccoli or snow peas.
INGREDIENTS
3 Tbsp Butter
1 Onion, chopped
1-inch piece Ginger, peeled and finely chopped
4 cloves of Garlic, finely chopped or minced
2 Tbsp Garam Masala
½ tsp Cinnamon
4 Chicken Thighs, boneless & skinless, cut into 1-inch cubes
2 Tbsp Tomato Paste
1 (15-ounce) cans Coconut Milk
2 cups Chicken Stock
2 Carrots, peeled and chopped
1 Green Bell Pepper, chopped
1 Potato, peeled and chopped
2 Roma tomatoes, diced
2 Tbsp cilantro leaves, plus more for garnish
1 lemon, juiced
Kosher Salt and freshly ground Black Pepper, as desired
METHOD
Heat the butter in a large heavy sauté pan.
Add the onions, ginger and garlic and cook on medium low until the onions begin to soften, about 5 minutes.
Stir in the Garam Masala and cinnamon.
Add the chicken and cook on medium for about 5 minutes.
Add the tomato paste, coconut milk, chicken stock, carrots, bell pepper, potato, tomato and cilantro leaves.
Cook on medium heat until it comes to a simmer.
Turn to medium low and cook for about 20 minutes, stirring every few minutes, until the chicken is cooked through and the veggies are soft.
Stir in the lemon juice.
Taste and season with salt and pepper, as desired.
Garnish with cilantro.
Serve with your favorite rice.
Enjoy!

Print entire post