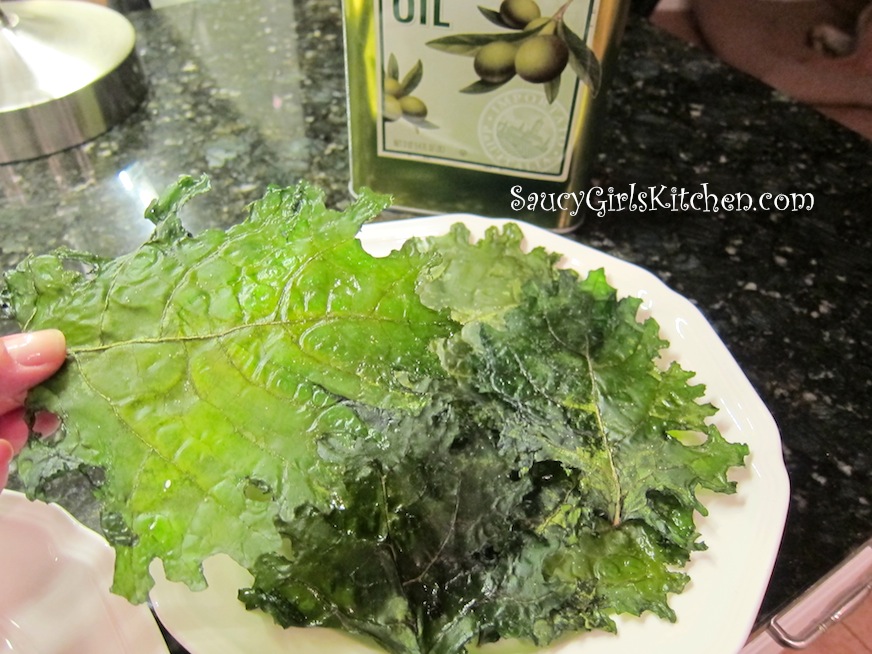 Ok, so kale is healthy for you and you should eat more. But, my husband doesn't really like the flavor of kale, no matter how I've prepared it…. until now.
I went to the Farmers' Market and bought some incredible Kale. Each leaf was perfect. Seriously. They were beautiful. It just didn't seem right to chop them up, so I decided to make them into Kale Chips, to preserve their beauty. Usually I would remove the stem/vein from the kale, but I didn't when I made these chips. We just ate around vein, using the stem to hold the kale as we ate it.
You don't need to have perfect leaf Kale like mine. Any kale (organic) you buy at the grocery store will work just fine. It's really great to buy the baby kale cause it's already in bite-sized pieces!
I just put salt on our chips, but you could use your favorite seasoning, or parmesan cheese is really great, too! If you don't eat cheese, try a little nutritional yeast on top. Yummy!! I would put the cheese or nutritional yeast on after the kale chips have baked, but while they're still warm (so it'll stick to it).
No recipe is needed to make these chips, but technique is important. Here's how I made our delicious Kale Chips.
INGREDIENTS
fresh Kale leaves, washed and thoroughly dried
2 tsp or so of Olive Oil
Salt
METHOD
Preheat the oven to 350 degrees.
Clean the kale and THOROUGHLY dry (a salad spinner works great).
If you're using large leaves that have a large vein, remove the vein.
Place kale leaves on parchment paper.
Spray with olive oil (if you don't have an oil mister, just toss with some olive oil and place on the parchment paper).
Sprinkle lightly with salt.
Bake for about 15 to 20 minutes, or until the kale is crispy.
Remove from oven and enjoy!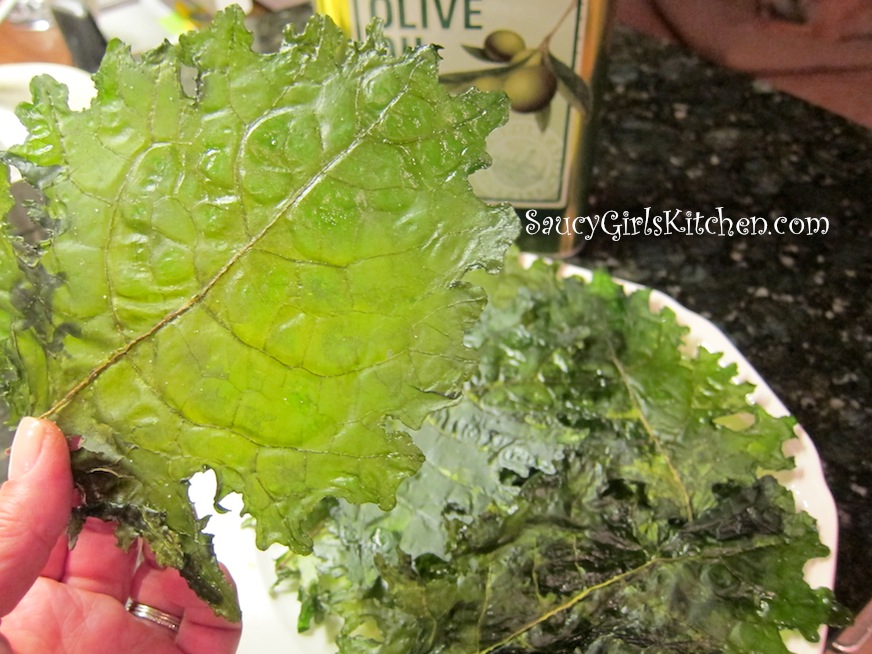 Print entire post