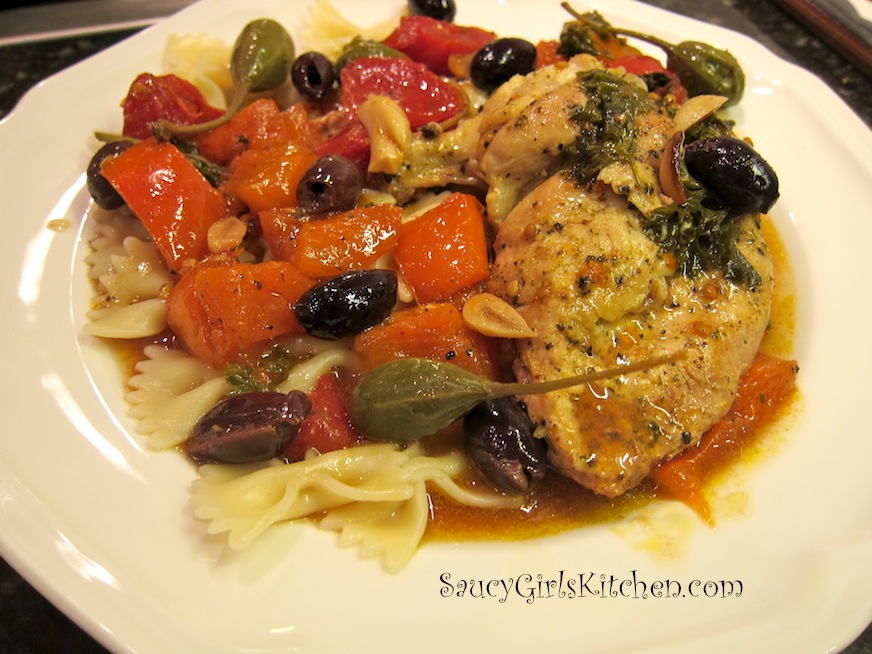 I love meals like this ~ super easy to put together and delicious! The chicken becomes moist and tender as it bakes with the veggies and herbs… which becomes the sauce for your pasta. This dish is so wonderfully aromatic as it bakes, it fills the house with the woody scent of fresh rosemary and lets you know that a delicious dinner is about to be yours!
I've entered this dish/recipe in a contest in hopes to be the next featured chef on Plated!
Serves 2
INGREDIENTS
1/4 cup Olive Oil
2 Chicken Breasts (I used boneless with skin on)
1 Red Tomato, cut into bite-size pieces
1 Yellow Tomato, cut into bite-size pieces
1/3 cup Kalamata Olives, or olive of your choice
10 large Capers (or 2 Tbsp of small Capers)
5 cloves of Garlic, sliced
2 fresh sprigs of Rosemary
3 or 4 fresh Basil sprigs
3 or 4 fresh Parsley sprigs
Salt and Pepper, to taste
Serve on top of Bow Tie Pasta (or pasta of your choice), cooked according to package directions
Fresh Grated Parmesan Cheese, optional
METHOD
Preheat the oven to 400 degrees.
Drizzle some olive oil in the bottom of your baking dish.
Season the chicken breasts with salt and pepper, and place in the baking dish.
Place tomatoes, olives, capers, garlic, basil, parsley and rosemary evenly in the baking dish.
Drizzle generously with olive oil.
Sprinkle a little salt and pepper on top.
Cover with foil and bake for 25 minutes.
In the last 15 minutes of cooking the chicken, cook your pasta.
To plate:
Place a generous spoonful or two of pasta on the plates.
Place a chicken breast in the center of each plate and top with the veggies, herbs and sauce.
Top with fresh grated Parmesan Cheese, if desired.
Enjoy!

Print entire post