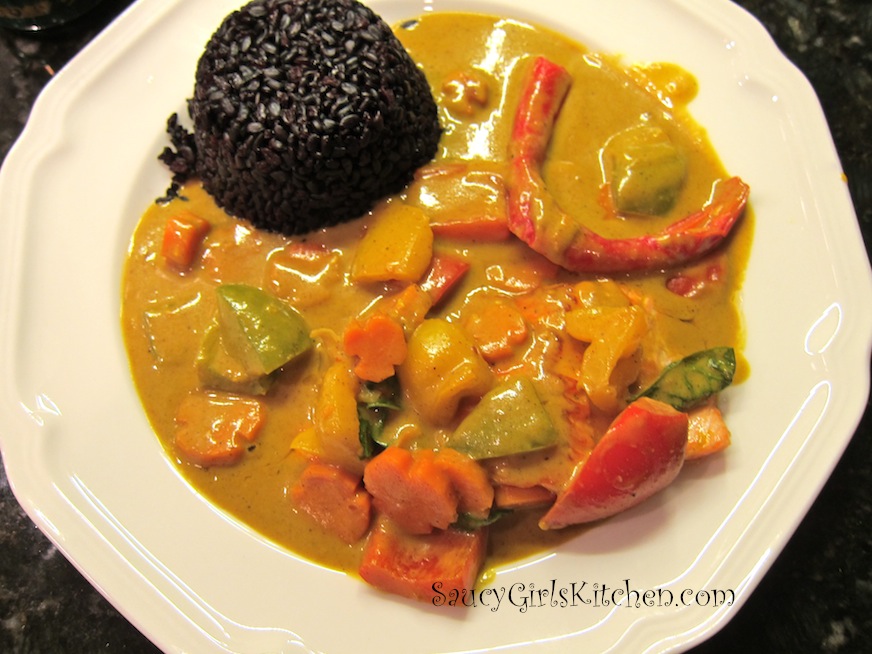 I was craving Panang Curry… I mean craving it in a BIG way. Since moving to Tennessee it's pretty impossible to get a good Panang locally. I'm sure we could drive 40 minutes to Nashville, but that wasn't in the plan. Meanwhile, my craving was getting intense. There was a place in Santa Monica, CA that we would go to a lot. They served the best Panang with Salmon alongside a serving of Forbidden Rice. I remember the first time we went in there was also my first encounter with Forbidden Rice. Just the name of it made me want to eat it. Yep, I've always been a rebel.
So, I didn't want just any Panang. I wanted the Panang just like I had in Santa Monica… Forbidden Rice and all!! Fortunately, the flavors were etched in my mind and I was able to recreate it here. As my husband and I ate the Panang, we looked at each other and started to laugh. We both agreed that it was the best Panang we had ever had!!
I must admit that when I cook I don't measure (only for baking). So, trying to remember exactly what I used in the Panang, and what amounts, was a challenge, but I got it. I always suggest that after you've made something that you taste it before you serve it. Adjust the seasonings and flavors to your own taste buds. You may want a little more lime juice, extra garlic, no yellow pepper… just leave it out. You get the idea.
Usually my recipes are pretty simple, without a lot of ingredients. There's just no way to duplicate the flavors of the Panang without all these ingredients. But it comes together quickly and it's so worth the extra effort. I hope you'll give my recipe a try and please let me know the outcome!
INGREDIENTS
For Sauce:
1 cup Thai Coconut Curry Broth (brand is College Inn)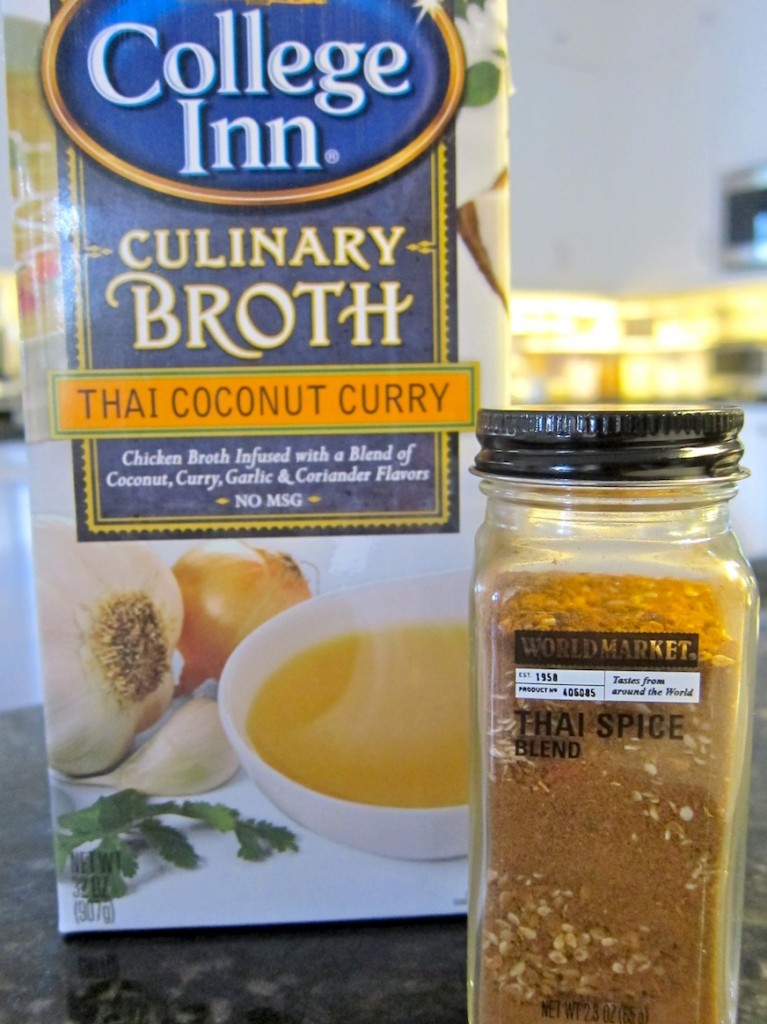 1 can Coconut Milk
1 cup Peanut Butter, smooth
4 Kaffir Lime Leaves
2 Garlic Cloves, diced small
2 Carrots, sliced
½ Onion, cut into bite size pieces
½ Red Pepper, cut into bite size pieces
½ Green Pepper, cut into bite size pieces
½ Yellow Pepper, cut into bite size pieces
1 Anaheim Chili, halved lengthwise, seeds removed
2 Tbsp Curry Powder
2 tsp Thai Spice Blend (World Market brand)
1 tsp Turmeric
½ tsp Cumin
1 Tbsp Fish Sauce
Juice of ½ Lime
¼ cup Basil Leaves, left whole or chop if the leaves are big
For the Salmon:
1 Tbsp olive oil
2 pieces of Salmon
METHOD
For the Sauce:
In a large saucepan over medium low heat, add the Thai Coconut Curry Broth, coconut milk and peanut butter, stirring until smooth.
Add the Kaffir lime leaves, garlic cloves, carrots, onion, all the peppers, curry powder, Thai spice blend, turmeric, cumin and fish sauce.
Allow everything to come to a simmer and cook for about 15 minutes, or until all the veggies are tender.
Turn heat off and stir in the lime juice and basil leaves.
For the Salmon:
In a medium frying pan add about 1 Tbsp olive oil.
Over medium heat add the salmon, cooking the skin side first.
Cook for about 2 minutes, and flip it over.
While the topside is cooking, take a fork and gently peel the skin off, being careful not to remove any of the salmon along with it.
Allow fish to continue cooking for about 5 to 7 minutes.
To plate:
Place salmon on plate and cover with Panang Sauce.
Serve with Forbidden Rice, or rice of your choice.
Enjoy!!

Print entire post