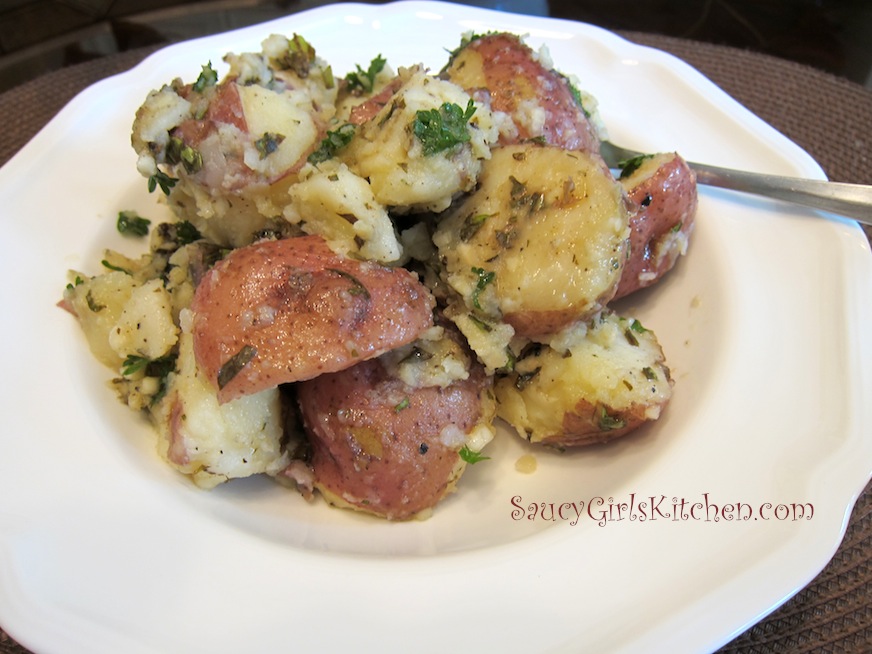 Ok, I know that garlic potatoes don't sound very exciting, but I promise you these potatoes are so incredibly delicious and creamy that once you've tried them they're sure to become a favorite. Honestly, when I took my first bite I was excited 'cause I couldn't believe that my simple recipe would turn out so amazing!!
I've always loved mashed potatoes, but along with a good mashed potato comes butter, cream and/or sour cream, and sometimes even cheese joins in. These garlic potatoes have all the flavor and more, but they're super healthy. Check out the ingredient list below and you'll see what I mean.
Makes 4 side servings
INGREDIENTS
5 to 6 large Red Skinned Potatoes
4 cloves of Garlic, diced small
3 Tbsp Olive Oil
2 Tbsp fresh Parsley, finely chopped
2 Tbsp fresh Basil, finely chopped
1 tsp Salt
a couple grates of Fresh Black Pepper, to taste
METHOD
Place potatoes in a large pot and cover with water.
Boil on medium high heat until potatoes are fork tender.
Remove from heat and reserve potato water.
Leaving the skins on, rough cut the potatoes into large bite size pieces.
Place potatoes in a large bowl and gently stir in the garlic, olive oil, parsley, basil, salt and some black pepper to combine.
If you need more liquid, just add a couple spoonfuls of the potato water (rather than adding more olive oil).
Taste and season with additional salt and pepper, as desired.
Serve warm or room temperature.
Enjoy!

Print entire post