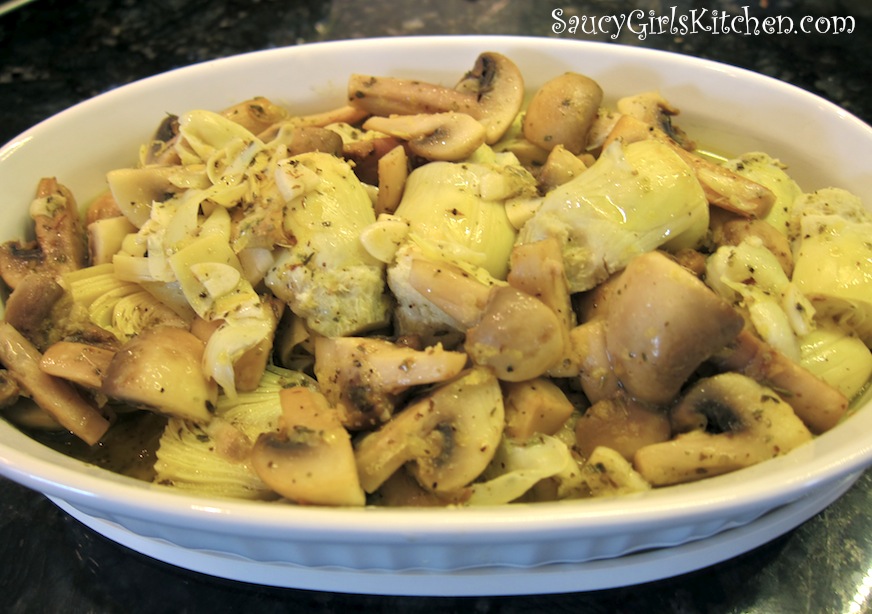 Hmmm… what to serve instead of a green salad at our BBQ tonight?? I had just bought a pound of mushrooms and decided to marinate half of them to create a savory marinated dish. The other half I'm saving for my husband's favorite, Cream of Mushroom Soup. I also added a can of baby artichokes to the mushrooms and wow, it's perfection! I love artichokes!!
In my recipe I call for 1/2 a teaspoon of Italian Seasoning. I always keep it in my spice collection and use it often. If you don't have any, it's a blend of Marjoram, Thyme, Rosemary, Savory, Sage, Oregano and Basil.
I hope you'll give this super easy recipe a try. It comes together in just 5 minutes!
INGREDIENTS
1/4 cup extra-virgin olive oil
8 oz. whole White Mushrooms, cleaned and quartered
1 – 14 oz. can of whole small Artichokes, halved
1 Lemon, zested and juiced
2 Garlic cloves, sliced
1/2 tsp Italian Seasoning
Salt and freshly ground black pepper

METHOD
Add half of the olive oil into a medium frying pan.
Add the mushrooms and saute them for about 3 minutes on low.
Remove from heat and add in the rest of the olive oil, artichokes, lemon zest and juice, garlic cloves, and Italian seasoning.
Stir gently and taste.
Adjust as needed with salt and black pepper.
Pour into a serving bowl and allow to cool.
Best served at room temperature.
Enjoy!

Print entire post