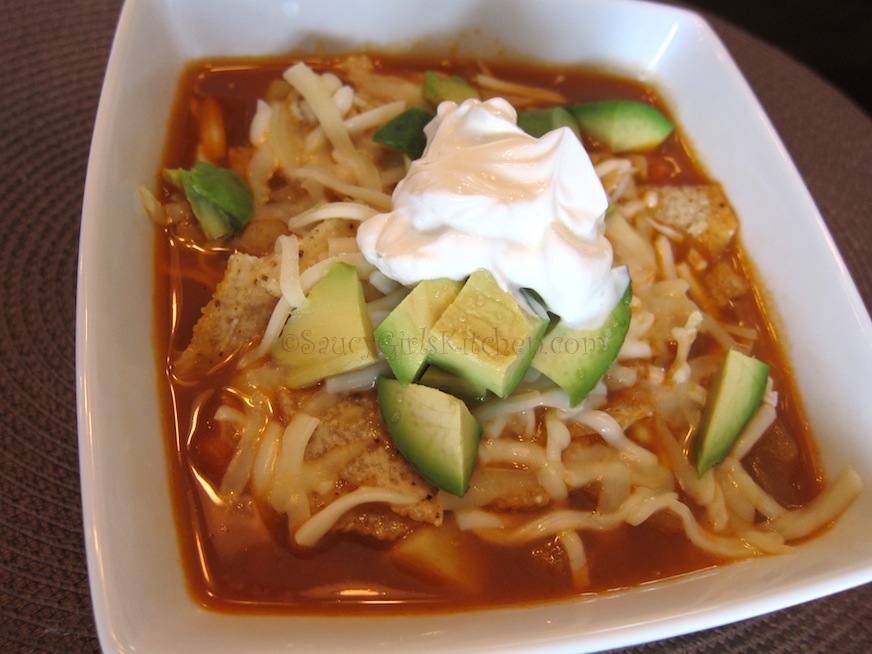 I absolutely love the flavor of tortilla soup. When I lived in Los Angeles there was a restaurant nearby that made the best I'd ever had. I missed it so much, that when I moved to Tennessee I started making my own.
The good thing about making your own is you can use all organic ingredients, and you can make it as hot as you'd like, or not at all. I've probably never made this soup the same way twice. Sometimes I'll put carrots and peas in it, or zucchini/squash. Just depends what I have on hand at the time. You may notice in the picture that I put a potato in this one. I just happened to have an extra cooked potato, so I peeled it, chopped it… and it was a great addition.
Homemade tortilla soup is so easy to make and it's hearty enough to be a meal, once you put all the toppings on it! I sure hope you give my recipe a try.
Serves 4
INGREDIENTS
1 Tbsp Olive Oil
1 medium Onion, chopped
½ Green Bell Pepper, chopped
3 Garlic Cloves, minced
1 Jalapeño, seeded and diced
1 tsp Cumin
1/2 tsp Chili Powder
1 cup fresh Corn
1 – 28 oz. can Diced Tomatoes (fire-roasted is best for this)
6 cups of Vegetable Broth
Juice of 1 Lime
½ tsp Salt, if needed
About 16 Tortilla Chips, broken into pieces
1 cup Jack Cheese, shredded
1 Avocado, diced
1/2 cup Sour Cream, if desired
Fresh Cilantro, if desired (as garnish)
METHOD
Heat oil in a large heavy pot over medium heat.
Add onion, garlic, jalapeno, cumin and chili powder, sauté for 2 minutes.
Stir in the corn, diced tomatoes with juice, and vegetable broth.
Reduce heat and simmer 30 minutes.
Remove from heat and add the lime juice.
Taste and add salt, if needed.
Ladle soup into bowls.
Top with tortilla chips, cheese, avocado, sour cream and cilantro.
Enjoy!

Print entire post