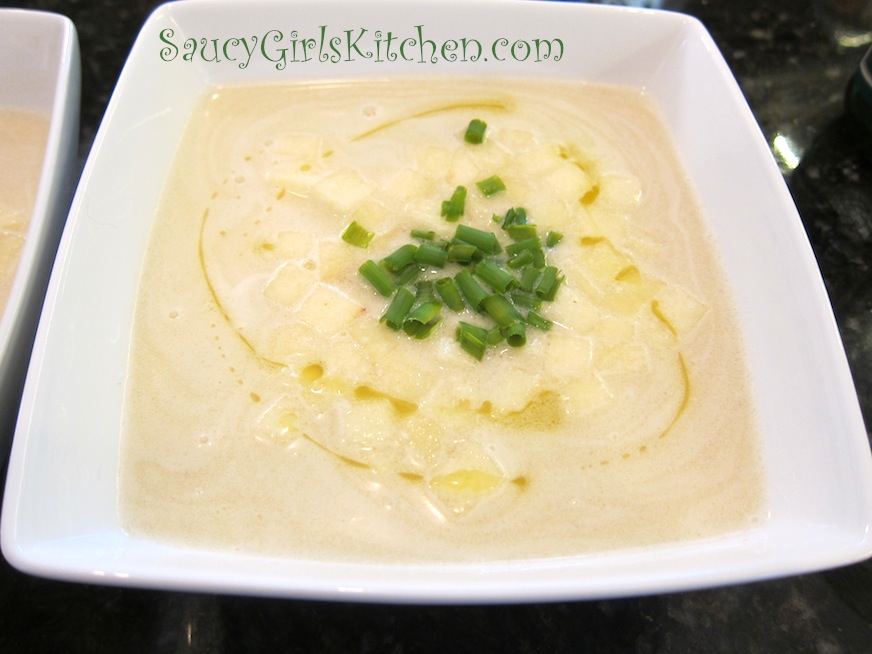 I was so happy to find celery root (celeriac) at Whole Foods in Nashville last week… since I haven't been able to find it at the local supermarkets. Amazing how such a knobby, ugly root could bring me such joy! I just love the flavor of celery root and I usually make celery root pancakes. However, since I've been incorporating more raw foods into our diet (which is now 1/3 raw), I decided to do something different with this one and make a soup. A cold soup. With the delicious blend of the celery root and apple, I honestly could eat this soup every day.
For this recipe I used a big red Delicious apple, but a Granny Smith apple would be really good, too. I used spring onion tops for the garnish. Chives would work well, but I didn't have any… so, the spring onion tops worked fine.
I hope you'll give this recipe a try!
Serves 2
INGREDIENTS
1 large Celery Root, peeled and rough chopped
1 large Apple, peeled, cored and rough chopped (finely chop 1/3 cup for garnish and set aside)
1 1/2 cups Water
Juice of 1/2 lemon
1 Tbsp Coconut Butter
1 tsp Black Truffle Oil
Pinch of Sea Salt
Spring Onion tops, chopped for garnish
2 Tbsp Olive Oil
METHOD
Place the celery root, apple, and a little of the water in the foot processor or blender.
Blend until smooth.
Pour the mixture through a sieve and disgard the pulp.
Place mixture back into the food processor.
Add the rest of the water, lemon, coconut butter, truffle oil, and salt.
Blend to combine.
Divide mixture evenly into 2 bowls.
Garnish with the 1/3 cup of finely chopped apple, and spring onion tops.
Drizzle the olive oil in a circular motion.
Serve at once.
Enjoy!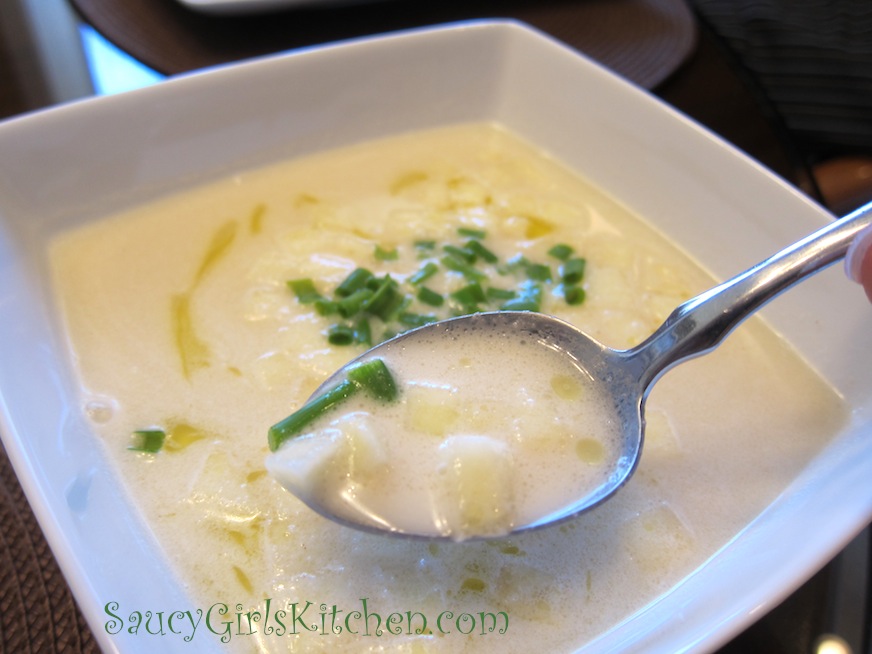 Print entire post