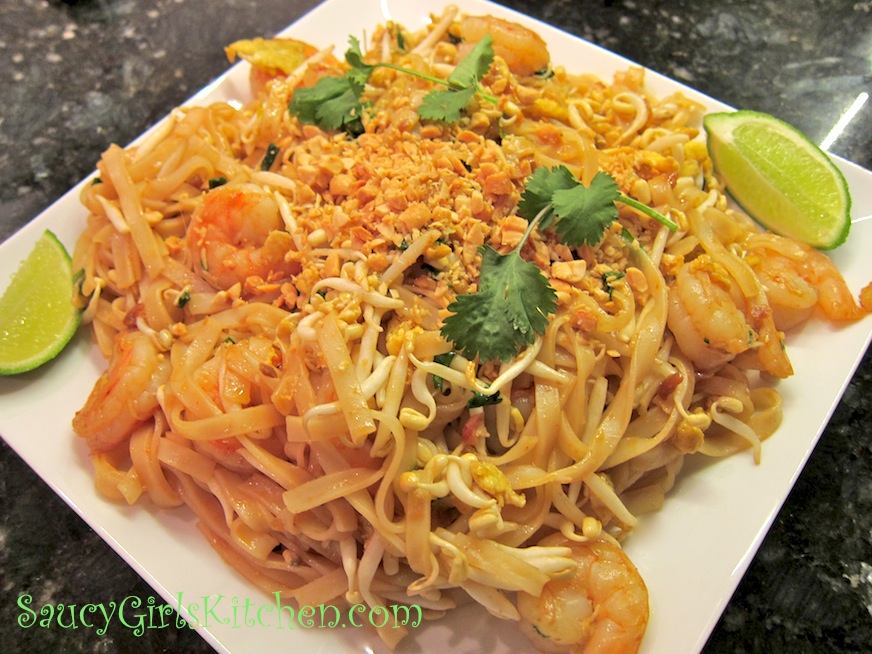 Pad Thai is one of my favorite Thai dishes. It has quite a few ingredients, but it comes together very easily and is totally worth making. You can find the ingredients in most grocery stores in the International section. If not, check out your local Asian market… the prices there will be more affordable than the grocery store.
INGREDIENTS
1 – 16 oz. Package of Rice Noodles
3 Tbsp Fish Sauce
3 Tbsp Tamarind Paste
3 to 4 Garlic cloves, crushed
1 Tbsp Lime juice
1 Tbsp Rice Wine Vinegar
1 Tbsp Paprika
4 Tbsp Sugar
2 Tbsp Oil
2 Eggs
12 Shrimp, peeled and cleaned
1/4 cup Cilantro, rough chopped
4 Green Onions, sliced thin
1/4 cup Dry Roasted Unsalted Peanuts, choppped
1 to 2 cups fresh Bean Sprouts
2 Cilantro Sprigs, for garnish
Lime Wedges, for garnish
METHOD
Heat a large pot of water to boiling.
Turn off heat and add the noodles.
Allow to soak for about 5 minutes, to soften.
Drain water and set noodles aside.
Stir together fish sauce, tamarind paste, crushed garlic, lime juice, vinegar, paprika, and sugar.
Set aside.
Heat wok over high heat.
Add oil and coat pan completely.
When pan starts to smoke, crack eggs into pan, making sure to break yolks.
Lightly scramble until half-cooked, about 30 seconds.
Add shrimp and cook until shrimp are medium done, about 1 minute.
Add noodles and cook 15 seconds.
Add sauce mixture and fold together until noodles are evenly covered and all liquid is absorbed, about 2 minutes.
Turn off the heat and stir in the cilantro, half of the green onions, half of the peanuts, and half of the bean sprouts.
Allow to steam for about 30 seconds.
Transfer Pad Thai to a serving plate and top with the remaining bean sprouts, green onions, and peanuts (in that order).
Garnish with cilantro sprigs and lime wedges.
Enjoy!

Print entire post