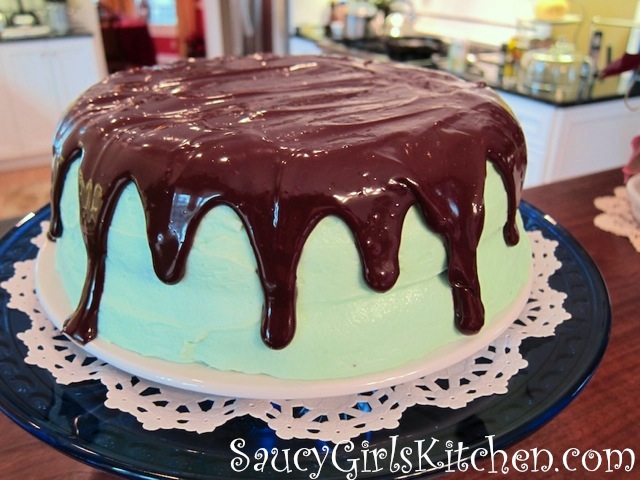 Around our house this cake is one of our favorites! My sister-in-law requested this for her birthday and I happily obliged.
It's funny, as a child I didn't like chocolate mint candies. No peppermint patties for me. But now, as an adult, I love the combo. Tastes definitely change. Nowadays, I like everything. So, if you had something that you didn't like as a child, you should give it a try now, you never know… you may actually like it!
INGREDIENTS
For Cake:
1 cup Water, boiling
15 Andes Mints
2 cups Sugar
1/2 cup Butter
2 Eggs
1 tsp Pure Vanilla Extract
1 cup Buttermilk
¾ cup Cocoa Powder
1 3/4 cups Flour
2 tsp Baking Soda
1 tsp Baking Powder
1 tsp Salt
For Mint Icing:
2 sticks Unsalted Butter, room temperature
6 cups Powdered Sugar
1 tsp Pure Peppermint Extract
1 tsp Pure Vanilla Extract
6 drops of Green Food Coloring
¼ cup of Milk (more or less)
For Chocolate Ganache:
1 cup Heavy Cream
1 cup semi-sweet Chocolate Chips
1 tsp Pure Vanilla Extract
METHOD
For Cake:
Heat oven to 350 degrees.
Grease bottom and sides of two 8-inch cakes pans.
Line bottom of pans with parchment paper, and grease the paper, too.
In a small pan bring the cup of water to a boil.
Remove water from heat and add in the Andes Mints.
Set aside and allow the mints to melt.
Meanwhile, in a large bowl cream together the sugar and butter until light and fluffy.
Add in the eggs, vanilla, cocoa powder and buttermilk and mix until totally incorporated.
Turn off mixer and add in the flour, baking soda, baking powder and salt.
Turn mixer on medium and blend all the ingredients together.
Stir together the hot water and mints, making sure they are totally melted.
Turn mixer onto low and slowly pour the hot water mixture in.
Once all the water is in the mix turn it onto medium and continue to blend for another minute.
Pour mixture into prepared cake pans.
Bake for about 20 to 30 minutes, or until toothpick inserted into the center comes out clean).
Allow cake to cool before frosting.
For Mint Icing:
In a large mixing bowl combine butter, sugar, extracts and food coloring on low speed.
Gradually add in the milk, a little at a time, until you reach a nice consistency.
Set aside.
For Chocolate Ganache:
Pour cream into a medium saucepan and heat over medium low heat.
Once the cream is hot, remove from heat and add in the chocolate chips.
Stir until the chocolate is completely melted.
Stir in the vanilla extract.
Allow the ganache to cool completely… I just put mine in the refrigerator to cool, while I took the cakes out of their pans and iced the cake.
I also put the entire iced cake in the fridge for about 20 minutes, just to set the icing before I poured the ganache on top.
Starting at the center of the cake, gently pour the ganache, moving in an outward circle, allowing some of the ganache to come down the sides of the cake.
Enjoy!
Note: This cake will keep for 2 weeks in the fridge… it didn't last that long around our house! It was too good!!!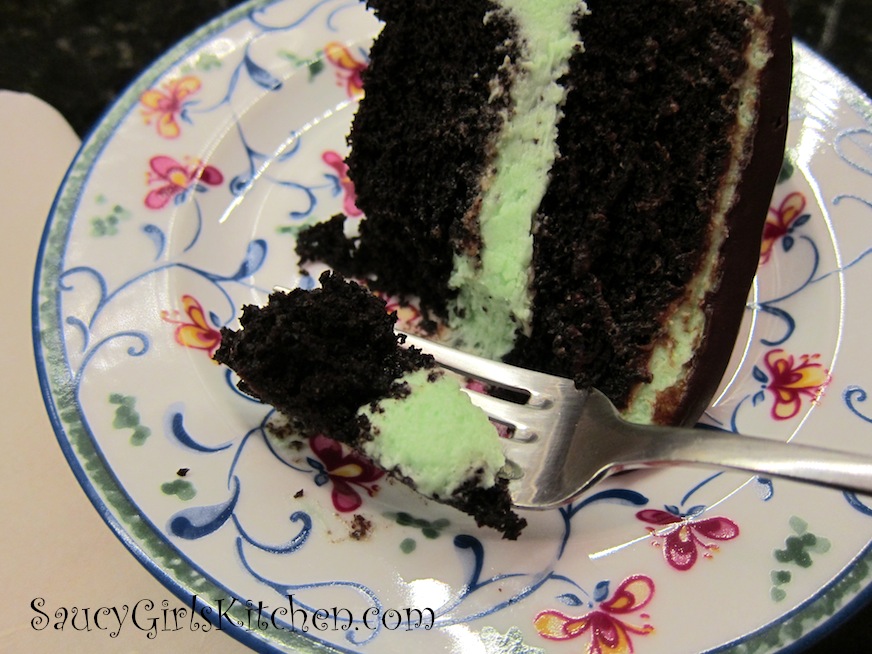 One last thing… I'm in another cooking contest. It's on Pinterest. If you are a Pinterest user, would you please pop over and give my stuffed cabbage pic a quick "like". Thanks so much!! Contest ends on January 18th at midnight.  

Print entire post