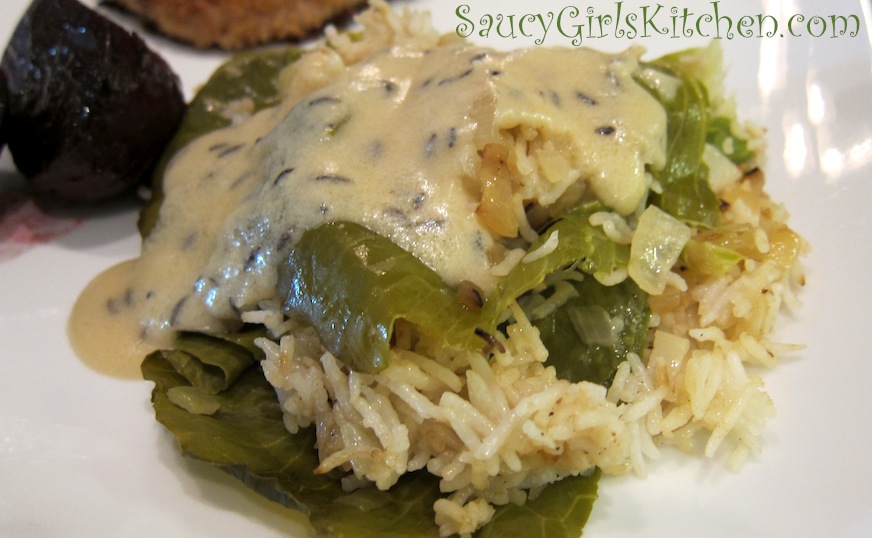 When Gigi from Gigi's Organic Garden Club brought me a beautiful head of cabbage with our weekly delivery I just didn't want to cut it up to cook/serve it. I thought it was too beautiful! I removed the four biggest outer leaves and then decided I would try stuffing the entire head of cabbage, preserving it's beautiful shape. I didn't want to stuff it with something too heavy, or anything that would take away from the actual taste of the cabbage. The simple stuffing of Basmati Rice worked perfectly… and bringing it all together was the Caraway Bechamel Sauce.
INGREDIENTS
1 head of Cabbage
3 cups Lundberg® California White Basmati Rice, cooked
2 Tbsp Butter or Olive Oil
1 sweet Onion, diced
4 cloves of Garlic, minced
2 Tbsp White Wine
Sea Salt, to taste
Fresh ground Black Pepper, to taste
For Caraway Bechamel Sauce:
2 Tbsp Caraway Seeds
3 Tbsp Butter
2 Tbsp Flour (see notes below)
2 cups Milk of your choice
1/2 tsp Salt
METHOD
Cook your rice according to package directions and set aside.
Wash the cabbage head and place in a large pot of boiling salted water for about 5 minutes.
Remove cabbage from pot and allow water to drain out of cabbage.
Place cabbage in a large round baking dish.
Set aside and prepare the rice stuffing.
Place butter/olive oil and onion in a medium saute pan.
Saute onion for about 3 minutes over medium heat, stirring.
Add the garlic and continue to cook for another minute or two.
Stir in the wine and reduce heat to medium low.
Cook for 3 minutes.
Remove from heat.
Add onions to the cooked rice.
Taste and season with salt and pepper, as desired.
Place the rice mixture in between the leaves of the cabbage, ending with the center.
Cover with tin foil and place in a 350 degree oven for 20 minutes.
Meanwhile, you can prepare the Bechamel Sauce.
For the Bechamel Sauce:
Place the caraway seeds in a medium saucepan over low heat.
Allow them to toast in the pan for about 5 minutes, mixing them up occasionally.
Place the butter in the pan to melt.
Once butter has melted, remove from heat and whisk in the flour to create a smooth paste.
Continue whisking and add the milk, a little at a time, being sure to keep it very smooth.
Return to heat and bring to a boil over medium heat.
Cook 10 minutes, stirring constantly.
Remove from heat.
Taste and add salt, as desired.
About this time your cabbage should be ready to come out of the oven.
Cut a portion of cabbage and serve it with a spoonful of Bechamel Sauce on top.
Enjoy!
Note: You can use white or wheat flour in this recipe. The wheat works nicely, creating a rich, nutty flavor.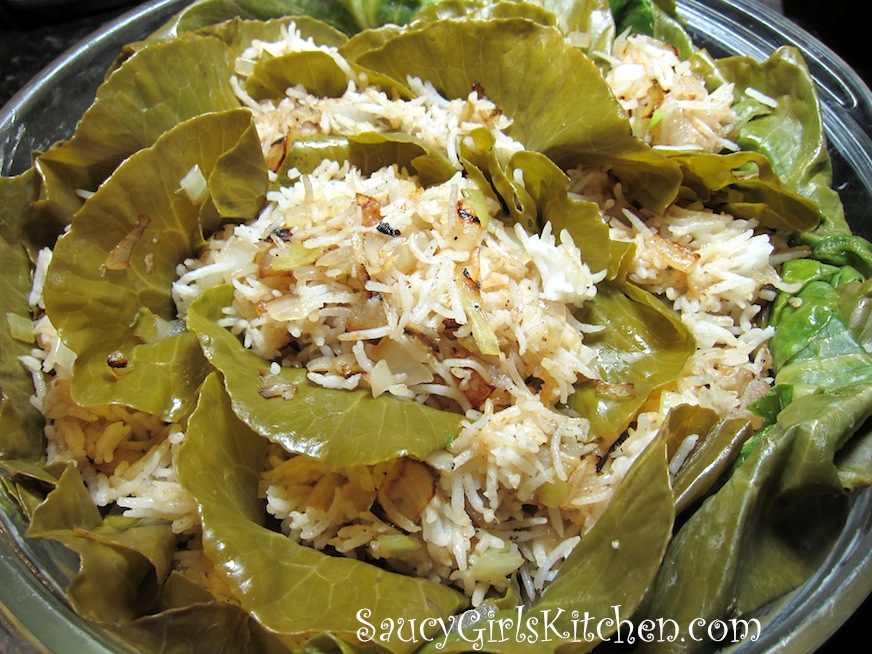 Print entire post