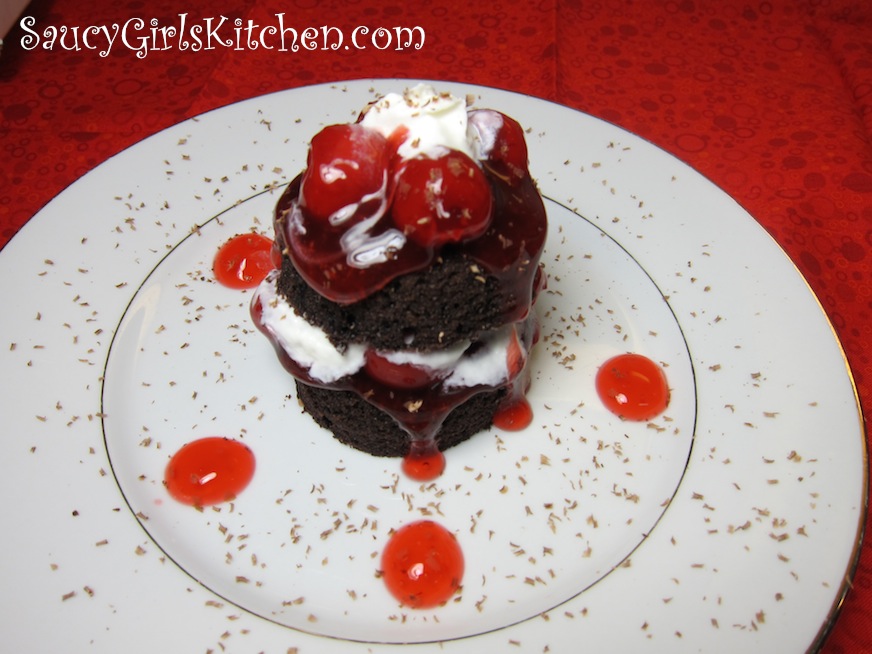 Here we are at one of the busiest times of year and I'm in the Solo Foods Sweetest16 Contest. As a matter of fact, we're in the Finale right now and I'm happy to have made it this far! In between wrapping packages, baking, shopping, etc. I'm doing what I can to get votes. It's been a lot of fun to be in the contest, and now that I've made it this far, I'd like to win!! Of course.  

When I knew I would be in the contest I started baking and experimenting around with different desserts using the Solo Foods products. This recipe isn't what I entered into the contest, but it was so delicious and super easy to make that I thought I'd share it today ~ and also ask you to please take a moment to vote for Saucy Girl's Kitchen in the finale… if you haven't already. (Contest ended 12/21/12 – and I won!!)
INGREDIENTS
Chocolate Cake – yes you can just use a box mix
1 – 12 oz. can of Solo Foods Cherry Pastry and Pie Filling
2 Tbsp Cherry Brandy Liqueur
1 cup of Heavy Whipping Cream
2 Tbsp Sugar
1 tsp Pure Vanilla Extract
Chocolate bar, to shave as garnish, if desired
METHOD
Prepare cake and bake it on a half sheet baking pan, so that your cake will be about an inch to an inch and a half tall.
Allow cake to cool.
Meanwhile, in a medium bowl mix the Solo Foods Cherry filling with the Cherry Brandy Liqueur.
Set aside.
In the bowl of your electric mixer add the heavy cream, sugar and vanilla.
Whip until light and fluffy.
Set aside.
Using a biscuit/cookie cutter, cut the cake into whatever shape you'd like for your cake.
Place one piece of cake on a serving dish.
Top with the cherry filling and whipped cream.
Place the other piece of cake on top of the cherry filling.
Top with a little more cherry filling.
Put a little whipped cream on top and garnish with chocolate shavings, if desired.
Serve immediately.
Enjoy!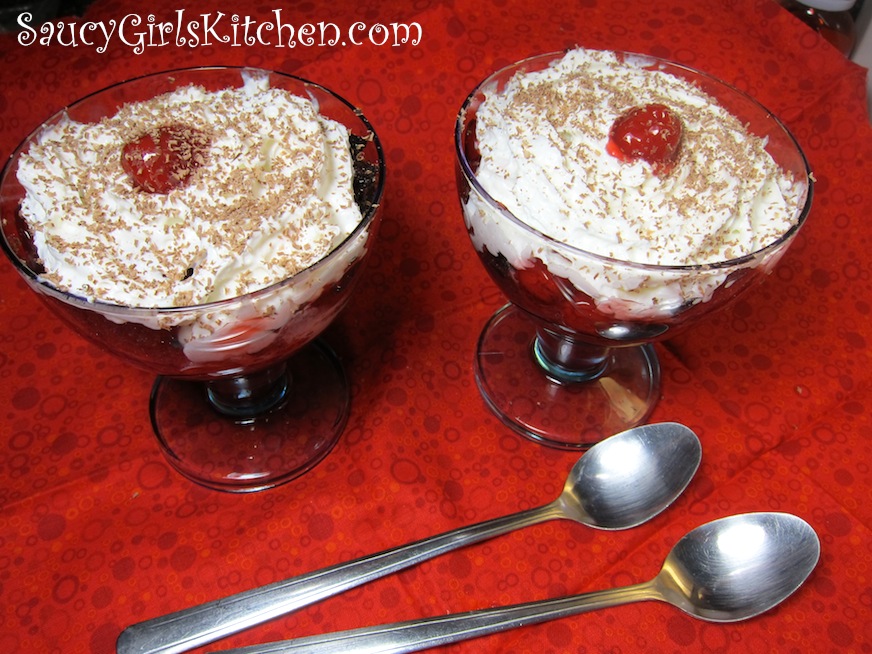 Note: If you'd rather do the dessert ahead of time, you can layer it in dessert glasses. It looks fabulous in a martini glass. Start with a little whipped cream in the bottom of the glass, then cake, cherries, whipped cream, cake and cherries again. Cover with plastic wrap and store in the fridge. Don't put the dollop of whipped cream on top until ready to serve. Top with a cherry and garnish with shaved chocolate, if desired.
Happy Holidays & thanks again for voting for Saucy Girl's Kitchen!

Print entire post