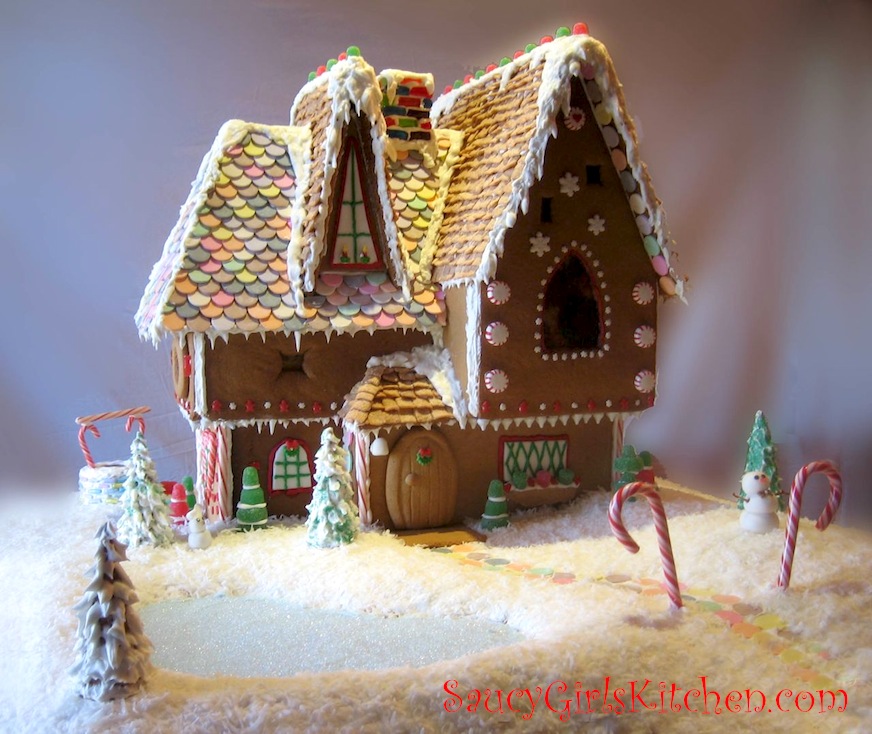 I wanted to share our Gingerbread House making experience. My husband and I built this house in 2007. It was so much fun and we were very happy with the results. We entered it in a competition and it was on display in a hotel, where voting took place. We were genuinely surprised when we didn't win. I thought it was the most beautiful Gingerbread House there, and definitely the most beautiful that I had ever seen before! Ok, yes… I may be a little bias.
As I made the gingerbread (recipe below) to make the house, my husband was busy with the design. Using cardboard boxes to create the prototype, he went to work. Let me say that my husband, Billy, is an Emmy award winning designer (no joke). So, between the two of us, I had no doubt that we were going to end up with a masterpiece. We had fun coming up with different ideas as to what candy would work for the chimney, what would we use for the rooftop, making a little pond with blue sugar crystals as the water, making stained glass windows by melting colored sugar,etc. If you look closely, you will see a little Bunny, and also a Snowman in the yard.
It took us about 35 hours to complete our Gingerbread House. I remember that we argued a few times. lol… we're both Taurus and can sometimes be a little stubborn, especially when it comes to our opinions. All in all, it was a fun project and doing it together made it really special. Even though we didn't win the contest, we ended up donating the house to a children's hospital. I'm sure it brought some joy to the kids there, and that made us feel good. We ended up creating Christmas Cards that year with our Gingerbread House on them, which is pictured above.
Below is a slideshow to take you through the entire process, from the very first sketch to the completed house.
If you're not feeling the ambition to create a Gingerbread House, the recipe below makes really yummy Gingerbread Men… and Women!  

Gingerbread Recipe
Yield: Enough for an 8″ x 10″ house or a dozen Gingerbread Men/Women
INGREDIENTS
For Dough:
3/4 cup Buttermilk
6 Tbsp Butter
1 cup Brown Sugar
1/2 cup Molasses
1 Egg
5 cups Flour
1 tsp Baking Soda
1 tsp Ginger
1 tsp Cinnamon
1/2 tsp Salt
For Construction Icing:
3 Egg Whites
½ tsp Cream of Tartar
1 lb. (4 cups) Powdered Sugar
METHOD
For Dough:
Cream together the butter, sugar and molasses until light and fluffy.
Mix in the egg and buttermilk.
Stop the mixer and add in all the dry ingredients.
Mix together until totally combined.
Divide dough in half and refrigerate for at least an hour.
Preheat oven to 350 degrees.
Remove one half of the dough from the refrigerator.
Roll dough about ¼ inch thick onto parchment paper.
Cut pieces as needed, removing scraps.
Place the dough (moving it with the parchment paper) onto your baking sheet.
Do the same with the other half of dough.
Bake for about 15 minutes or until the edges are lightly browned.
If you need to trim any pieces, do it while the gingerbread is still warm.
Cool gingerbread completely before using for construction.
For the Construction Icing:
Using your electric mixer, whip the egg whites and the cream of tartar until foamy.
Continue mixing as you add in the sugar, a little at a time.
I placed the icing into 2 big plastic food storage bags, cutting a little hole in the tip.
That made it easy for us to put the icing wherever needed, and also kept it from drying out.
Have fun decorating and creating!
* * * * * * *
Watch the slideshow below to see the making of our Gingerbread house, from the very first sketch to completion.


Print entire post