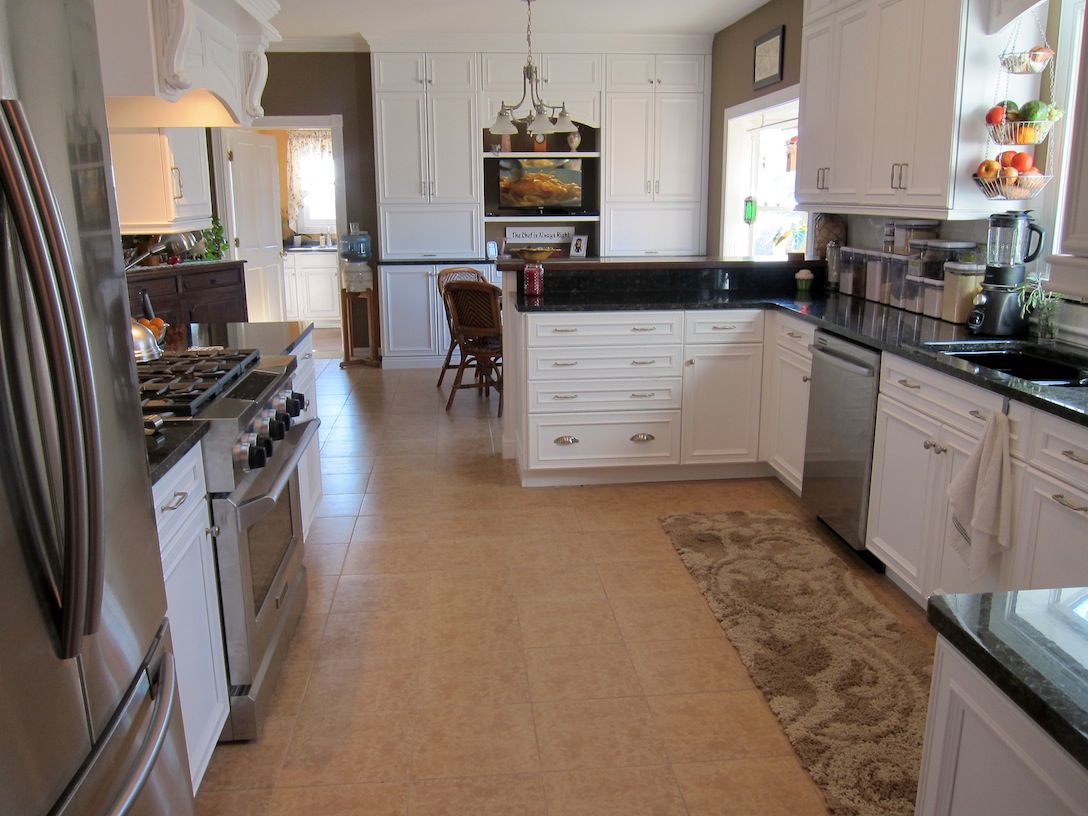 When we started our kitchen remodel on October 18th, we all knew that we were up against a time crunch. My family was coming to visit, starting with my mother's arrival on November 19th, the Sunday before Thanksgiving. The kitchen had to be complete before Sunday. Our contractor, Kyle Hunt, was here until 10:30 pm on Saturday night finishing up the last of what had to be done. 'Whew' we did it!
Now that the kitchen was done there was so much to do. Everything had to be put back into the kitchen, which meant removing the items that had made the dining room it's temporary home. This was a job only I could do. This was a job that I wanted to do, on my own, giving thought to the placement of things. My kitchen is a working kitchen. Fortunately, I had started putting items back into the kitchen as soon as I was able to, so I had a little jump on that.
Cleaning, however, was a job I happily gave to someone else.  

Yes, I know my limits. I knew if I tried to do everything myself (which was probably impossible in the time limit) I would totally stress out… just in time to see my family. Or, I could have someone here for 2 days cleaning, dusting, scrubbing, etc. Seriously, there was a fine layer of dust throughout the house. Even though we kept doors shut and had plastic hanging up, somehow the dust managed to find it's way into every square inch of this house. The dust wasn't from the kitchen so much, as it was a result of the remodeling being done in our workout room. We had a glass sliding door put into a concrete/brick wall. That concrete was eight inches thick! End result ~ a great exercise room, so we can work off some of the delicious food I look forward to making in my new kitchen.
Seems like everything is going smoothly, doesn't it? Well, not so fast…
I'm putting whatever I can back into the kitchen on the Friday before Thanksgiving and decide to roast some garlic. I think to myself it's a nice way to break in the new Wolf Range. Right?! Anyway, I turn the oven on to preheat, and walk out of the room. Next thing I know, I smell gas. Really smell gas. I run into the kitchen to see black smoke coming from the oven. I'm so upset. WTH?
Turns out that the Wolf Range is set up for natural gas and we have propane. Hello, installation team? You'd think they would be aware of that. Especially living out here in the country. Result: there's a conversion kit you can get for this range, but it's not available for two weeks. Two Weeks?? Um, Thanksgiving is less than a week away. I'm flipping out. I call Ferguson's, the company where we got the range. They realize the situation and remedy it by sending over a KitchenAid 36″ – 6 burner gas range as a loaner. It fits into the kitchen perfectly. I'm happy again.
I like the way the KitchenAid looks in the kitchen. We decide to keep the KitchenAid instead of the Wolf range. Ferguson's comes and takes the Wolf range away.
My family is here. The house is full. I turn on the oven to make something and it turns off after one minute "Cooling Fan Error". Yep, one minute. I turn it off, back on, and sure enough it happens again. I call Ferguson's and they don't know what's going on with it. They suggest I reset it by turning off a breaker. Sure, I'll try anything at this point. But it doesn't work…
How did I cook Thanksgiving dinner? I cooked it by turning the oven back on every minute until the turkey was done. Not only did we have turkey, we had dressing, mashed potatoes & gravy, sweet potatoes with banana and marshmallow, green beans, sauerkraut, fresh cranberry sauce, hot yeast rolls, pumpkin pie, and pecan pie. Before Thanksgiving I even made Rum Baba's for my father!
In the pictures below you will see the KitchenAid range. This range is not staying. The KitchenAid repairman didn't know what's wrong with it. He said he could troubleshoot it but it would take weeks. This time of year is not the time to be without a range. That's for sure. So, the Wolf range is coming back tomorrow, and being converted to work with propane gas on Friday. I will be happy to have it back and working properly (pic above).
It has been a whirlwind of family and food for the past week. I haven't been on the computer at all. It was a nice break and I loved having everyone here! They've all gone back to their homes now and I'm getting more settled into the new kitchen.
At last, here are lots of pictures of the finished kitchen. I think it turned out incredible. I absolutely love it and I love being in it. It's the heart of our home and lots of deliciousness will be produced here. The first thing baked in the new kitchen was the Rum Baba's. Oh, they were so good. I'll post the recipe tomorrow, along with pictures.
The pictures below show cool features that we got…
There's still lots of dishes and things that still need to be moved into the kitchen, but at last I have enough space. The laundry/pantry room is wonderful, since we've utilized the old kitchen cabinets in there.
The dining room is finally back to normal. Now we can enjoy the new wall color!
I love my new kitchen. I loved having family here with us on Thanksgiving. I have so much to be thankful for… not just on Thanksgiving but every day. I'm also thankful for you, if you're reading this.  Thanks for following along on our kitchen remodel adventure. Stay tuned for lots of great recipes and more!