It's been over a week since I've posted about the Kitchen Remodel. That's because it's been a little hectic over here, to say the least. Not only are we having the kitchen remodeled, but we're also having a new door installed from the kitchen to the patio (which also entailed changing the doggie door). Plus, we're remodeling the exercise room; knocking out a brick wall and putting in glass sliding door, pulling up the carpet and laying rubber flooring, new ceiling lights, and a paint job. Anyway, that's why it's been hectic (among other things)… but let's talk about the kitchen!!
We're definitely making progress. Counting down to the day that family arrives here for Thanksgiving on November 18, 2012. Eek… that's only 10 days!! I must admit that I've had a few moments when I freaked out (to myself) thinking that it wouldn't get done in time. But, I'm confident it will.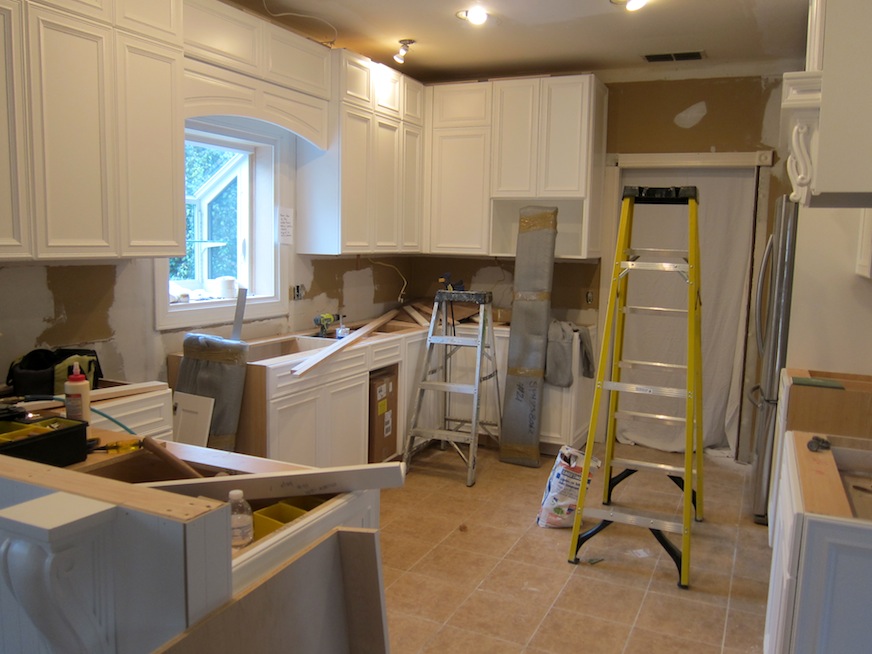 The cabinets are going in. Yay! Notice the corbel on the range hood (top right in the pic above). I love those. They match the larger corbels that are under the bar (lower left in the pic).
I'm going to post some pictures below with captions so you can see where we're at now.
The Hutch (above) is going to provide so much more storage space. I really need it. Also, the two big doors located just above the counter open upwards, meaning that they pull out a few inches and then go up parallel to the upper cupboards. I plan on using that as a liquor cabinet. When we have parties we can just raise the door up and there you go!! Also, two shelves go into that center space. We'll be buying a new flatscreen TV to put there. Gotta have my food channels.  

We love the Garden Window, but weren't sure what to do with the frame. Remove some and make it thinner? Hmmm… we finally decided that we're going to remove the bottom of the frame and put a little window sill there instead. I'll post some pics of this when it's complete.
Yes, the house is a mess and everything is out of place. My desk/office is temporarily in the living room. The floors are dirty, and just about everywhere there is a fine layer of dust. I don't mind. Just get it done by the deadline and I'll be a happy girl.
Our pets are going through this turmoil with us. Our cat, Inky, does not like the construction one bit, and for the most part has been staying away. He comes in at night to sleep, but that's about it. The dogs don't like it either but they're more tolerant. Well, our older dog, Sophie, she's not been too disturbed because she doesn't hear well anymore. Xena, our German Shepherd puppy, thinks the contractor and crew and here to play with her. But poor little Duke, he's had to stay in "jail" a lot of the time because he's… um, let's just call him "very curious".
The highlight was the stove being delivered yesterday. I was so happy. I'm really looking forward to cooking our Thanksgiving meal in this oven. I have so much to be thankful for. Especially, that my family will be here in Tennessee to share Thanksgiving with us this year. I'm so excited!
Stay tuned for the finished kitchen. Only 10 more days! We need countertops, desk top, bar top, tile backsplash, under cabinet lights, painting, new light fixture hung, can lights trim finished, and floor is going to be re-grouted… however, that may happen after Thanksgiving. The construction crew said next week is what is called "hell week". I just know everything is going to work out perfectly. Life is good!