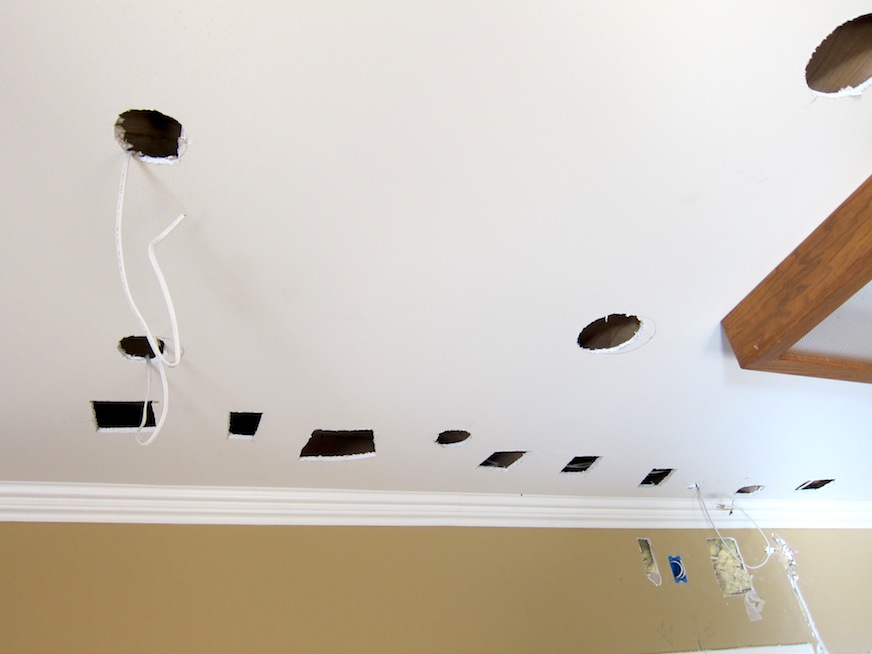 Well, week two felt like we were in limbo. It was a time when all the electrical and plumbing type of things got done ~ or were supposed to get done…
Now there's a lot of holes in the ceiling and walls.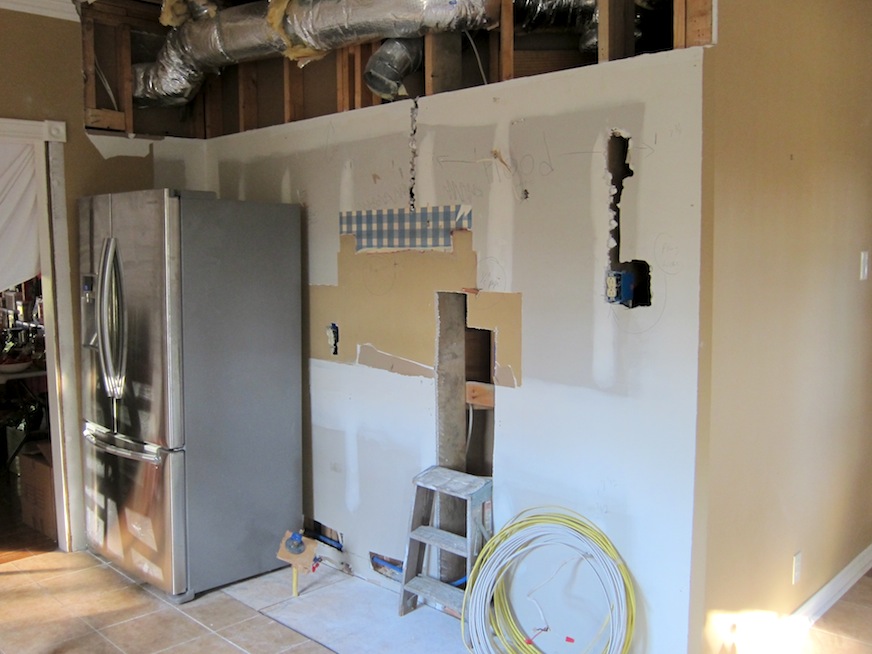 Plumbing issues were taken care of.  The stove will be where that small ladder is, and there will be a pot-filler above the range. So happy that I will have that!
One exciting thing did happen this week, at least I think it's exciting. We had the garden window put in the kitchen, above the sink area. We bought the window from Home Depot. After checking out other garden window options, turns out Home Depot was the best. Funny, it's not as big as I thought it would be, but I do love it. Such a vast improvement over the regular window that was there. My husband is now fearful that I will be putting some knick-knack type of stuff in the window, along with some hanging things. Oh, how did he know? Of course I am. Not too much stuff, but that's what makes the kitchen mine, mine, mine.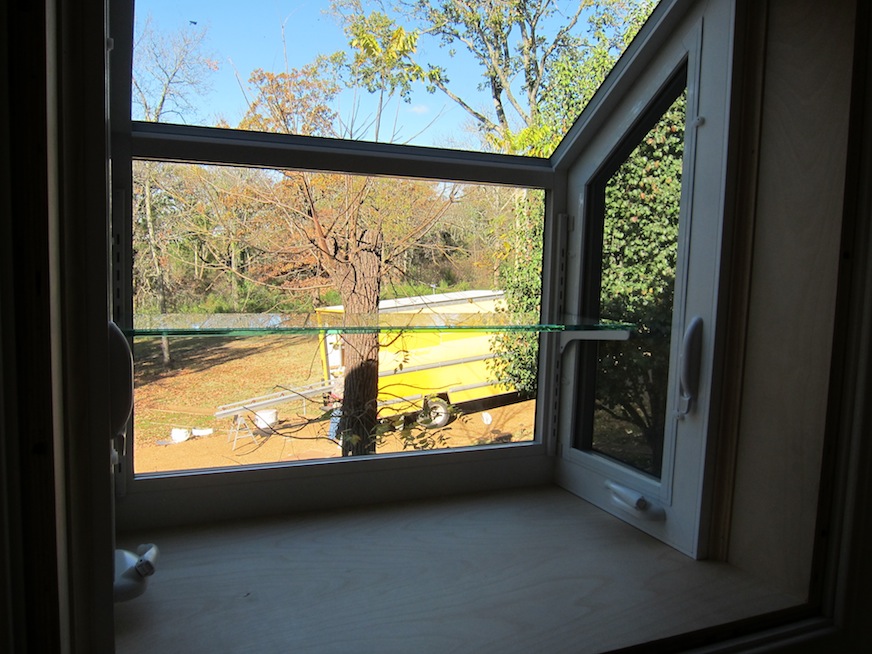 Now it's time to fill the holes that were made. Gotta get ready for the cabinets that will be delivered soon! Kyle Hunt (below) of Trust Hunt Construction in action.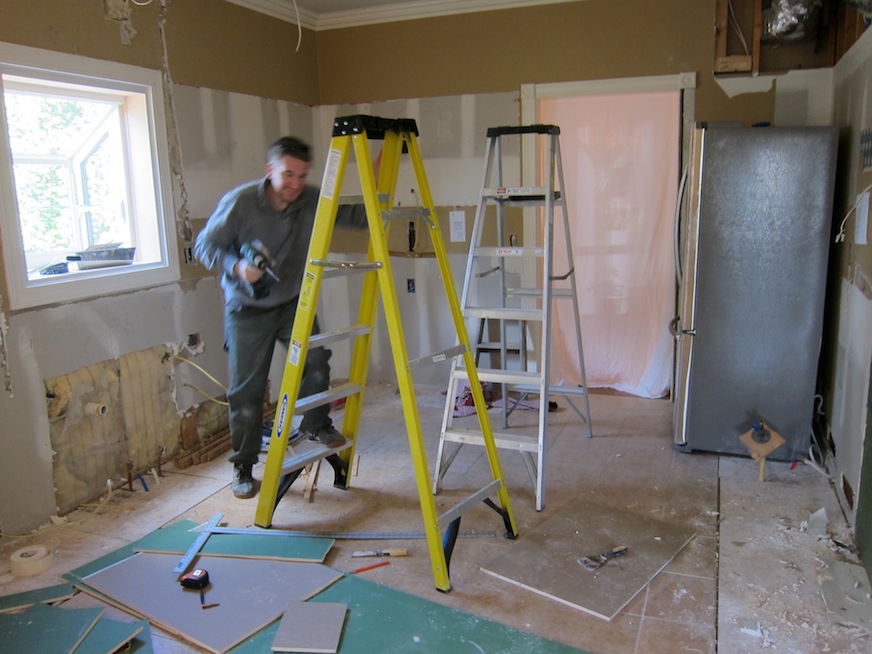 The truck is here with the cabinets! YAY!! We got our cabinets custom made from Smithport Cabinetry of Smithville, Tennesee.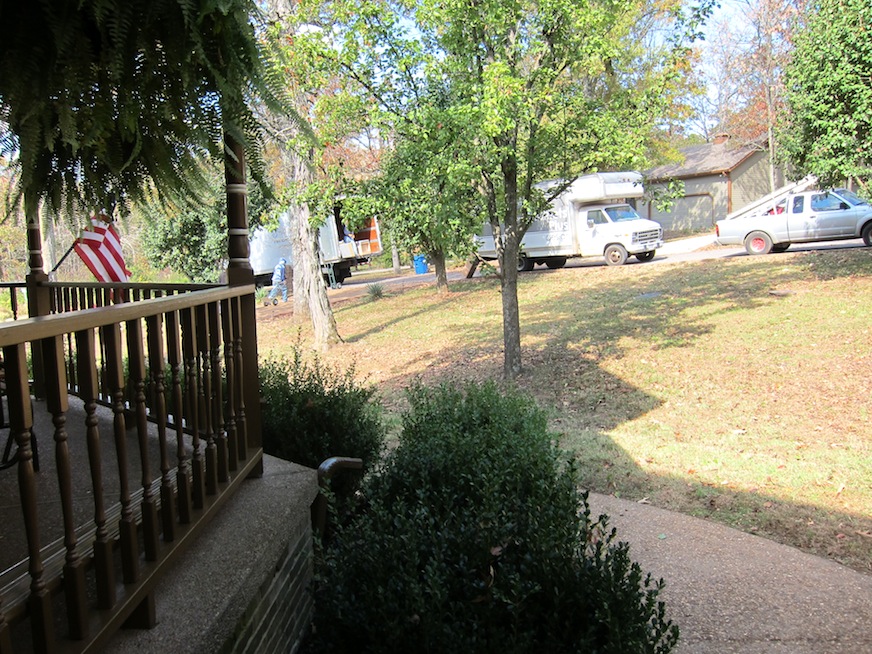 Check out our porch (in the pic above). I've been painting it for the past week or so. Going to have it finished in the next few days. Things are starting to look good around here. We've actually had a lot of painting done in the house over the past month. Dining room is now painted red. Love it! One of the upstairs guest bedrooms was also painted the same red. That's the room my Dad & Step-Mom will be staying in when they visit for Thanksgiving.  The living room went from "pumpkin" colored to a really nice rich brown. the brown color will also be in the kitchen… once the remodel is complete, painting will be the final touch!
Bring on the cabinets!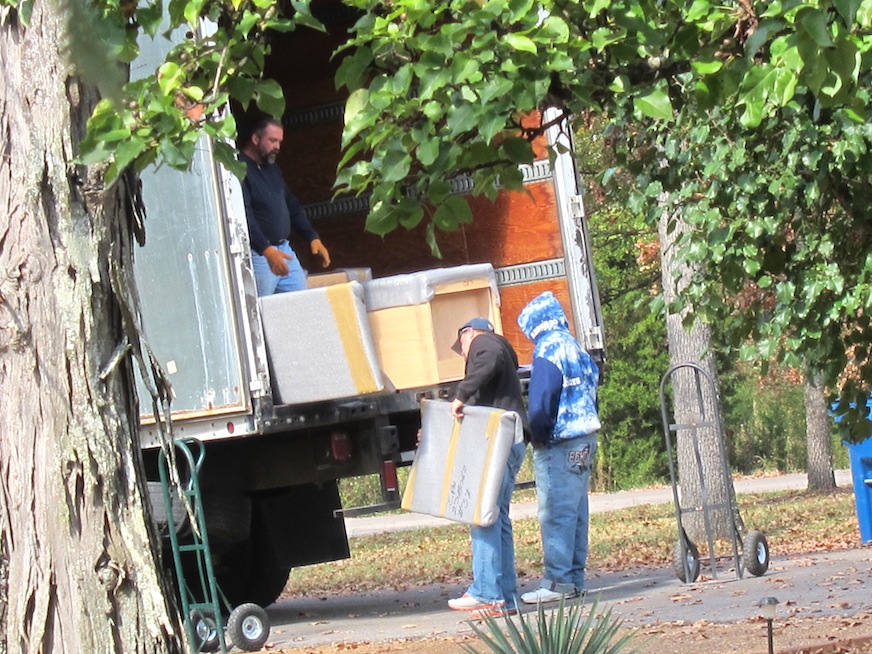 All the cabinets are now in the house. That's Jon (below) of J.D. Nelson Cabinet Installation & Design, the man who is going to install the cabinets. There's so many of them and they're gorgeous! I'm going to have tons of storage space, too. So happy!!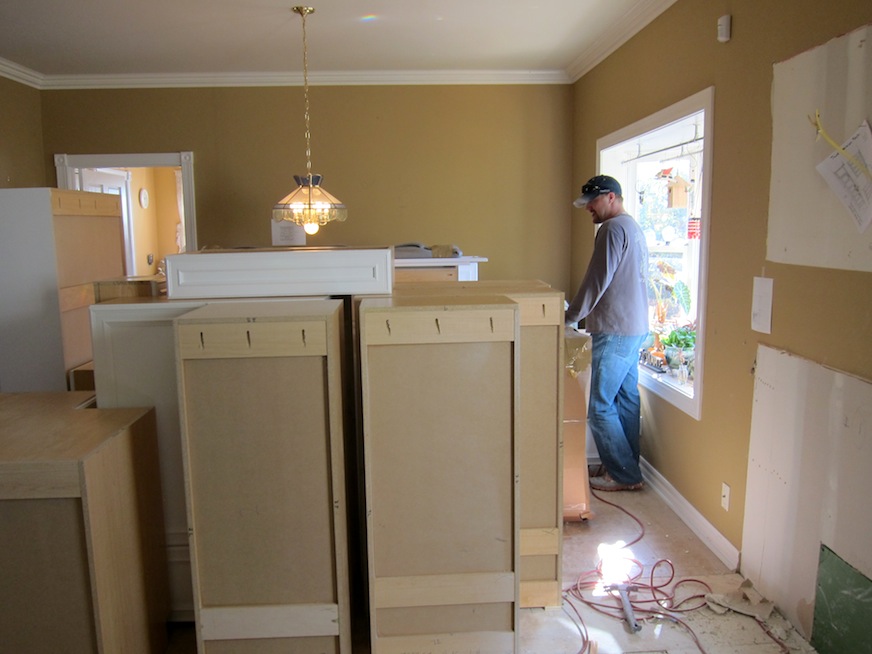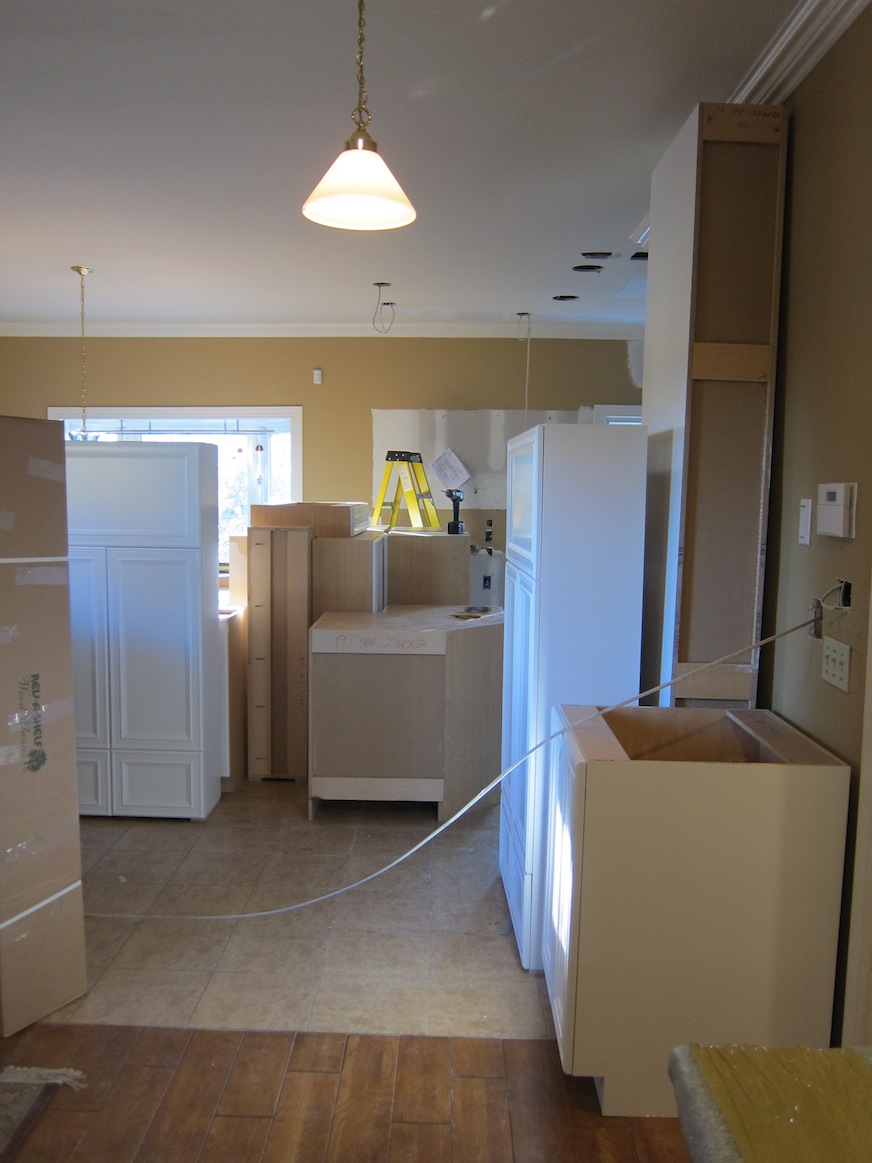 See the really tall cabinet above on the right? That is the cabinet that will go on the left side of the fridge. I've been wanting a cabinet like this for a long time… it's a pull out for all my spices. I actually think that ALL the spices will fit. We shall see, but I'm very hopeful.
Meanwhile, I've been managing pretty good with the makeshift kitchen (pic below) in our laundry/pantry room. Honestly, between the microwave, toaster oven, BBQ grill, slow cooker, waffle maker, Cuisinart Soup Maker & Blender… we've been eating very well.  No complaints here, whatsoever. The "saucy girl" is a Happy Girl!!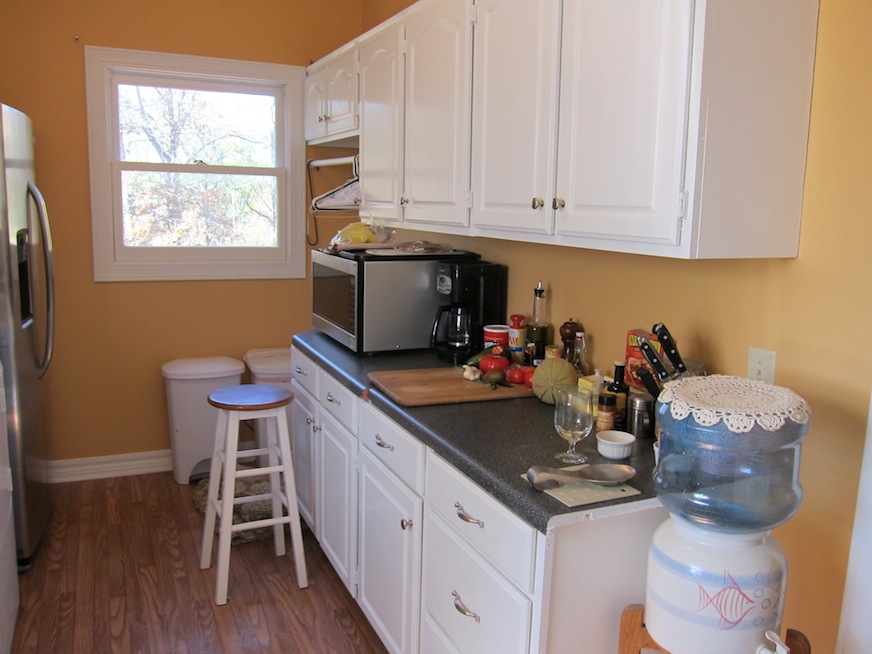 Stay tuned for more of my kitchen remodel. The cabinets are being installed as I type this. Can't wait to see what they're going to look like!
We've finally come up with the perfect design for the kitchen backsplash. I love it so much! Can't wait to share it with you all, so I will have a mock-up of what it will look like in the next post.
The entire kitchen remodel must be done before Thanksgiving. My family is coming and I want everything to look perfect. They will actually be arriving here in Tennessee on November 19th.  Nothing like a little pressure.  


Print entire post