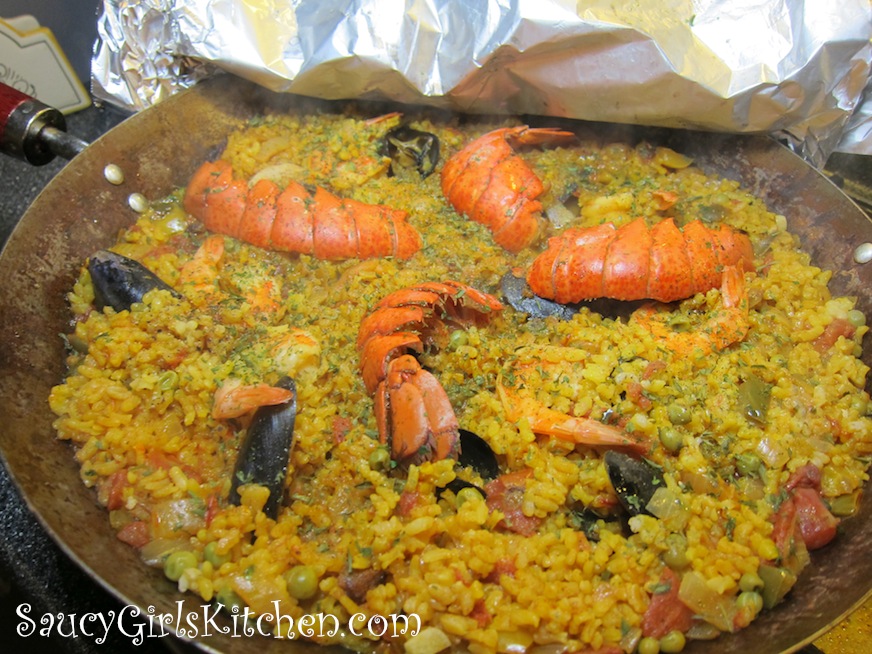 When I lived in Los Angeles there was a restaurant/bar that I would frequent in Marina del Rey, called Casa Escobar. Aside from great Margaritas, one of my favorite dishes was their Paella. It's the best I've ever had, full of seafood, chicken and pork. YUM! Sadly, Casa Escobar is not at that location, and I'm also not in California anymore… we moved to Tennessee about a year ago.
The town we live in now does have a few good Mexican/Spanish restaurants, but none have Paella on the menu. So, when I started craving the Paella that I used to enjoy at Casa Escobar, I decided to make my own. Here's my rendition. I added pork, chicken, shrimp, mussels and lobster to my Paella. You can use the base I have here and add whatever seafood or protein you'd like. Just want shrimp? Add just shrimp! Make it to your own tastes.
I have to admit, it was not as good as the Paella made at Casa Escobar. However, it totally satisfied my craving!
INGREDIENTS
3 to 5 Tbsp Olive Oil
1 lb. piece of Pork (shoulder or loin)
1 lb. Chicken thighs (skinless boneless)
1 Onion, diced
1/2 Green Bell Pepper, diced
1/2 Red Bell Pepper, diced
5 cloves of Garlic, diced
2 cups Rice (short grain – Bomba rice is best)
5 large pinches of Saffron
3 Tbsp fresh Parsley, chopped
1 – 16 oz. can of Diced Tomatoes, with juice
3 cups Chicken Broth
8 oz. Clam Juice
1 Tbsp Tabasco
1 cup Peas (frozen)
1 tsp Sea Salt
1 tsp fresh ground Black Pepper
2 Lobster Tails, split
10 Shrimp, peeled and deveined (leave tail on)
10 Mussels, cleaned
METHOD
Preheat oven to 350 degrees.
In a large saucepan (I used my Wok), add about 3 teaspoons of olive oil over medium heat.
When pan is hot, cook the pork on all sides, until well-browned.
Place pork in the oven to continue cooking for another 20 minutes.
Next, cook the chicken completely.
Remove from pan and set aside.
Add more olive oil to pan.
Add in the onion and peppers.
Saute for about 5 minutes.
Add in the garlic.
Saute for another minute or so.
Add the rice and saute for about 5 minutes, stirring frequently, until the rice gets golden in color.
Add the saffron and parsley, being sure to break up the saffron with your fingers.
Saute for about 5 minutes to release the oils of the saffron.
Add in the diced tomatoes (with their juice), chicken broth, clam juice, Tabasco, peas, salt and pepper.
Cut the chicken and pork into large chunks and add it to the pot.
Stir together, cover and allow to cook for about 10 to 15 minutes (without stirring).
Next place your lobster tails, shrimp and mussels on top, pressing them down into the rice a little.
Cover and continue to cook for another 12 minutes (without stirring), until the mussels have opened and the shrimp is pink (halfway through turn the shrimp over).
Remove from heat and let rest, covered, for about 10 minutes.
Serve with a dollop of sour cream on top.
Garnish with lemon wedges, if desired.
Enjoy!
NOTE: Paella should have a nice toasted bottom, called Socarrat… which is why you shouldn't stir the Paella in the last 20 minutes of cooking.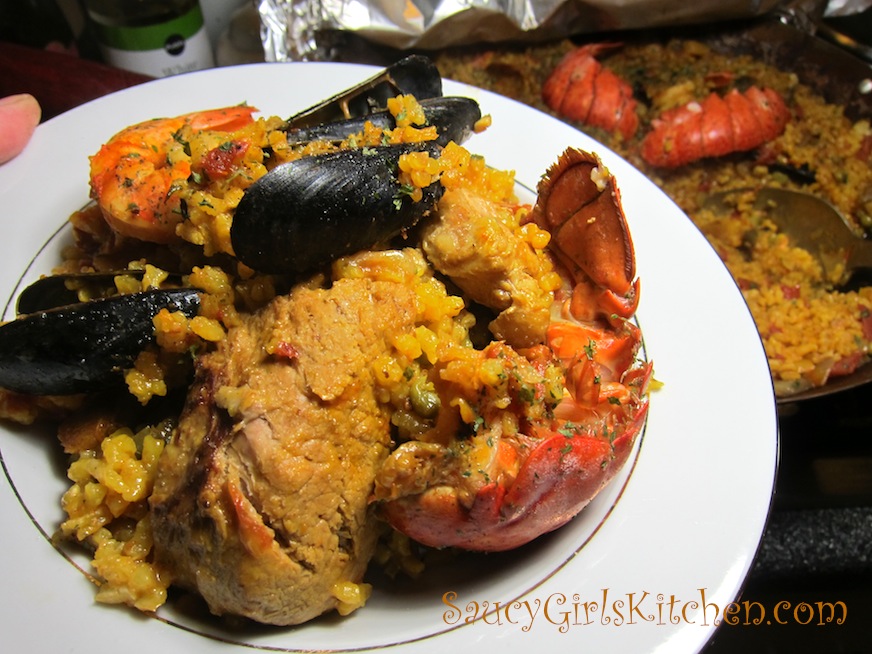 Print entire post