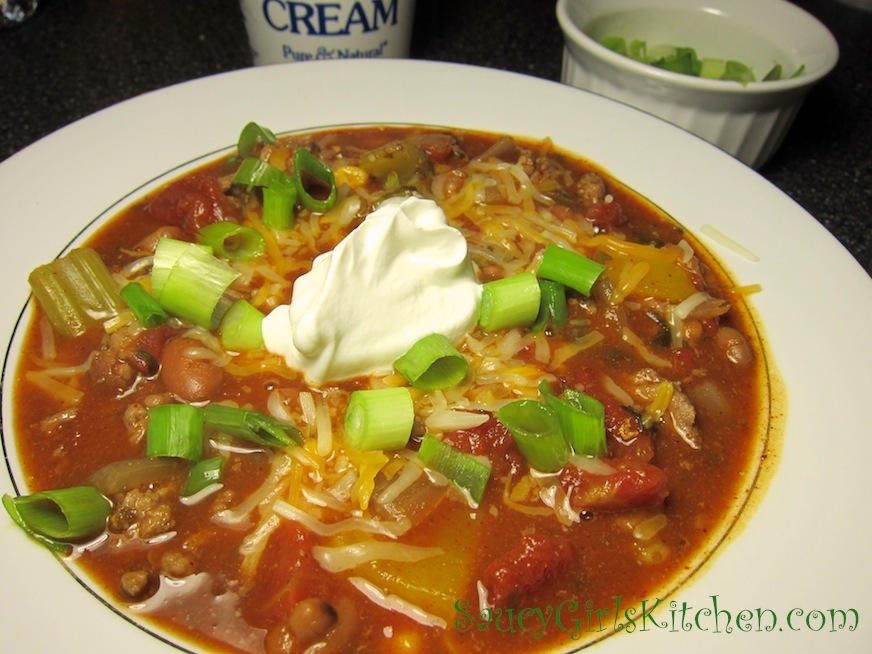 Sometimes I get strong cravings for Chili and I've just gotta have it. There's just something about the combination of flavors that I love… topped with cheese, scallions and a dollop of sour cream. Yum!
This is such a comforting, hardy dish that it's perfect for fall. When the nights are cool there's nothing better than a big bowl of hot chili. I like to use lots of vegetables in mine. My chili never turns out the same way twice, because I use whatever veggies I happen to have on hand. I also use different types of beans, or sometimes 2 or 3 different types of beans in one chili. You can make it your own, but here's how I made it this time…
INGREDIENTS
1 lb. lean ground Beef
1 Onion, medium dice
3 cloves of Garlic, minced
3 stalks of Celery, medium dice
1 yellow Bell Pepper, medium dice
1 to 2 cups of Corn (fresh, frozen or canned – minus the liquid)
1 16 oz can of Diced Tomatoes, with juice
1 16 oz can of Chili Beans or Kidney Beans, drained
2 to 3 cups of Beef Broth
3 to 4 Tbsp Chili Powder
Salt and Pepper, to taste
Grated Cheese, Chopped Scallions & Sour Cream, as garnish – if desired
METHOD
In a large heavy saucepan cook the ground beef.
It's important to use lean ground beef, so you don't have excess oil/fat from the meat.
Once meat is almost cooked through, add the onion and garlic.
Continue to cook for a minute or two to soften the onion.
Add in the celery, bell pepper, corn, tomatoes and juice, beans, beef broth and chili powder.
Stir to combine and allow to cook for about 20 minutes, or until all the veggies are tender.
If you need more liquid, just add more beef broth…
Taste and season with additional chili powder, salt and pepper if necessary
Serve with grated Cheddar & Jack Cheese, Chopped Scallions and Sour Cream, if desired.
NOTE: Sometimes I will add different colors of bell pepper, zucchini, yellow squash, jalapeno, etc.

Print entire post