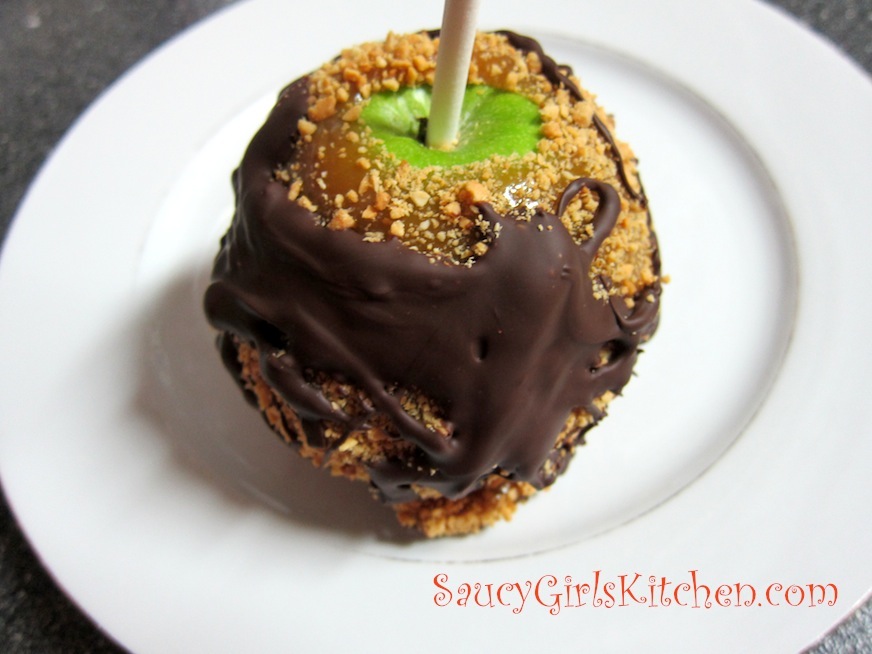 I've always loved the fall. As a little girl growing up in Maryland, I loved having 4 seasons that actually changed. After living in California for all of my adult life, that was something I really missed… along with a good old thunderstorm (complete with lightening), the magic of fireflies was sorely missed, as there are none in California, and of course, the changing color of the leaves.
Last year we moved from Los Angeles to Tennessee. We're way out in the country as compared to the city life I knew. It's been a total culture shock and I've missed my daughter and friends so much. But, happily, I'm starting to really like it here.
So, since this is a food blog let's talk about fall = apple season. Yes, there's apple pie, applesauce, strudel, apple crostata, etc…. and then there are Caramel Apples. I made these apples with sweet homemade caramel sauce, salty peanuts, and dark chocolate to finish it off. You could make variations of this apple by using different nuts, white or milk chocolate, Reese's Peanut butter chips melted instead of the chocolate, adding cookies crumbs, crushed candy bars, mini marshmallows ~ the variations are endless.
I don't eat Caramel Apples often, what I should I say is that I don't eat Caramel Apples often enough!! When eating this apple, I didn't just bite into it, I sliced it into eight pieces to be sure that I would get topping with every bite. Oh, it was so good. I savored every morsel!
INGREDIENTS
4 Granny Smith Apples
4 Sticks for the apples
Homemade Caramel Sauce (recipe below)
2 cups salted Peanuts, crushed
2 cups of dark Chocolate, melted
METHOD
Wash your apples thoroughly and dry completely.
Insert one stick securely into each apple center.
Get a piece of waxed paper ready to place the finished apples on to set and harden.
Set up three bowls, one with the warm Caramel Sauce, one with the crushed Peanuts, and one with melted Dark Chocolate.
Dip one apple into the Caramel Sauce, coating it evenly all around.
Allow excess caramel to drip back into the bowl.
Next roll the apple gently in the peanuts, coating the caramel sauce completely with crushed peanuts.
Pour the dark chocolate onto the apple, not covering the peanuts completely.
Now set the apple on the waxed paper, and start the next apple.
Once you have done all the apples allow them to harden at room temperature, and then place them in the fridge to harden completely.
NOTE: To melt the chocolate I just placed it in a microwave safe bowl and melted it at 20 second intervals until I could stir it easily.
Easy Caramel Sauce
INGREDIENTS
2 cups granulated sugar
1 pint heavy cream
METHOD
Place the sugar in a heavy gauge sauce pan and place over medium high heat, watching it closely.
When the sugar starts to caramelize and turn amber, carefully stir with a wooden spoon to make sure all of the sugar is dissolved.
Once the sugar has turned deep amber, very slowly and carefully start to add the heavy cream a little bit at a time, being very careful of the steam and the hot sugar.
Once you have added ½ of the heavy cream you can pour in the rest, stirring constantly.
It may start to solidify, but don't worry it will melt again with more cooking.
Once all of the cream has been added, cook on low heat for about 10 minutes.
The longer you cook the caramel, the thicker it will become.
Remove from the heat, place in a bowl and set aside.

Print entire post