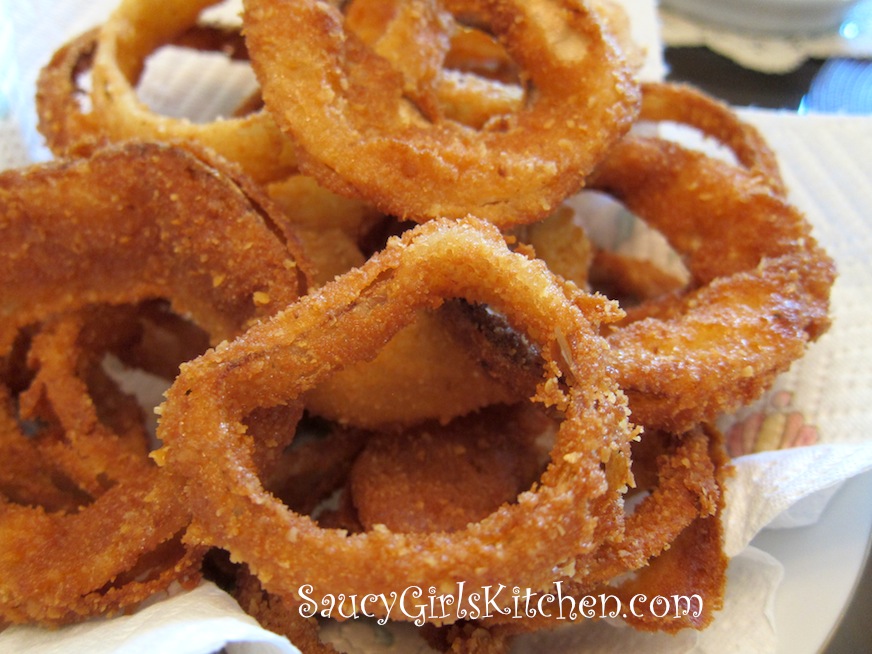 Who doesn't love onion rings? I really don't think it's fair that they take a back seat to French Fries!!
When I made these onion rings, we had them as a side to homemade burgers. We really would have been happy with just the big bowl of onion rings and the Buttermilk Dipping Sauce. We ended up eating all the onion rings, but couldn't finish our burgers.  

INGREDIENTS
1 cup Flour
1 tsp Salt
1 cup Buttermilk
1 ½ to 2 cups Bread Crumbs
1 large Onion, cut into ¼ inch rings
4 cups Vegetable Oil
Buttermilk Dipping Sauce, recipe below
METHOD
Preheat the oil in a large saucepan, over medium heat.
In a large bowl combine the flour, salt and buttermilk.
Place the breadcrumbs in a separate large bowl.
Dip the onion ring into the buttermilk mixture, being sure to coat it completely.
Place the onion ring on a wire baking rack so the excess mixture will drip off the onion.
I put a plate underneath to catch the excess batter (in case I needed more batter I could just reuse it).
I worked in batches of 4 to 5 onions rings.
Once you have the first batch of onion rings coated with the batter, place one at a time in the breadcrumb bowl and cover with breadcrumbs.
Shake off any excess.
Once you have your first batch covered with the breadcrumbs, carefully drop the onion rings into the hot oil.
Meanwhile, prepare your next batch of onion rings, while the first batch is cooking.
Be sure to keep an eye on them so they don't burn, turning them halfway through the cooking process.
Once the onion rings are golden, remove from the oil with a slotted spoon or tongs.
Place on paper towels to drain excess oil.
Sprinkle lightly with additional salt, if desired.
Great served with Buttermilk Dipping Sauce (recipe below) or Homemade Ketchup.
NOTE: To keep the onion rings warm while making the rest of the batch, just place on a baking sheet in a 250 degree oven.
Buttermilk Dipping Sauce
INGREDIENTS

¾ cup Buttermilk
¼ cup Mayonnaise
Juice of half a Lemon
2 cloves Garlic, minced
1 tsp fresh Parsley, chopped fine
½ tsp Onion Powder
½ tsp Salt
METHOD
Whisk all the ingredients in a medium bowl.
Taste and add more seasoning, if desired.

Print entire post