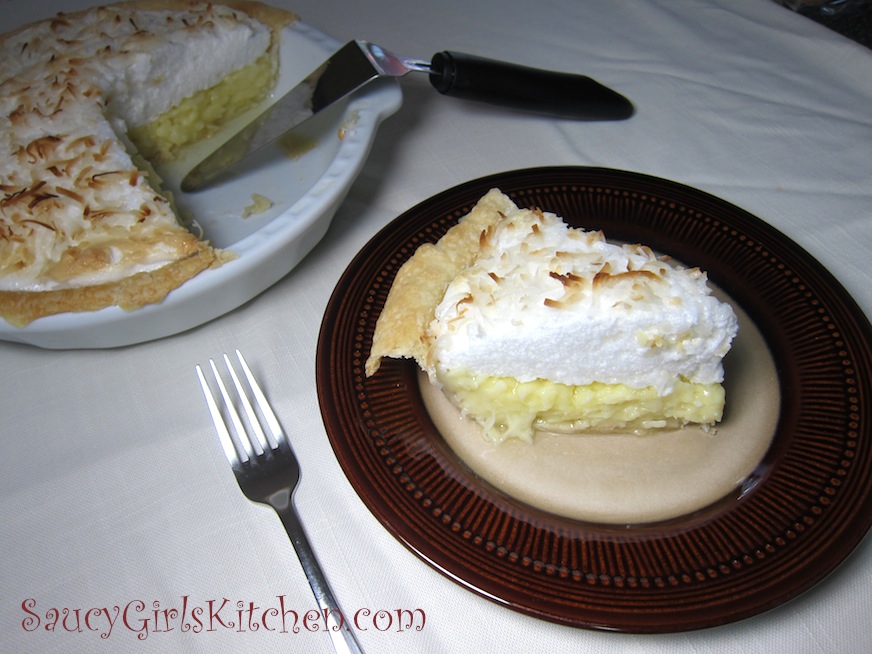 This has got to be the best Coconut Cream Pie I've ever had. It wasn't overly sweet, which is usually a big turn off for me.
I had an urge to bake something yesterday and I kept trying to decide… should I make a Coconut Cream Pie or a Lemon Meringue Pie? I had the ingredients for both, but the Coconut Cream Pie won out and I'm sure glad it did. I actually ate a piece of the pie this morning while I was shooting the photo for this blog post. I usually end up eating my props! lol
I know this pie is going to go quick in this household. So, I will be making the Lemon Meringue Pie in the next few days. 'Cause I've got to satisfy the craving for lemon that has been planted in my head. Or maybe I'll make some Lemon Bars. Ohhhh, they're one of my favorite things! Mmmm ~ here we go again, Lemon Meringue Pie or Lemon Bars?
INGREDIENTS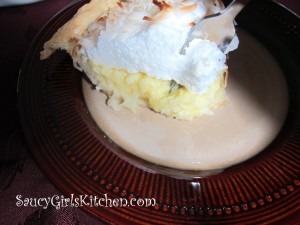 1  9-inch pie crust, baked
1 cup Heavy Cream
1 ¼ cups Milk (1/4 cup will be mixed with the cornstarch as a slurry)
3/4 cup Sugar
4 Eggs Yolks (reserve whites for the Meringue)
1/4 cup Cornstarch
1 tsp Vanilla
2 cups Coconut, toasted
1 Tbsp Butter
For Meringue:
4 Egg Whites
¼ cup Sugar
METHOD
Preheat the oven to 400 degrees F.
In a medium saucepan, whisk 1 cup of Heavy Cream, 1 cup of Milk, and ¾ cup of sugar together.
Over medium-low heat bring the liquid to a simmer.
In a small bowl whisk the egg yolks together with a little of the hot milk to temper the egg yolks.
Whisk the egg yolks into the hot milk, whisking the entire time.
In another small bowl add the ¼ cup of milk with the ¼ cup of cornstarch and mix thoroughly until the cornstarch is completely dissolved.
Whisk the cornstarch mixture (slurry) into the hot milk mixture.
Continue to whisk the mixture until it comes to a boil.
Lower heat to a simmer and continue to cook, stirring continuously, until the filling is thick (about 5 minutes).
With a wooden spoon add in the vanilla, coconut and butter… be sure to leave a little coconut to sprinkle on the top of the meringue (I used about 3 tablespoons).
Mix well.
Pour the coconut filling into the pre-baked pie crust.
Allow to cool, while you prepare the meringue.
For Meringue:
Whip the egg whites and sugar together with an electric mixer, until stiff peaks form.
Spread the meringue over the top of the pie, being sure to spread the meringue to the pie crust, covering the coconut filling completely.
Place pie in the oven for about 3 minutes, or until the meringue is light golden.
Be sure to keep an eye on it… cause it can brown really quickly.
Enjoy!

Print entire post