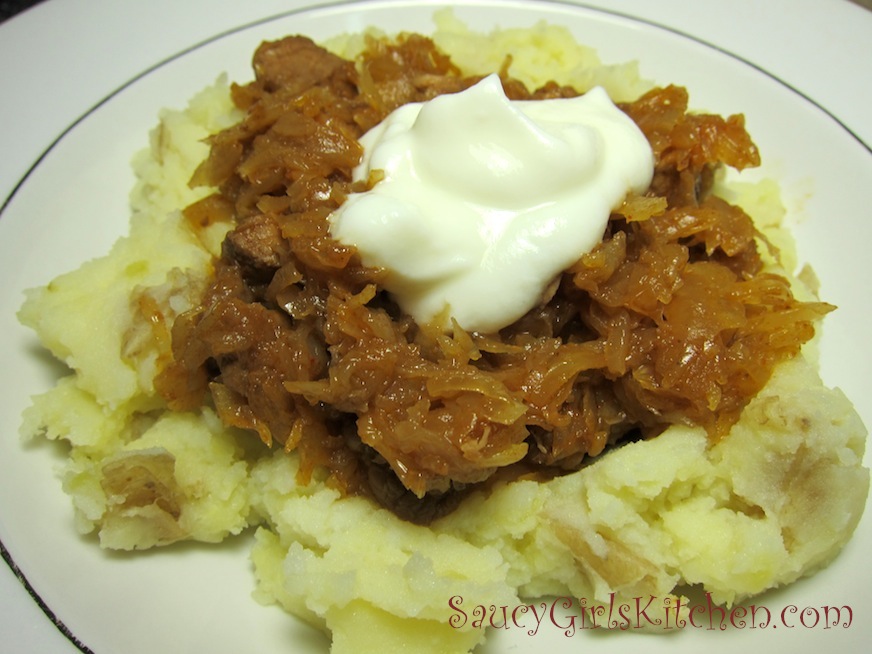 Yes, Transylvania is the land of the vampires. I've always been fascinated at the notion of vampires. I'm not alone in this as evidenced by the popularity of vampire shows today. Actually, the first book that I ever read myself was Dracula by Bram Stoker (and that is a big book!). I was about 10 years old and I would lay in bed with the covers up over my head, flashlight on, and read into the wee hours – way after "bedtime". However, that has nothing really to do with this Transylvanian Goulash…
To me this is one of the ultimate comfort foods. I always serve it over creamy mashed potatoes (pictured above with Yukon Gold potatoes). It's also great served over buttered egg noodles. The flavor of the sauerkraut mellows in the cooking process, but it also tenderizes the meat as it all simmers together.
My recipe is simple. It's actually a recipe that I learned in my 20s when I was dating a Hungarian (he had just come to the U.S. from Hungary). Although I've seen many recipes that add cream, tomatoes, potatoes, etc… to me this is true Transylvanian Goulash. Besides, I love it!!
I add a dollop of Yogurt on top, which is not only tasty, but also is great as a stomach soother to counteract the acidity of the sauerkraut.
If you've never had Transylvanian Goulash, I hope you'll give my recipe a try!
INGREDIENTS
2 Tbsp Olive Oil
2 Tbsp Butter
1 large Onion, diced
4 to 6 Tbsp Hungarian Paprika
1 lb lean Pork, cut into small bite-size pieces
2 Garlic Cloves, minced
2 lbs. Sauerkraut (about 4 cups), drained but don't rinse
2 cups Water
Yogurt or Sour Cream, as garnish (if desired)
METHOD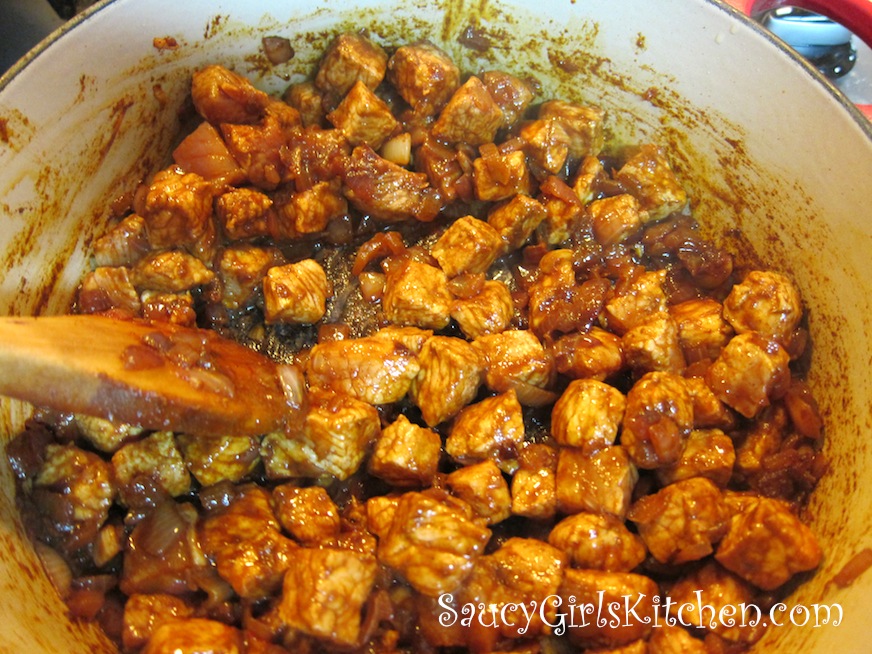 In a large heavy saucepan add your olive oil and butter, turn heat on medium.
Add the onions.
Saute for a few minutes.
Add in the paprika and pork.
Saute until the pork is cooked, about 4 minutes, stirring occasionally.
Add the garlic and cook for another minute or two.
Stir in the sauerkraut (be sure to drain the juice off).
Add in 2 cups of water.
Combine and turn heat to low.
Simmer for about 2 hours, or until the pork is very tender.
Add more water, as necessary, while simmering.
Enjoy over mashed potatoes or noodles with a dollop of yogurt or sour cream on top.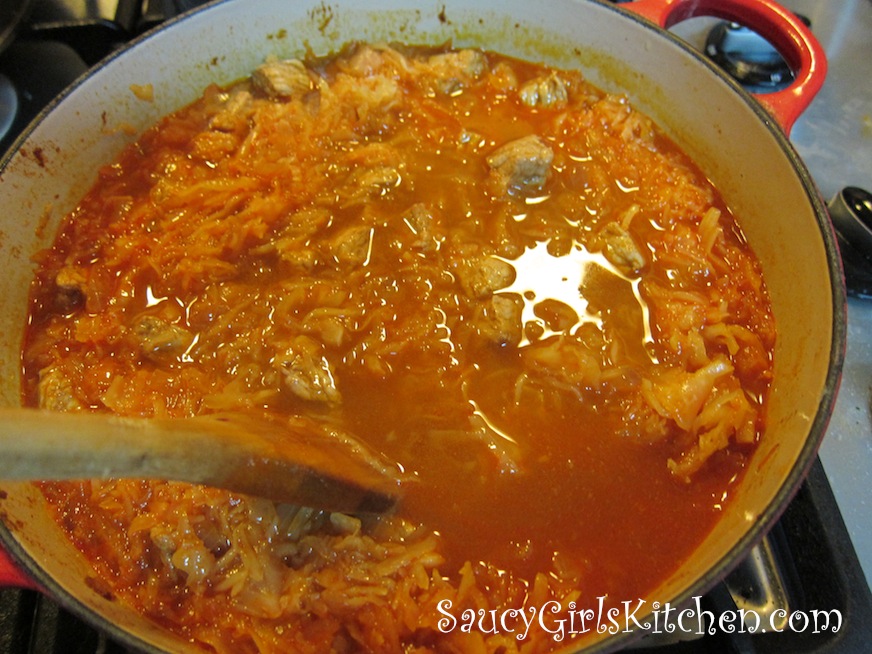 Print entire post