I was raised in Maryland and that means I was raised on Maryland Blue Crabs. I love crabs of all types, but there's nothing like Maryland Blue Crabs. Some of my fondest childhood memories are when my family would have a huge crab feast in the summertime. When I say feast, I mean we would have a couple of bushels of crabs! That translates to about 12 dozen or more crabs!!
We would get together in our back yard with the neighbors, usually putting a couple of picnic tables side by side. Cover the table tops with newspapers, that were held down with giant piles of steamed crabs in the middle. The crab feast wasn't complete unless we had melted butter for dipping our crabs in, corn on the cob and lots of ice cold beer. I was just a kid, so I couldn't have beer… but I sure do enjoy it now whenever I'm lucky enough to feast on some steamed Maryland Blue Crabs. As a matter of fact, that's the only time I ever drink beer.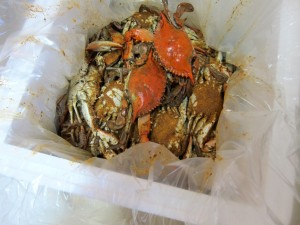 Recently, we ordered a half bushel of crabs. We invited some friends over that I knew loved crabs as much as we do. To my surprise (and joy) we ended up with some left over. So the next day I sat and picked the meat out of the remaining crabs and decided to make some Crab Bisque! It was so good!!
You could use any type of crab for this recipe, or you could easily substitute shrimp or fish, instead of the crab.
INGREDIENTS
2 Tbsp Butter
1 Carrot, peeled and diced
1 Celery stalk, diced
½ Onion, diced
4 cloves of Garlic, diced
2 cups of Lobster or Shrimp broth (clam juice can be substituted)
2 cups Milk of your choice
2 Tbsp Tomato Paste
2 Tbsp Wondra Flour (see NOTE below if you don't have Wondra Flour)
1 tsp Old Bay Seasoning
1 lb. Crab Meat
1 to 2 Tbsp Fresh Parsley, chopped
1/3 cup Sherry or Marsala
dash of Cayenne Pepper, if desired
Salt and fresh ground black pepper, if desired (be sure to taste Bisque first before adding salt)
METHOD
In a medium saucepan sauté the carrot, onion, celery and garlic in the butter over low heat for about 10 minutes.
Add in the broth and milk of your choice.
Simmer until veggies are soft, about 15 minutes.
Add in 2 Tbsp of tomato paste (I actually had some leftover marinara, so I just used that).
Blend together until smooth using an emulsion blender, regular blender or food processor. Be careful, cause it's hot!
Whisk in 2 Tbsp Wondra flour, to thicken Bisque.
Add Old Bay Seasoning.
Continue to cook over medium low heat until Bisque comes to a low boil.
Stir in the crabmeat, fresh parsley, and Sherry or Marsala.
Taste and season with Cayenne Pepper, salt and fresh ground black pepper, if desired.
I didn't use any salt, as the broth was salty enough for my taste.
Enjoy!
NOTE: If you don't have Wondra Flour you can use regular flour, but be sure to blend it with a little of the soup in a separate bowl, to ensure that you don't end up with clumps in your soup.

Print entire post