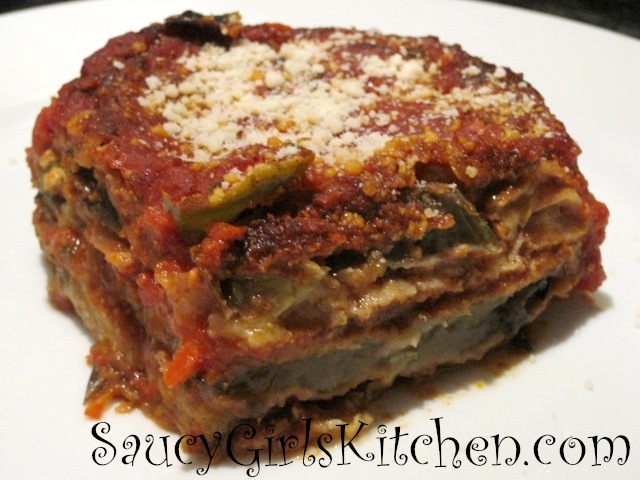 We have eggplant at our house a lot. I love it prepared anyway ~ Baba Ganoush, Breaded & Fried, Grilled… But the ultimate for me, is my Eggplant Parmesan. I only use Parmesan Cheese in this recipe, so it's not very cheesy like you will get at most restaurants. I hope you'll give it a try. It's delicious!
This recipes serves 10.
INGREDIENTS
2 large eggplants
2 cups Italian Style Bread Crumbs
2 cups All Purpose Flour
4 eggs, beaten
Olive Oil, for frying (no reason to use Extra Virgin)
2 Tbsp salt
2  28-oz cans Chunky Tomato Sauce
3 cloves of garlic, minced
1 Tbsp McCormick Italian Seasoning
2 cups Parmesan Cheese
Hearty Red Wine (Burgundy), optional
METHOD
Preheat oven to 350 degrees.
In a large saucepan add the tomato sauce, garlic and Italian seasoning.  Add 1 cup of water. Stir and place on medium low heat.
Set up work area with 3 large bowls; one for bread crumbs, one for flour, and one for the beaten eggs (with about 1/3 cup of water added to them).
Slice the eggplant into ½ inch thick rounds.  Dip into flour, being sure to coat it well. Then dip into egg and finally into the bread crumbs. Set aside and continue the process until all the eggplant slices have been breaded. If you find that you need more bread crumbs, flour or eggs to complete all the eggplant slices, just go ahead and add it to your bowls.
Place about 3 to 4 tablespoons of oil in a large frying pan on medium heat. When the oil is hot begin to fry the eggplant, without crowding it in the pan. Fry until light golden brown. Place on paper towel to drain excess oil, lightly sprinkle with salt and continue with the next batch until all the eggplant has all been fried. Add oil as needed for frying. Eggplant does absorb the oil, so it is important to place them on the paper towels after frying.
If you're good at multi-tasking in the kitchen, while you are frying the rest of the eggplant you can begin the assembling process.
In a 13" x 9" baking dish place a layer of tomato sauce.  Next place a layer of fried eggplant. Sprinkle with about 1/2 cup of Parmesan cheese. Repeat this process with another layer of tomato sauce, fried eggplant, and Parmesan cheese. Try not to leave big gaps of space between the eggplant rounds. If need be, you can cut some pieces to fit and make the layer perfect. Top the final layer with sauce and Parmesan cheese. Sprinkle top and edges with some red wine, allowing it to seep into the eggplant.
Cover with tin foil and bake in the oven for 40 to 45 minutes. Allow to sit for 15 minutes before serving. If desired, serve topped with extra sauce.
Enjoy!

Print entire post