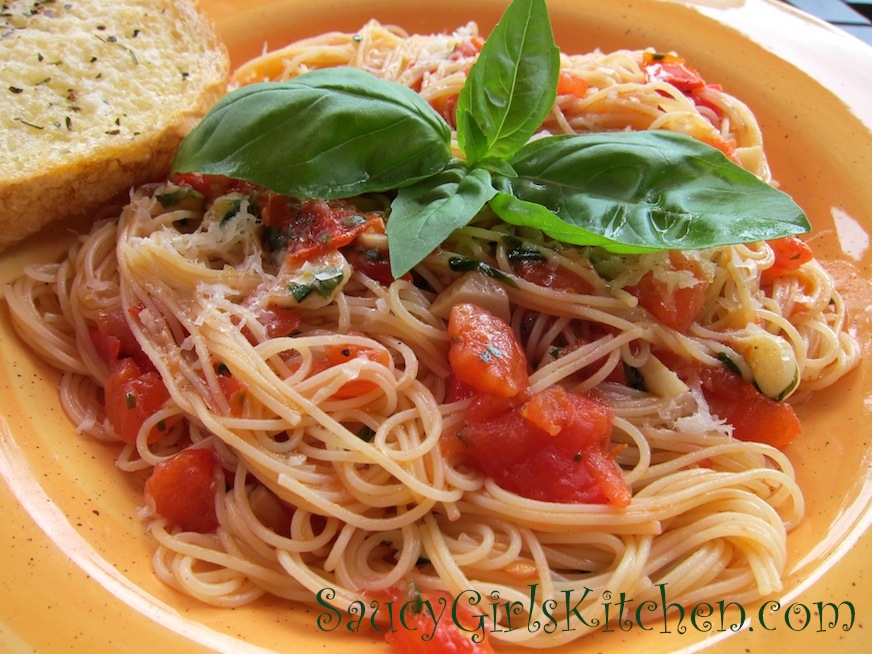 Being Italian, there's nothing more satisfying to me than a good plate of pasta. Since my tomatoes and basil are growing well and producing, it just made sense to make this dish.
Sometimes I will add capers, olives, mushrooms, etc. but today I'm just keeping it simple.
This recipe serves 2.
INGREDIENTS
1/2 lb. Angel Hair Pasta (cooked according to package direction)
1/4 cup Extra Virgin Olive Oil
10 cloves of Garlic, chopped
3 to 4 large Tomatoes, chopped
1/2 cup fresh Basil, chopped
Salt and Pepper, to taste
Crushed Red Pepper, if desired
1/2 lb. Angel Hair Pasta
Parmesan Reggiano, grated
METHOD
Fill a large pot with salted water and put over medium high heat (for pasta).
In a medium pot add the olive oil and garlic, over medium heat.
Cook for a minute or so, until the garlic is soft.
Add in the tomato and cook for a few minutes more.
Cook pasta according to package directions, but do not drain from water.
Using a pasta fork remove all the pasta from water and put directly into tomato pot.
Add the fresh chopped basil.
Combine.
Taste and season with salt, pepper, and crushed red pepper, to taste.
Serve topped with fresh grated Parmesan Reggiano.
Serve with garlic bread.