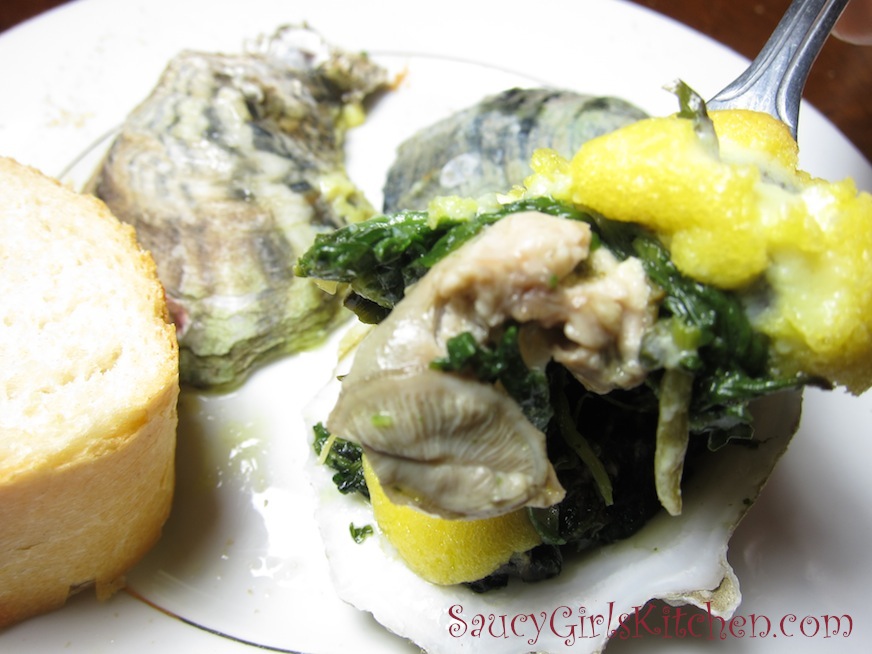 One of my favorite indulgences is Oysters ~ anyway I can get them… on the half shell, oyster stew, steamed with butter, breaded & fried, and of course, Oysters Rockefeller (my all time favorite).
I was pleasantly surprised to see the price of oysters when we moved to Tennessee! In California, oysters at an oyster bar ranged in price from a "Fanny Bay" (from British Columbia) for $2.50 EACH, to a pricier "Beausoleil" (from New Brunswick) for $3.50 EACH. My other option ~ I could buy them, take them home and shuck them myself for $1.50 each, which I did often. Oysters were a luxury item in California at those prices. But here in Tennessee I can buy fresh oysters for .54 cents each. Needless to say, we're having oysters at least once a week!  

It used to take me a long time to make Oysters Rockefeller, but I have streamlined my recipe and technique so that I can make these in about 20 minutes.
If you love oysters, as I do, I hope you'll give my version of Oysters Rockefeller a try. In my opinion, they're the best!!
INGREDIENTS
1 dozen raw Oysters in the shell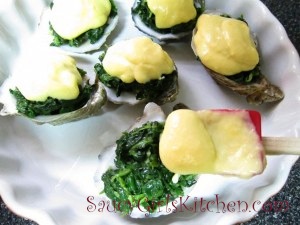 For Spinach:
1 package of frozen chopped Spinach, thawed (yes, you can use fresh – but this saves lots of time)
1 Tbsp Butter
1 Shallot, finely diced
2 cloves of Garlic, finely diced
Salt and pepper, to taste
For Hollandaise Sauce:
4 Egg Yolks
1 stick of Butter
Juice of 1 Lemon (less depending upon how lemony you like yours)
A pinch of Cayenne Pepper
A dash of Tabasco Sauce
A little salt, if needed
METHOD
Preheat oven to 350 degrees.
Wash the oysters thorough with cold water and a little brush.
Place them all on a baking sheet and pop them into the oven to open. (Time saver rather than shucking them yourself).
Check on the oysters every few minutes and remove the oysters from the oven as they open.
While the oysters are in the oven you can prepare the spinach and Hollandaise Sauce.
For the Spinach:
Place 1 Tbsp butter in a saute pan over medium heat.
Add the shallot and garlic.
Saute until they are translucent, about 3 minutes.
Stir in the thawed spinach, being sure to remove any excess water.
Once it is heated through, give it a taste and season with salt and pepper, if desired.
Set aside.
For the Hollandaise Sauce:
It's important to have all your ingredients ready to add into the Hollandaise Sauce because the process of making it will be quick and you need to constantly pay attention to it so it doesn't break.
In a small saucepan add your egg yolks.
Add the butter, cut into cubes.
Turn the heat on as low as it goes and stir the butter into the egg yolks with a whisk.
Once the butter has totally melted, continue to whisk as the egg yolks will start to thicken.
Be careful that you don't cook the egg yolks. You want a smooth sauce.
Whisk in the cayenne pepper and Tabasco Sauce.
Whisk in the lemon juice, a little at a time.
Taste the sauce and add more lemon, as desired.
I like mine really lemony, so I usually end up using all the juice, but it's up to you.
Once sauce is done, remove from heat and set aside.
Assembly:
All your oysters should be ready to come out of the oven and you can now easily open them.
Loosen the oyster from the half shell and place back on the bigger half shell, making sure there is no grit/sediment on the shell.
Once you have prepared all the oysters, place them in a baking dish.
Generously top each oyster with spinach, covering the entire oyster.
Once all the oysters have spinach, top them with a spoonful of Hollandaise Sauce, covering the spinach layer.
Place the oysters in the oven to heat through (about 10 minutes).
Remove from oven and enjoy right away!

Print entire post