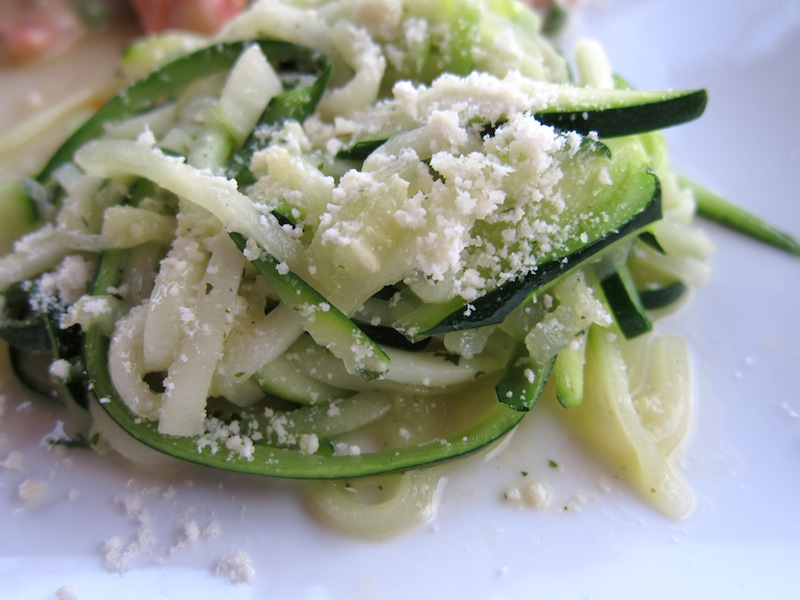 If you're tired of making zucchini the same old way, give this tasty recipe a try. It takes only minutes to prepare, however, you must use a Mandoline to make the zucchini noodles. I mean, I guess you could do it by hand, but that would take quite a while!
This recipe serves 2.
INGREDIENTS
2 large Zucchini
2 Tbsp butter
2 tsp fresh Parsley, chopped fine
A squeeze (or two) of fresh Lemon
Salt and Pepper, to taste
Parmesan sprinkled on top
METHOD
Put a pot of water on the stove over high heat.
While the water is coming to a boil you can prepare the zucchini.
Cut off the ends of the zucchini
Using the Mandoline blade that cuts julienne strips, cut both zucchinis.
Place raw zucchini into the boiling pot of water and blanche for 30 seconds.
Remove zucchini from water and toss lightly with the butter, parsley, lemon, salt and pepper.
To plate the zucchini, I like to twirl it and place it on the plate in a round.
Sprinkle with Parmesan and serve right away.
Enjoy!

Print entire post