I love to make fresh pasta dough, but I don't always have the time. Here's an easy way to make fresh ravioli without having to make your own pasta dough. Use wonton wrappers. They are available in the refrigerated section of most markets nowadays. They make delicious light ravioli.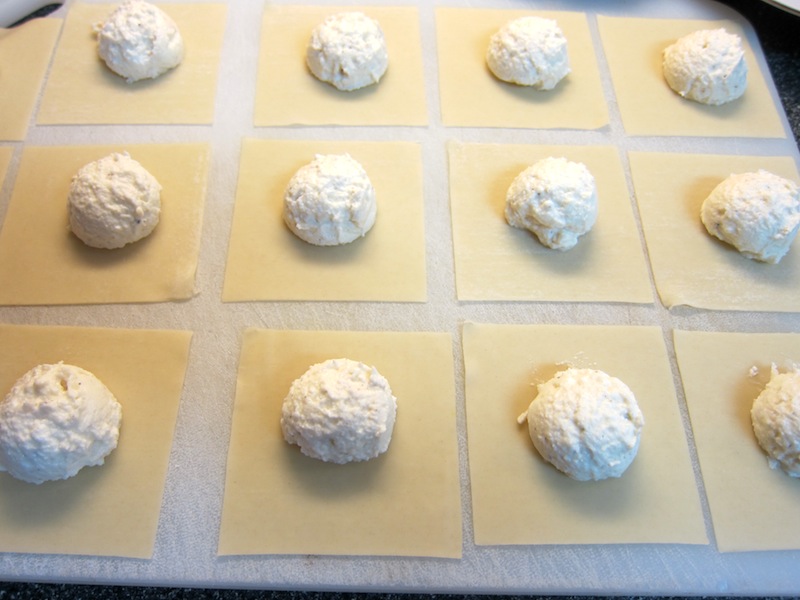 You can fill them with meat, cheese, veggies, or a combo. One of my favorites it to fill them with butternut squash and serving it with a burnt butter sage sauce. However, for this recipe I had some ricotta cheese in the fridge, so that's what I used. These would be wonderful with a red sauce on top, but I opted for a Lemon Wine Sauce with Asparagus & Prosciutto. It was "I can't get enough" deliciousness!!
I hope you give my easy recipe a try, you wont' be disappointed!
This recipe serves 6.
INGREDIENTS
1 package of Won Ton Wrappers
1 – 16 oz container of Ricotta Cheese
1 cup Mozzarella Cheese, grated
1 egg
1 tsp Granulated Garlic
1/2 Ground Nutmeg
Salt and Pepper, to taste
METHOD
Let unopened won ton wrappers come to room temperature as you're making the filling.
In a large bowl mix together the Ricotta Cheese, Mozzarella Cheese, egg, garlic, nutmeg, salt and pepper.
Lay the won ton wrappers on your work surface.
Place a small scoop of filling in the center of each won ton wrapper.
With a pastry brush, put a small amount of water all around the edges of the bottom won ton wrapper.
Place another won ton wrapper on top.
I grasp two of the corners and press the won ton all around, sealing the contents.
You don't have to do this next step, but I pressed the edges together with a fork and then used a square pastry cutter to cut perfect ravioli edges.
Continue this process until you have used all the filling and/or all the won ton wrappers.
I sprinkle corn meal on the completed raviolis to keep them from sticking to one another.
This recipe made quite a lot of raviolis, so I put some in a freezer bag for another time.
To Cook The Ravioli:
Gently place ravioli into boiling salted water for about 5 minutes. Remove from water with a slotted spoon and serve with your favorite sauce. These are delicious with just a little butter and salt. Seriously delicious. 😉

Print entire post