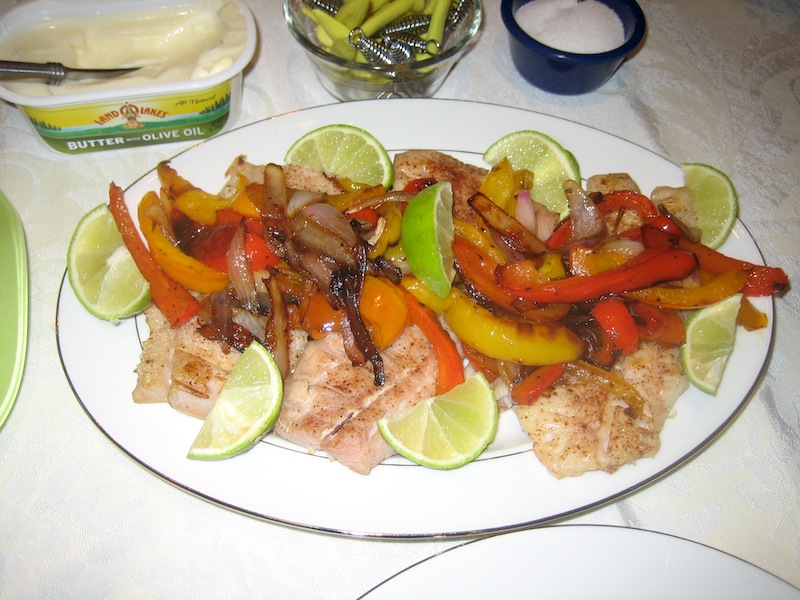 This dish looks so colorful and healthy I just had to post it. As a matter of fact, the more colors of food you eat the healthier it is… and I'm not talking orange Cheetos (ewww).
The recipe is super simple and super delicious! This will work with any fish, but I chose Flounder because it was what the market had "fresh", not previously frozen (although there's nothing wrong with frozen).
We enjoyed this fish with warm corn tortillas, salad, and corn-on-the-cob. I put my fish and peppers in the corn tortilla and squeezed some fresh lime on top. Yummy!
This dish serves 4.
INGREDIENTS
2 lbs. Flounder, or the fish of your choice
1 Tbsp Smoked Paprika
Salt and Pepper, to taste
2 Tbsp Olive oil
1 Red Bell Pepper, sliced
1 Yellow Bell Pepper, sliced
1 Orange Bell Pepper, sliced
1 Onion, sliced
2 cloves of Garlic, sliced
1 Lime, sliced
METHOD
Wash & dry the fish.
Sprinkle with some salt, pepper, and smoked paprika.
Set aside.
Add olive oil into a large frying pan.
Add the bell peppers, onion, and garlic into the pan and saute until semi-soft.
Push vegetables to the side and add the fish into the pan.
Saute fish until done, about 3 minutes per side.
Serve fish with the veggies on top, and lime wedges all around.
Enjoy!

Print entire post